UFC 249 Odds: Ngannou vs Rozenstruik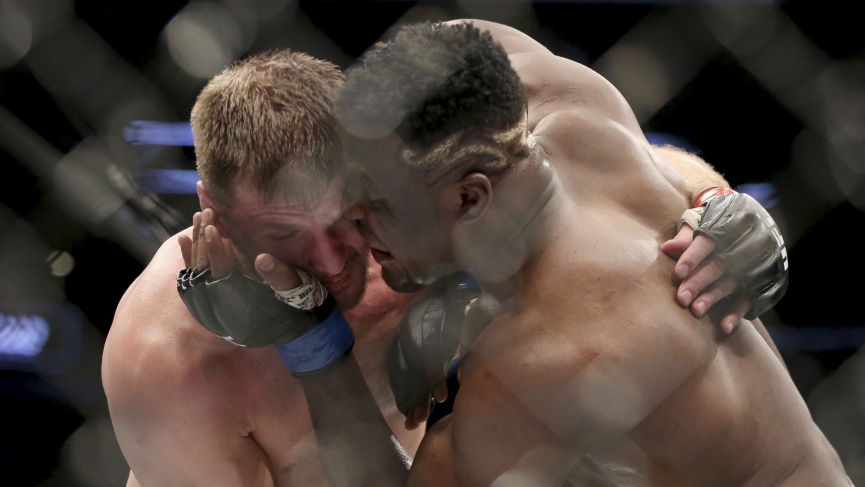 UFC 249: Ngannou vs Rozenstruik
Time: Saturday, May 9th, 2020 6:00 PM EDT
Where: VyStar Veterans Memorial Arena, Jacksonville, FL.
TV: ESPN+
UFC Odds: Ngannou (-269), Rozenstruik (+250)
One of the biggest UFC heavyweight bouts we've seen in some time is sure to live up to the hype. Here's an early betting preview of Ngannou vs Rozenstruik.
UFC 249 Betting – Tale of the tape:
'The Predator' – Francis Ngannou
Age: 33
Height: 6ft 4in
Reach: 211cm
Fights: 17
Record: 14-3
Wins by KO: 10
'Big Boy' – Jair Rozenstruik
Age: 32
Height: 6ft 2in
Reach: 198cm
Fights: 10
Record: 10-0
Wins by Stoppage: 9
Styles Make UFC Fights: Inside the Distance.
Francis Ngannou has opened up as the heavy UFC odds(-269) favorite against Jair Rozenstruik, which is with just cause. Ngannou has ended the fight by stoppage in every one of his MMA victories. Meanwhile, Rozenstruik has gone to decision just once in the ten professional MMA fights he's had so far in his career. Between the two, that's a 96% stoppage rate.
We've seen in previous fights, that Ngannou does have a tendency to come out flying and has the potential to gas out after the first five minutes or so. That is especially a factor for a fighter that hasn't stepped into competition since last June. Meanwhile 'Big Boy' Jair, fought four times in 2019, including his epic comeback victory over Alistair Overeem.
Although MMA casuals were dazzled with Rozenstruik's resilient 'come from behind' finish over Overeem, Francis Ngannous told MMA Junkie that the victory didn't impress him much at all:
"I mean, he got beat up the entire fight and he got lucky at the end of the fight basically by the early stoppage. The referee, in my opinion, was early and you know, he gave him the win but honestly his UFC career, nothing to impress. I haven't seen nothing, but with that being said, it's not to underestimate him because he was a kickboxer and he has some good hands so he knows the striking game. Now, let's find out what he knows about MMA."
Hopefully, the equal level of striking power from both fighters doesn't lead to another 'snooze fest', as we saw when Francis Ngannou took on Derrick Lewis, back at UFC 226. It is highly unlikely that Ngannou would let that happen again and a 'toe to toe'bout filled with heavy blows and wild exchanges, is the most probable outcome imaginable. With neither men having attempted a takedown in their respective stints in the UFC, I expect fisticuffs and fireworks from both these fighters, it's just a matter of 'who survives?'
UFC picks has Nagannou as the favorite but if he runs out of gas, Rozenstruik might have a chance.
Ngannou has been said by many to be the hardest puncher in the UFC. That, along with his lightning-quick speed has turned out great results for him as of late. He has the edge in this fight, as far as his reach and speed, but that speed can only go so far.
Ngannou is lacking in the cardio department and has he been known to gas out as the fight goes on. If the Surinamese Rozenstruik can withstand Ngannou's power for longer than a few minutes, than his chances of winning the fight increase substantially. Rozenstruik is undoubtedly the more conditioned of the two combatants. While the highlight of Jair's improbable comeback was his buzzer-beating, knock out punch that detached Alistair Overeem's lip. The point of that fight that goes unstated, is Rozenstruik's ability to withstand Overeem's power, displaying an impeccable chin, absorbing heavy shots, in what looked like a fight that Overeem was going to win.
UFC Picks longshot Rozenstruik could cash if he keeps Ngannou to the outside.
Rozenstruik is also the more polished and technical striker and is superb on the counter-attack. Jair's path to victory includes negating Ngannou's reach, by using his powerful kicks, while keeping Ngannout to the outside. It will also be imperative for Jair to take advantage of openings when he sees them. Ngannou sometimes throws wild strikes, but he is effective when doing so because of his explosive speed. If Rozenstruik can last long enough to reach the stage of the fight where Ngannou's offense has slowed down, he may be able to get the upper hand. Rozenruik's technical striking ability and his overall advantage as the more conditioned fighter, in the end, might be the edge he needs to pull off the upset victory.
Ngannou Fight Trends:
Francis Ngannou has finished every fight he has won as a professional fighter. With a 14-3 MMA record, all 14 of his wins have come by either KO/TKO or Submission. There is a ton of value on Ngannou to win inside the distance at -140, especially considering he's -269 to win the fight outright. When you take consideration of the fact that; Ngannou has never won a fight via decision in his 17 pro-fight career. It is more than obvious, that taking Ngannou 'Inside the Distance' is the best way to go when backing 'The Predator.' With Ngannou's 82% stoppage rating, even at -300, there is still value on the 'Fight Doesn't go the Distance' prop. Although the price is steep, I think there is little to no chance that this one gets even close to the third round.
Rozenstruik Fight Trends:
Jair Rozenstruik has a 90% stoppage rate, having won 9 of his 10 pro-fights by KO or TKO. At (+335) UFC odds to win the fight 'inside the distance' you're getting good value backing 'Big Boy' in this spot. With Roznstruik at +250 to win the fight outright, you're getting a better number, on a prop that is mispriced. With a 90% stoppage rate, you are also still getting value on 'Fight doesn't go the Distance' at -300. One way or another, this one's ending before the 15-minute mark.
UFC Betting Early Prediction:
There's little to no doubt that the side of value is that of Rozenstruik's, especially if you take 'Inside the Distance.' Rozenstruik simply just needs to survive the opening minutes of the fight, and as the fight goes on it will tilt in his favor. A heavyweight fight should rarely have -300 favorite or +250 dogs, especially with a heavyweight who is undefeated. Give me 'Big Boi' to get it done in Jacksonville.