Stephen Thompson vs Geoff Neal Prediction | UFC Vegas 17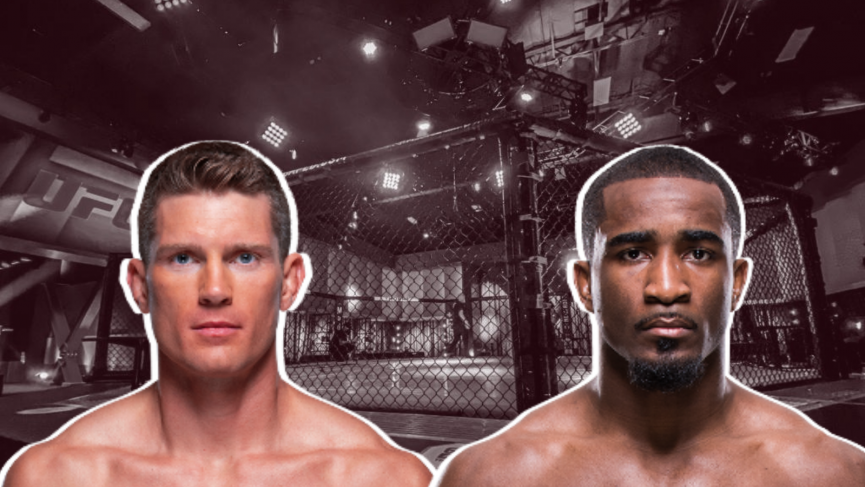 Stephen Thompson vs Geoff Neal Prediction | UFC Vegas 17: The main event of UFC Vegas 17 is fantastic, but it's going to hurt. We have a very important fight in the welterweight division where two of the most talented contenders will go to war, but they are also fan favorites and really nice guys. Our Stephen Thompson vs Geoff Neal prediction is a tough one. Both are great guys with big fan bases, so somebody is going to be needing a tissue when this one is over.
UFC VEGAS 17 ODDS
STEPHEN THOMPSON
GEOFF NEAL
To Win Outright
-111
-111
Inside the Distance
+220
+195
by Decision
+300
+300
Total Rounds
Over 2.5 (-170)
Under 2.5 (+140)
Fight Goes Distance
Yes: +125
No: -150
Where/When
Apex Center, Las Vegas
Sat, Dec 19th, 10:00 PM ET
The nicest guy in MMA today Stephen "Wonderboy" Thompson is an absolute gem that we must cherish as long as we get him. The karate style pinpoint accuracy and speed of Thompson is something that took him to the top of the division and if not for his 2 run-ins with Tyron Woodley this man may have been the champ. Since then, however, Wonderboy has had mixed results. Just 2-3 in his last 5 Wonderboy is trying to stay at the top of the pile at 170 and that has earned him a tough fight with the hottest prospect in the division. 
Stephen Thompson vs Geoff  – The Fighters
UFC vegas 17 main event
Stephen thompson
GEOF NEAL
Age
37
30
Height
6'0
5'11
Reach
75′
75′
Wins by Method
7 Wins by TO/KO
8 Wins by TO/KO
Finish Rate
54%
77%
Record
25-4
13-2
Geoff Neal is the star student of coach Sayif Saud out of FORTIS MMA. One of the hottest gyms in MMA today and maybe the biggest dark horse in the division finally has a shot to step up into the ring of contenders at 170. Neal combines power and speed. Explosiveness with power. This man was introduced to the UFC fans on the first season of Dana White's Contender Series and has gone undefeated since with only Belal Muhammad escaping the cage conscious. Neal is a fan favorite who is a threat to KO anybody who is willing to get in the UFC's Octagon with him and Wonderboy is just the right person to test if he is ready for a shot at the strap or not.
Stephen Thompson vs Geoff Neal breakdown
Neal and Thompson match up surprisingly well. The UFC has been feeding opponents to Neal to allow him time to grow and develop, but now that the time has come for him to step into the ranks of true contenders they give him a fantastic test. Wonderboy will stand and bang with Neal while providing a test for his ability to think and adjust. We know the kind of raw power that Neal is capable of and his athleticism and speed should allow him to compete well with the tight and elusive Thompson.
The reality of Wonderboy is that he is starting to get into that veteran gatekeeper role at 37. At the moment if he has any hopes of challenging for a UFC title again he will need to get on a winning streak and fast. The fast-twitch muscle and reflexes that Wonderboy relies on will start to fade with age and he is going to need them to be sharp against Neal who will have an athletic advantage on Saturday. Wonderboy has a tendency to shell his opponents up because of the danger he presents and the speed he is capable of when he unloads, but I believe Neal will be able to get the feel for that timing and will be able to answer.
Thompson was able to out-brawl Vincinte Louque in his last fight, but the fact that the UFC is giving him yet another rising star rather than a ranked and named for leads me to believe they are pulling for Neal to pull this off. Neal has all the tools to do so and I believe he will get the job done. Betting against Wonderboy is never easy and we aren't getting the best price for it, but I do think that Neal can pass this big test and I wouldn't be shocked if Neal KOs Thompson.
Stephen Thompson vs Geoff Neal Prediction: Geoff Neal (-111)