Smith vs Azure Pick – UFC Vegas 9 Predictions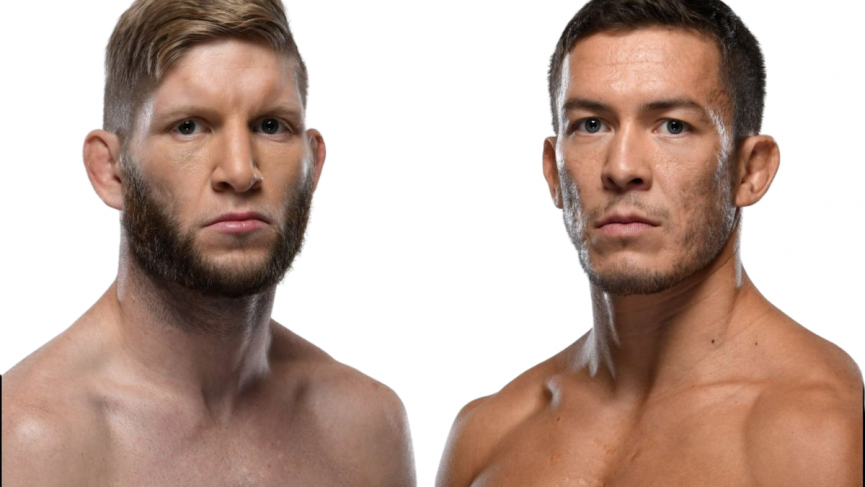 Smith vs Azure pick is my lean for UFC Vegas 9′s undercard fights. Looking back at UFC Vegas 8, it was a chalky card without many upsets, but before it was UFC Vegas 7 where we literally had the biggest betting upset in UFC betting history. This week we return to the Apex and Saturday's UFC Vegas 9 is another night where almost any fight on the card could go either way.
| #UFCVegas8 Bantamweight Bout | Cole Smith | Hunter Azure |
| --- | --- | --- |
| To Win Outright | +175 | -213 |
Smith vs Azure – The Fighters
| | | |
| --- | --- | --- |
| UFC Fighter | Cole Smith | Hunter Azure |
| Odds | +175 | +175 |
| Age | <31 years old | 28 years old |
| Height | 5'11 | 5'8 |
| Reach | 67' | 69' |
| Wins by Submission/Decision | 3 | 4 |
| Win/Loss | 7-1 | 8-1 |
| Finish Rate | 72% | 72% |
Smith vs Azure – The matchup
Both Cole Smith and Hunter Azure have had that coveted 0 taken from their records and are looking to bounce back. Cole Smith had a hard-fought battle against fellow prospect Miles Johns and came up just short dropping a split decision last year. For Hunter Azure, the loss came a bit more painfully against UFC veteran Brian "Boom" Kelleher who unceremoniously KO'd Azure just 3 months ago at UFC Fight Night 171 Glover vs Teixeira. In MMA every fighter is doomed to eventually take that first loss and only the lightweight king Khabib has so far avoided that fate, so there is no shame in the loss and what you do after is what really shows what you are capable of.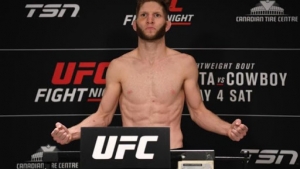 Cole Smith is a hard-nosed grappler who sells out for the takedown. He looked to pressure his opponents and goes straight in for the legs with reckless abandon. Cole has a solid gas tank and looks to capitalize on his opponents after they wilt or grind them out for a full 15 minutes. The issue that I have with Cole is that he doesn't do a great job of protecting himself. So far Cole's chin has held up, but he dives on his opponent's legs and doesn't really set up those takedowns and gets hit a lot for it. So far he hasn't been made to pay in a big way, but eventually, somebody is going to crack that chin.
Hunter Azure fight's out of Fight Ready which is one of my personal favorite gyms and comes in looking like a tank. He utilizes leg kicks and heavy hands to do the majority of his work, but Hunter has some grappling chops in his back pocket. Azure got caught against the vet Brian Kelleher in a spot where he gassed himself looking to knock the smaller fighter out. Kelleher is a slick striker in his own right and was able to roll with the punches and withstand the early onslaught of Azure and then turn the tables in round 2 when Azure was running low on gas. That's the kind of loss you would expect a young fighter to really learn and grow from.
Prior to Kelleher, Hunter Azure fought another UFC prospect in Brad Katona and looked solid in the grappling and the fight really mirrors Saturday's matchup against Smith. Katona is a solid grappler in his own right and struggled to get Azure to the mat. Unable to take Hunter down, that left Brad to fend on the feet and Azure landed the bigger more damaging shots enough to take the decision win. I see this fight going the exact same way. Azure needs to slow it down a tad and as long as he doesn't try to take Cole's head off with every single strike he will be the better of the two on the feet. Cole might have the advantage of wrestling, but the trouble will be getting this fight to the mat. I'm not convinced that Cole can take Hunter down or keep him there even if he does. I expect Hunter to win this fight by decision. On a card filled with pick 'em style pricing, this is one of the only decent sized favorites and I agree with the line.
The Pick: Hunter Azure (-213)