Robert Whittaker vs Darren Till Pick – #FightIsland3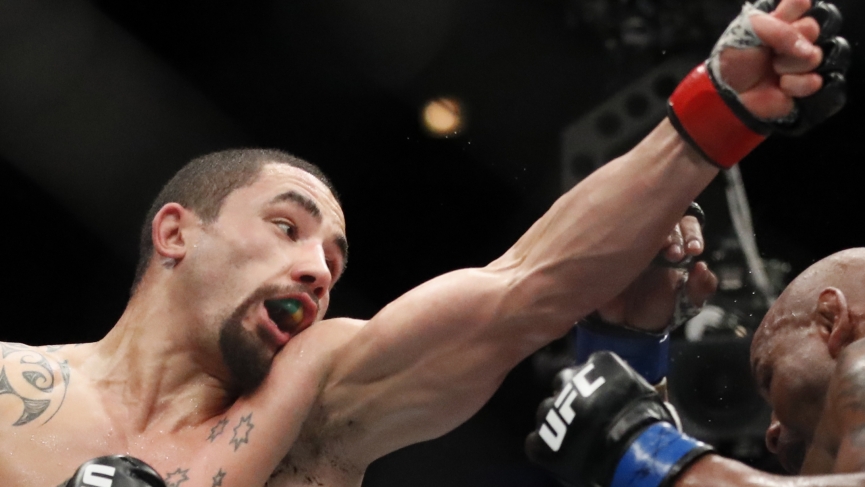 My Robert Whittaker vs Darren Till pick for the main event of UFC Fight Island 3 is a fight that could have been a pay per view headliner just a short year ago. Darren Till is England's favorite son and one of the hottest UFC prospects since Conor McGregor and he is making his name at 185 taking on former champ Robert "The Reaper" Whittaker.
| Fight Island 3 Main Event | Robert Whittaker | Darren Till |
| --- | --- | --- |
| To Win Outright | -111 | -125 |
This fight has massive implications for the division. The former king needs a bounce-back fight and Till is riding high off a razor-thin decision win over former interim title challenger Kelvin Gastelum. Let's dig right into the main event and see if we can find an angle to bet it.
| | |
| --- | --- |
| UFC Fighter | Robert Whittaker  |
| Odds | -111 |
| Age | 29 years old |
| Height | 5'9 |
| Reach | 73' |
| Wins by KO/TKO | 9 |
| Win/Loss | 20-5 |
| Finish Rate | 70% |
Robert Whittaker is one of the toughest fighters you will ever come across and he is the poster boy for moving up a weight class rather than cutting. Robert used to fight at 170 but was having a rough run dropping 2 fights with one being a knockout to Stephen Thompson. After going on the first two-fight skid of his career Robert decided to rebuild up at 185 where he was assumed to be undersized and he did nothing but dominate.
Whittaker was undefeated at 185 and was riding a 9 fight winning streak before he ran into Israel Adesanya in October of 2019. Israel made the fight look easy and was the first person to really dismantle the former champion. Roberts high powered striking and high fight IQ carried him through the majority of his fights and allowed him to win not 1 but 2 run-ins with Yoel Romero.
Whittaker has highly underrated grappling and uses his wrestling in reverse to keep the fight standing where he likes it. Whittaker has 84% takedown defense which is fantastic but chances are he won't be needing it against striker Till who has only landed 5 takedowns in his entire UFC career.
| | |
| --- | --- |
| UFC Fighter | Darren Till  |
| Odds | -125 |
| Age | 27 years old |
| Height | 6'0 |
| Reach | 74' |
| Wins by KO/TKO | 10 |
| Win/Loss | 18-2 |
| Finish Rate | 67% |
Darren Till was on the fast track to a title shot filling the much-needed hole left by Michael Bisping as the flag bearer of the UK. Till talked a lot of crap leading up to his title fight with then-champion Tyron Woodley, but wasn't able to live up to his own hype. After being finished for the first time in his career Till attempted to rebound and ran headlong into the resurging Jorge Masvidal and was baptized by Street Jesus.
Till had no other option but to leave 170 behind and follow in the footsteps of Robert Whittaker himself and move up to 185 where we all knew he would one day end up. Now that Till has etched his first win at 185 and against a big, respectable name like Kelvin Gastelum everybody's hopes are once again on the rise that he is destined for UFC gold.
Robert Whittaker vs Darren Till – The Matchup
I'll be honest. I am not a fan of and have never been sold on Darren Till.
The interesting thing here is that in my mind Till is an absolute monster physically. I am used to seeing him tower over his 170-pound opponents and his recent fight with Kelvin just supported that. The truth is that he is the same size as Whittaker and will only have a 1-inch reach advantage. Till has been facing some of the longer rangier fighters at 170 such as Thompson, Cerrone, and Masvidal, but the real difference in their size is the thickness. Robert is a fighter who will stand toe to toe with Till and will not look like he is out of place.
Till has a strange low volume style relying largely on his size and power to get the job done and when he isn't able to get a knockout out things to get very interesting. Till has gone to decision 5 times in the UFC and each time the numbers have not looked great. Till was out-landed by Nicolas Dalby 84 to 49 in significant strikes and lost his 2nd UFC fight however that fight was overturned to a no-contest.
Till then faced Bojan Velickovic who he out-landed 49 to 34 significant strikes in a decision victory and Jessin Ayari who he out-landed 31 to 28 significant strikes. Till also went to a decision with Stephen Thompson who he out-landed by just 8 significant strikes and most recently was a split decision win where he was out-landed by Kelvin Ghastelum by 4 significant strikes. Till has been able to squeeze by in his career in these decisions, but they have been extremely close.
The story of this fight will all come down to the durability of Robert Whittaker. Robert fought the boogeyman at 185 Yoel Romero in back to back fights where he absorbed a total of 159 significant strikes that would have killed lesser men. Robert was able to walk through everything Yoel poured out and came back with more to win 2 very exciting and closer decisions.
It seemed almost as though he might have left a piece of himself in the cage after those two fights however because he was unable to survive the shots he absorbed from Israel Adesanya in his 2019 loss to the new champion and fell in only the 2nd round. Israel has to pinpoint accurate punches and a 7-inch reach advantage to work within that fight allowing him to land where others likely cannot.
Robert Whittaker vs Darren Till Pick
The Reaper has taken a solid 9 months off since that fight and appears in good form. IF Rob has made a full recovery then he is a championship-caliber fighter who is facing a big step down in competition here. Till averages, 2.41 significant strikes per minute over his UFC career and absorbs 3.03 in return. That's right he has actually been out-struck by his opposition which is not a recipe for success in the UFC.
Whittaker on the other hand averages 4.77 significant strikes per minute and absorbs 3.70 which is far more impressive both offensively and defensively. Whittaker is outlanding his opponents by a full significant strike over a career spanning 14 UFC fights containing not one but two 25 minute title fights. Those are numbers that I simply cannot ignore.
Combine that with the fact that Till was potentially gifted a win in a 15-minute decision where he was controlled against the cage by Kelvin Gastelum and I am not too impressed. Kelvin who looks to be a shell of himself in his last few fights was able to arguably defeat Till and stifle that offense and I feel Rob has all the tools he needs to do the same.
Till is taking a big jump up in class here and unless he finds that kill switch I think he is in for a bad night. Robert may never re-capture his belt at 185 but he certainly has enough left in the tank to take out the hype train standing across the cage on Saturday.
The Pick: Robert Whittaker (-111)