Pettis vs Cerrone Predictions & Odds – UFC 249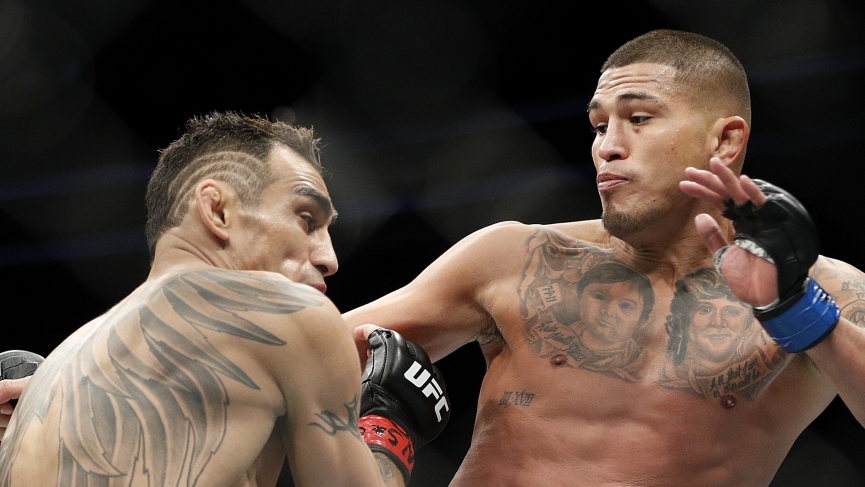 UFC Odds: Pettis -120, Cerrone +125
Time: Saturday, May 9th, 2020 6:00 PM EDT
Where: VyStar Veterans Memorial Arena, Jacksonville, FL.
TV: ESPN+
'Cowboy' Cerrone takes on 'Showtime' Pettis at UFC 249. With both fighters in the downturn of their careers, this is a fight for the chance to stay relevant. Odds for this match are close, soo close that it can be a pick'em situation to go either way. If betting on this fight is part of your UFC picks portfolio, then let's explore which odds have a positive ROI.
Cerrone vs Pettis, two UFC veterans in a battle for relevance.
'Cowboy' Cerrone has not fared well as of late in the UFC and is coming off 3 straight losses (Ferguson, Gaethje, and McGregor). Although Cowboy is, in fact, known to be a streaky fighter, before this current losing streak, Cowboy was on a 3 fight winning streak, defeating the likes of Mike Perry, Alex Hernandez, and Al Iaquinta. One thing is for sure, just from those six fights alone, you get an impression of the kind of fighter Donald Cerrone is. He has taken on the 'who's who' of the UFC's top class, he has never backed down from a potential 'bad match-up' and is always been willing to fight anyone the UFC puts in front of him.
Anthony 'Showtime' Pettis is a former UFC Lightweight Champion, and at one time was a rising star in MMA. At some point, the potential never fully blossomed into what was expected, and with only one title defense under his belt, and Pettis eventually lost his UFC gold to Rafael dos Anjos back at UFC 185 in March of 2015. Pettis is a career 22-10 fighter but has picked up wins in only five of his last thirteen fighters, going back to the 2015 loss to dos Anjos. It's not to take anything away from Anthony Pettis at all, just like Cerrone, he has fought a murderer's row of UFC stars and even with a career record of just 50% (9-9) in the UFC, 'Showtime' Pettis is still worth the price of admission.
Pettis and Cerrone met once before in the UFC back in January of 2013. At the time, Cerrone was 19-4, and Pettis was 15-2. Pettis picked up a first-round victory over Cerrone via a body kick that dropped Cowboy, followed up by punches that cued the referee to stop the fight. It was the first time that Cerrone had dropped a fight by way of TKO, before that the only stoppage loss Cowboy had was via submission.
UFC Betting 249 tale of the tape:
'Cowboy' – Donald Cerrone
Age: 37
Height: 6ft
Reach: 185cm
Fights: 51
Record: 36-14
Wins by Stoppage: 27
'Showtime' – Anthony Pettis
Age: 33
Height: 5ft 10in
Reach: 184cm
Fights: 32
Record: 22-10
Wins by Stoppage: 18
Styles makes UFC Fights worth betting.
Anthony 'Showtime' Pettis is a third-degree blackbelt in Taekwondo, he's also trained in Brazillian Jiu-Jitsu and American style kickboxing. 'Cowboy' Cerrone is a former professional kickboxer with a record of 28-0-1, he is trained in Muay Thai fighting as well as Brazillian Jiu-Jitsu. Pettis is a switch stance fighter, whereas Cowboy tends to stand straight-up orthodox. Pettis has strong bodywork, especially considering how the fight ended the last time these two met.
When Pettis switches stances, putting his right leg forward, it leaves his orthodox stance opponent wide open for a strong body shot from the back leg of Pettis. That's exactly what happened when they met back in 2013. Although it's been a long time since that fight happened, and I am sure Cowboy has game-planned not to let it happen again. I would not be surprised to see Pettis utilize body kicks and win this fight that very same way. 'Showtime' Pettis is the younger fighter, maybe even more so by cage time standards, with Cowboy having 19 more pro-fights than him. There are some distinct advantages that come with that, as Pettis might be more willing to stand and bang and absorb damage, whereas Cowboy might shell up as we saw before when he fought Justin Gaethje, and that lack of offense is what leaves him open for a referee stoppage. In the end, I wouldn't be shocked if that's how this fight ends.
Cerrone Fight Trends
Donald Cerrone has won 27 of his 51 fights by way of TKO/KO or Submission. That's a 53% stoppage rate for a fighter that has had over 50 pro-fights. Although Cowboy is not the same Cowboy he once was, the guy still has a shot whenever he steps in the cage. If you're backing Cowboy, the 'Inside the Distance' prop at +260 is the best way to go. Cowboy's 36-14 professional MMA record is impressive, but again, he has definitely taken a step back from the fighter he once was. At +125 to win the fight outright, there's still a bit of value backing the veteran at this price. Win or lose, fights involving Donald Cerrone have a 68.6% stoppage rate, with just 16 of his 51 pro-fights going the distance. If you're choosing not to back Cowboy or Pettis just yet, the 'Fight Goes the Distance: No' prop has some value at -150.
Pettis Fight Trends
Anthony Pettis has won 18 of his 32 professional MMA fights by way of stoppage, a finish rate of 56%. If you're looking to back the 22-10 'Showtime' Pettis in this fight, the best way to approach is likely by taking the Pettis to finish the fight, as his Moneyline odds at -120 are steep, compared to the plus money you're getting on him to finish the fight. From a value perspective, 'Inside the Distance' is the better bet. As mentioned with Cerrone, if you haven't chosen a fighter to back just yet, take a look at the 'Fight Goes the Distance: No' prop at -150. Pettis has had a finish in 22 of 32 professional fights. A stoppage rate of 68%. Even at the steepest of short favorite prices, the -150 on 'Fight Doesn't go the Distance' has value.
Early UFC 249 betting prediction:
This is not an easy fight to handicap from a bettors perspective. If you're going to back a fighter, I think the best way to do so is by taking them to win inside the distance. Cerrone's stoppage rate of 53%, isn't as high as Pettis at 56%, but the +130 on Cerrone is intriguing. As was the case for 'Calvin Kattar vs Jeremy Stephens', the best bet for this fight might be 'Fight Goes the Distance: No.' A total of 57 of the two's combined 83 fights have ended with a finish, that's a combined stoppage rate of 68.8%. Even at the sportsbooks price of -150, 'Fight Goes the Distance: No' has a substantial amount of value.
Follow me on Twitter @SparkAlMac