Ovince Saint Preux vs Alonzo Menifield Pick – UFC Vegas 9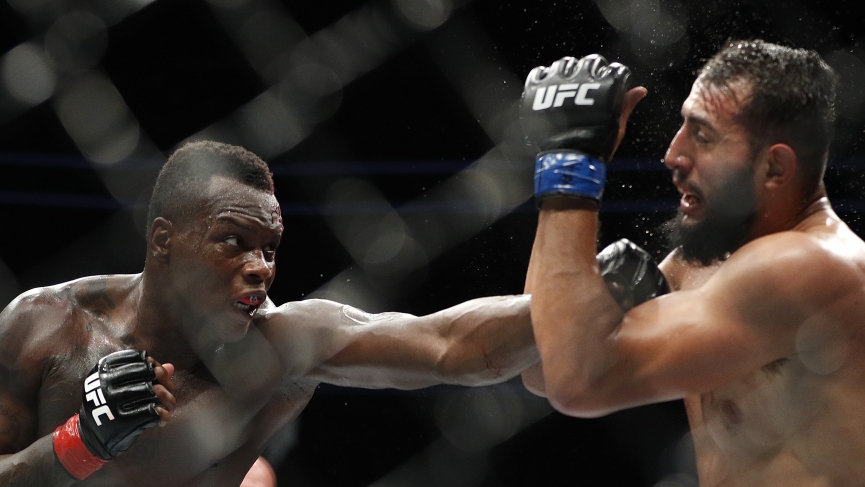 Ovince Saint Preux vs Alonzo Menifield pick for UFC Vegas 9 co-main event. Yes, you read that title right! These are COVID times folks!! Many fights that were previously scheduled are scheduled again! You will see lots of familiar faces and re-booked fights. Just a few short weeks ago we were supposed to see Alonzo Menifield step up on short notice to take on OSP, but OSP was pulled from the card due to COVID! The fighters are testing clear (for now) and we will hopefully get to see this one go down on Saturday.
| | | |
| --- | --- | --- |
| UFC Fighter | Ovince St. Preux | Alonzo Menifield |
| Odds | +110 | -139 |
| Age | 37 years old | 32 years old |
| Height | 6'3 | 6'0 |
| Reach | 80' | 76' |
| Wins by KO/TKO | 11 | 8 |
| Win/Loss | 24-14 | 9-1 |
| Finish Rate | 79% | 100% |
OSP is getting up there. This man has been fighting in the UFC for a long time and has fought the top and bottom of the division. OSP is built like a heavyweight and fighting at 205 usually enjoys a nice size advantage over his opponents. He was once feared for his athletic prowess and actually gave Jon Jones a decent fight back in 2016. OSP has a deadly top game and can submit anybody with his patented Von-Preux choke once the fight finds its way to the floor. The only issue with OSP is his age. The signs are starting to show. He is not as sharp as he once was. The athleticism is fading AND OSP is coming off of a COVID situation. The big question about this fight is what OSP is going to show up on Saturday.
Alonzo Menifield is another Dana White's Contender Series prospect who is raw power incarnate. Menifield has a 100% finish rate and his lone loss comes to Devin Clark who was wrestling for his life in their fight with facial swelling that had me thinking a doctor stoppage was coming. Menifield bought into his own power and overlooked a smaller opponent and he still nearly won that fight. In recent interviews, Menifield has talked about his resurging motivation and taking cardio more seriously during his training, and based on his Instagram photos it shows. If Menifield can correct his gas tank issues he is going to be a serious problem at LightHeavy Weight. The only question I have is Menifield's size since he is thick but not big at 205.
Ovince Saint Preux vs Alonzo Menifield – The matchup
This is a HUGE step up in competition for the young Menifield. Generally speaking, we see a young fighter taking his first loss getting a break in competition or a similar test to the last one. This fight was a short notice replacement situation, so it is a little bit different but seeing Menifield take a step-up of this caliber speaks to his confidence. It's easy to poke holes in the record of Alonzo Menifield since he has only fought fighters with questionable chins and fight IQ and even though OSP is getting older there is no question that he is the most experienced and dangerous fighter Menifield has ever faced.
OSP has fought and both Heavyweight and Light Heavyweight. OSP has fought the likes of Dominick Reyes and Jon Jones. OSP derailed Michal "Lord" Oleksiejczuk via submission and KO'd Corey Anderson stiff before he was thought of as a chinny fighter. The crazy thing for me, even with all of that on the table, I have a really hard time picking OSP to win this fight. In my opinion, OSP has only 1 path to victory.
OSP needs to get on top of Menifield and if he can't accomplish that I don't see a way he wins. If Menifield has patched up his conditioning then OSP is going to have one heck of a time trying to get this fight to the mat. Even though the grappling lead to his loss against Devin Clark, Alonzo only gave up a single takedown and ISP is nowhere near the caliber of wrestler that Clark is. On the feet, we have seen OSP's offensive output dipping lower and lower throughout his fighting career, so I think he will have a hard time keeping up with the younger Menifield. I believe that Menifield can win this fight by KO or decision and because of him having more ways to win, being the younger fighter, and seeing the fire lit under him after his last loss I think I have to pick Menifield to take this win.
The Pick: Alonzo Menifield (-139)