Michel Pereira vs Khaos Williams Prediction | UFC Vegas 17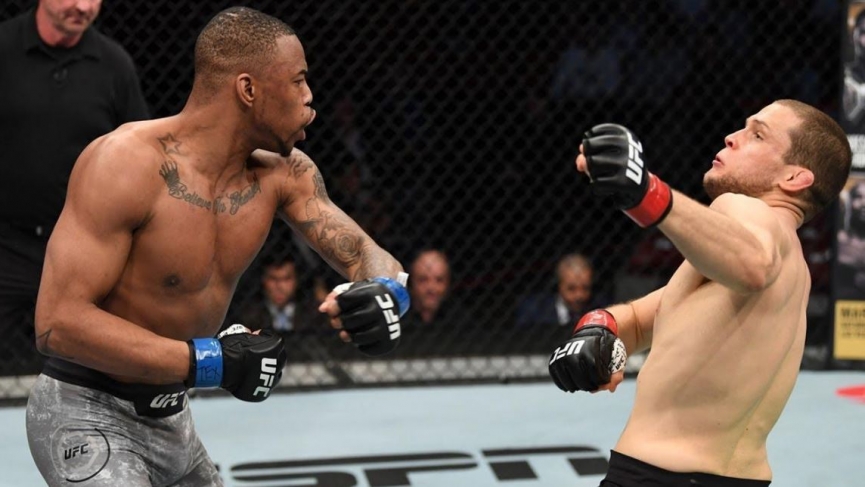 Michel Pereira vs Khaos Williams Prediction | UFC Vegas 17: UFC Vegas 17 is a MASSIVE card. There have been so many COVID postponements over the last four events, and all of them are finding themselves on the final card of the year.
Then we have hot fighters looking to stay active, and the UFC has contractual obligations to give each fighter on the roster a certain amount of opportunities to compete. All this has culminated into the perfect storm for UFC fans in an absolute banger 15 fight card to close out the year. 
| | | |
| --- | --- | --- |
| UFC Vegas 17 | Michel Pereira | Khaos Williams |
| To Win Outright | -124 | +113 |
| Inside the Distance | +180 | +155 |
| by Decision | +350 | +650 |
| Total Rounds | Over 2.5 (+155) | Under 2.5 (-185) |
| Fight Goes Distance | Yes: +225 | No: -260 |
| Where/When | Apex Center, Las Vegas | Sat, Dec 19th, 7:00 PM ET |
Michel Pereira is a wild man. This man was found out on the regional scene because of his incredible athleticism and the wild things he did in the cage. Pereira never takes the safe route to a victory. You may have seen Anthony Pettis' "Showtime" kick off the cage, but this man does backflips in an attempt to land on his opponent and cause damage. He has yet to be in a boring fight and win or lose; he is true to himself. His last fight was at UFC Vegas 9, where he picked up the submission victory (rear-naked choke) in the third round vs Zelim Imadaev. 
Khaos Williams is a fighter newly discovered by the UFC, and he has lit up the cage in 2020. One of those fighters who is "hot" and looking to capitalize on it right now, Williams came to the UFC on short notice against savvy veteran Alex Morono and flatlined him in 27 seconds, he appeared again at UFC Vegas 14 in November and picked up another 1st round stoppage after KO'ing Abdul Razak Alhassan. Khaos Williams brings ungodly KO power to the cage and seems to be hitting his stride as a professional.
The Fighters:
| | | |
| --- | --- | --- |
| UFC Match-Up | Michel Pereira | Khaos Williams |
| Record | 24-11 | 11-1 |
| Finish Rate | 71% | 64% |
| Age | 27 | 26 |
| Height | 6'1 | 6'0 |
| Reach | 73′ | 77′ |
This is a spot where I am riding the hot hand. We have two athletically gifted men, and anything could happen in this fight. What we have is one who is a low IQ wild man who throws caution to the wind. The other is a brick wall that stalks his opponents like a hunter and looks for openings to land soul-crushing blows. 
The Match-Up:
I will take the measured fighter who comes in with a  game plan every time. Khaos impressed me in his UFC debut and cost me a big bet. I am a fan of Alex Morono, who is also on this card, and Khaos let us all know that he is not to be trifled with. The UFC gave Khaos a big opportunity against fan-favorite power punches Abdul Razak Al Hassan just a few short weeks ago, and once again, he capitalized on it. Khaos was again disrespected by the bookies and cashed tickets once again in just 30 seconds as nearly a 2-1 underdog. Not only did he beat Alhassan, but he handed the UFC veteran his first-ever knockout loss. 
Michel Pereira vs Khaos Williams Prediction:
UFC Vegas 17 Underdog Best Bet: Khaos Williams (+100) via Bet365: I like this kid. And more than liking his fighting style and abilities, I like his attitude. Khaos is mean. Williams enters every fight he is in with a chip on his shoulder. That's the kind of attitude that will lead you to success. Always being hungry and never starting to feel too much will keep you sharp and motivated.
When these two step into the cage Saturday, it feels like one is out to have a good time, and the other will be out to kill somebody. You can only ride a streak once. When it breaks, it breaks. I have decided to back Khaos until they make me stop. 
---
FAQ: UFC Vegas 17
What is the main event for UFC Vegas 17
The main event was originally booked to be between top English Welterweight Leon Edwards taking on MMA sensation Khamzat Chimaev. However, due to Chimaev contracting COVID-19, the fight was pulled from the event and will be rescheduled for 2021.
What times does UFC Vegas 17 start?
The UFC Vegas 17 preliminary card starts at 4 pm EST, the main card starts at 7pm.