Underdog Matt Frevola vs Roosevelt Roberts Pick for UFC Vegas 10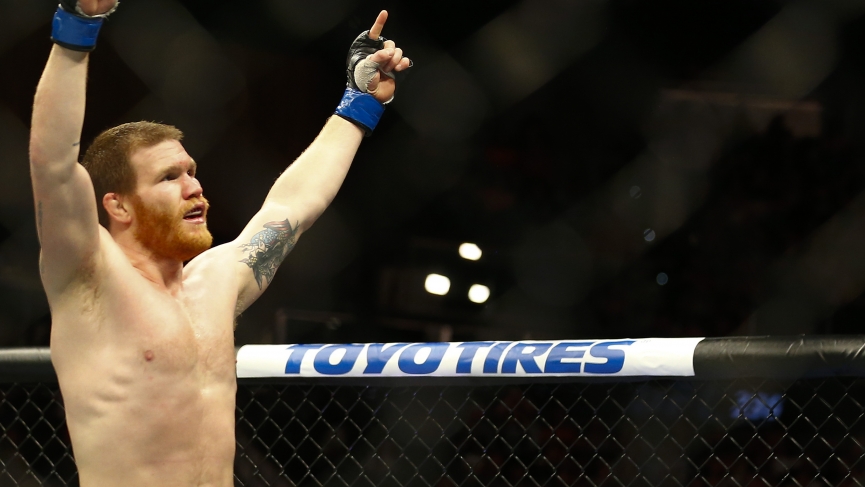 There are so many fights at UFC Vegas 10 that we are inevitably going to get some of these dogs to bark. As always, we have to comb the card for dogs who are live and have all the attributes that we are looking for. The good news is that there are multiple fan-friendly betting lines with some small dogs that I think have a shot at showing up in a big way come Saturday.
Matt Frevola vs Roosevelt Roberts
| | | |
| --- | --- | --- |
| UFC Match Up | Matt Frevola | Roosevelt Roberts |
| Odds | +100 | -125 |
| Age | 30 years old | 26 years old |
| Height | 5'9 | 6'2 |
| Reach | 71' | 73' |
| Wins Submission | 3 | 5 |
| Win/Loss | 8-1 | 10-2 |
| Finish Rate | 50% | 100% |
Matt Frevola is an even-money underdog vs Roosevelt Roberts at UFC Vegas 10
The Seamrolla Matt Frevola is a very exciting young prospect. This kid comes from the Serra Longo Fight Team and has everything you want in a rising contender. Matt has a forward pressure style where he stalks his opponents and really likes to let his hands go. Matt has some pop on his punches but really uses it more so to corral his foes into the cage where he can put his wrestling to work. Matt is incredibly strong and is fully capable of lifting his opponents over his head and slamming them back to the mat with thunderous force. On top of that Matt is getting better every time we see him and is training with championship-level training partners.
Roosevelt Roberts is another hot prospect who has run into the UFC's veterans a few times and had to take a step backward. Roberts is a Contender Series prospect who has a great frame for 155 and uses his height and reach well. Roberts has some sharp boxing, a great gas tank, and some really solid wrestling himself. The issue to me is that Roberts makes some mistakes. Hard-nosed grapplers that are constantly in his face and refuse to quit seem to be the fighters who cause him problems.
The UFC Vegas 10 Underdog Criteria:
Fight IQ
Frevola is a fighter who you can rely on going to his strengths. He has fallen a bit in love with his hands and you hate to see that, but he doesn't die on that hill. If Frevola believes he is able to outstrike his opponents then he will stand with them, but he always brings it back to the grappling which is his bread and butter.
Chin
Frevola has only lost once in his professional career and it was a hard-learned lesson. He was knocked out by Marco Polo Reyes who is a phenomenal boxer with some serious power in his hands. I will be completely honest here. Nobody in the UFC should be losing to Polo Reyes, but this was Frevola's UFC debut and everybody has to learn that lesson eventually. Some harder than others. Since that loss, Matt has shown nothing but durability and increasing skill and potential. The loss to Reyes was more putting himself at risk against a very dangerous and seasoned fighter more so than it was Frevola having a bad chin.
No Quit
The secret sauce for Matt Frevola is that he simply never loses round 3. He is on record stating as much and it's true. When the time comes to dig deep and hit that 4th gear, Matt is always able to find it. Matt had an unwavering belief in himself and will break his opponents because he simply is able to take everything they have and continue to grind on them. This is perhaps the greatest attribute that this man brings to the fight.
Power
Matt Frevola is fully capable of finishing. Now he doesn't look to have that snap power that you are looking for, but he has other attributes that make up for it. Matt can land a knockout and has the power to do so he just generally does not have the need to. Matt comes fully equipped with a submission game that has 3 of his 8 wins coming by strangling the life from his opponents and that is just as good. Generally, we think of power as fight-ending knockout or submission come back ability, but Matt has another kind of power. Matt has a physical grinding power that will stop the momentum of his opponent dead in its tracks. One mistake is all it takes for you to end up in the air and then on your head or back and you do NOT want to be under the Seamrolla. This kind of power may not end the fight then and there, but it will break the will of many and that can be just as dangerous.
The Verdict:
This fight is extremely close and it is lined as such, but I believe that Matt should be the favorite. Roosevelt has a bit more flash and is a trash talker, but he has holes in his game that a fighter like Matt will be able to take advantage of. When these men lock up to grapple I fully expect that Frevola will be the better wrestler and probably the stronger man will be able to get the better of those situations and positions. The other thing we need to keep in mind is that we are in the small cage in the UFC's Apex again this week and I believe that will be a big factor. Roosevelt struggles with fighters who have a grinding grapple heavy style that he cannot overwhelm. He struggled with Jim Miller because he was submitted in the first round. He struggled with Vinc Pichel and lost a 15-minute decision. He is now facing a younger, hungrier version of both those men who is in the best shape of his life. I fully expect Frevola to give Roosevelt the same issues those two did. This fight might be 1-1 going into the 3rd round, but as we talked about before The Steamrolla doesn't lose round 3.

The Pick: Matt Frevola (+100)
Best Odds Currently Available at: WilliamHill

Other UFC Vegas 10 Underdogs:
Anthony Ivy is a +210 underdog vs Bryan Barberena