UFC Vegas 10 Predictions: 2 Fighters To Parlay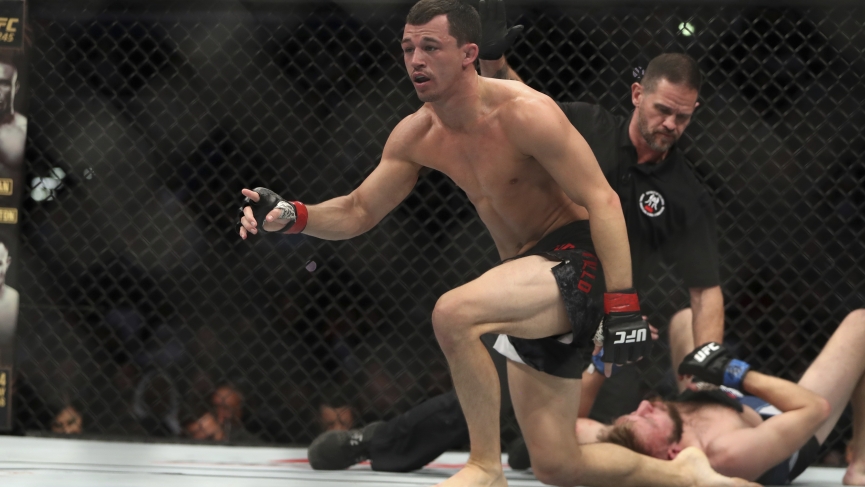 So this week is a bit strange. For starters, we have a massive card for UFC Vegas 10. However, the bout order has not yet been released. So, I can't give you an undercard preview, since I really don't know who is on the undercard. Secondly, I am giving you this parlay and best bet early because I believe these lines will move and the sooner you get on it the better!
Quarantillo vs Nelson Match-up
| | | |
| --- | --- | --- |
| UFC Match-Up | Billy Quarantillo | Kyle Nelson |
| Odds | -250 | +200 |
| Age | 31 years old | 29 years old |
| Height | 5'10 | 5'11 |
| Reach | 70' | 71' |
| Wins by KO/TKO | 5 | 5 |
| Win/Loss | 14-2 | 13-3 |
| Finish Rate | 72% | 69% |
Parlay Leg 1: Billy Quarantillo (-250)
This fight all comes down to gas! Kyle "The Monster" Nelson is a fan-friendly Canadian fighter who has big power in his hands and a snappy offensive submission game. The issue with Kyle is that he is still extremely raw and may have been rushed to the UFC. The thing we see in every one of his fights is that he comes out like a bat out of hell. Round 1 Kyle is a complete monster and can flatline just about anybody, but if you can withstand the early assault and get him even into round 2 he is not the same fighter.
Billy Quarantillo is a pressure cooker of a fighter. He refuses to take a step back and constantly attacks the body of his opponents. He mixes in takedowns and forces scrambles in order to drain the energy of his foes. Billy fights long and has some pop on his punches to go with the crazy submission offense he also brings to the table. Billy's opponents wilt over the course of 15 minutes under the relentless offensive assault and he's headed places in the UFC. This might be the worst matchup possible for a fighter like Kyle. The price is a bit steep, but Billy is a perfect parlay piece and the only way I see him losing this fight is a round-1 flash knockout. Catch our interview with Billy Quarantillo
Barberena vs Ivy Match-Up
| | | |
| --- | --- | --- |
| UFC Match-Up | Bryan Barberena | Anthony Ivy |
| Odds | -278 | +225 |
| Age | 31 years old | 30 years old |
| Height | 6'0 | 6'2 |
| Reach | 72' | 74' |
| Wins by KO/TKO | 10 | 5 |
| Win/Loss | 14-7 | 8-3 |
| Finish Rate | 85% | 100% |
Parlay Leg 2: Bryan Barberena (-278)
This line has already started moving. Bryan Barberena is a 6-year UFC veteran and has only fought a murder's row of opponents so far in the organization. Bryan is a technical brawler who is able to take an unreal amount of punishment in order to turn the tables on his opponent and put them down. Barberena has faced Leon Edwards, Colby Covington, Vicente Luque, and most recently Randy Brown. Bryan has stood toe to toe with some of the best that 170 has to offer and now he will be fighting a man who is 0-1 in the UFC.
Barberena's opponent is Anthony Ivy (our pre-fight interview), who is a 'kill or be killed' type fighter. With 11 total professional fights, Ivy has never seen the judge's scorecards. Ivy either finishes his opponents or gets finished trying. Ivy is a very talented black belt BJJ practitioner, but he is still very young in his MMA career. The experience factor will be Ivy's worst enemy come Saturday night.
The only concern in this fight is that Bryan is coming off of back to back KO losses. The good news is that Bryan took a full year off between fights after getting hurt badly by two rising KO artists. I like to see fighters take roughly 9 months off after a bad KO, so taking a full year off to recover and regroup seems to be exactly what the doctor ordered. Bryan has been back in the gym and training with fighters like Impa Kansagany, so he is in good company and I think will be in solid form. It is rare in the UFC that a fighter who has reached the heights that Bryan has and then get a reprieve and a step-down, but here we are. Ivy made his UFC debut and was flatlined by Christian Aguilera in less than a minute and is now facing a certified killer just 2.5 months later. Barberena by KO.
UFC Vegas 10 Picks:
Billy Quarantillo (-250) + Bryan Barberena (-278)
Parlay Odds: -110 (Best Odds Currently Available at WilliamHill)