Kattar vs Ige Parlay and Underdog Pick With Ian Parker Anik & Florian Podcast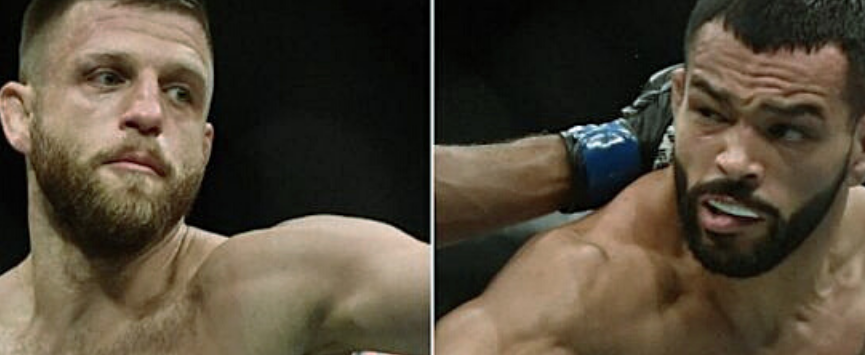 After hitting our lock of the night parlay with yours truly, we move onto UFC Fight Night Kattar vs Ige parlay and an underdog pick. This may not be the strongest card in regards to names and contenders, but from a betting standpoint, there is a ton of value.

Who's ready to make some mid-week money with the Duck? For those of you that followed last week, we hit our parlay that consisted of Rose Namajumas, Petr Yan, and Kamaru Usman. I say let's roll with the momentum and hit another parlay on Wednesday Night along with an Underdog straight pick!
Jack Shore vs Aaron Phillips Odds
| UFC Fight Night 172 | Jack Shore | Aaron Phillips |
| --- | --- | --- |
| To Win Outright | -700 | +490 |
Now normally, I don't like to bet such a heavy favorite, however, I just don't see how Jack loses in any way possible. So in order to get some sort of value out of the biggest favorite on the card with minimizing as much risk as possible, let's toss him in a parlay to increase our odds a little bit. Will it increase our odds by a lot? No. However, this is as close to a lock of a win as Amanda Ribas was. I give credit to Phillips for stepping up and wanting to prove that he belongs in the UFC, however, this is just too tall of a task in general, let alone on short notice. Jack Shore has been training and will be the better fighter wherever the fight goes.
Prediction – Winner Jack Shore
Abdul Razak Alhassan vs Mounir Lazzez Odds
| UFC Fight Night 172 | Abdul Razak Alhassan | Mounir Lazzez |
| --- | --- | --- |
| To Win Outright | -350 | +280 |
Moving onto the 2nd fight in our parlay. Now as we all know, but if you don't I will fill you in, Alhassan has been out of competition due to an ongoing investigation of rape charges against him since his last appearance in the octagon. Let me also remind you, that the last appearance was a nasty KO win over the super tough Niko Price.
At the time ( 2018) Alhassan was a prospect to watch out for as he was tearing through his opponents. To my knowledge, even during the investigation, he has been training so when the day came, he would be ready for his return. After being found not guilty and all charges dropped, we now find ourselves seeing Alhassan ready for Wednesday night. He is fighting a very game Lazzez who has a solid record and is a finishing machine.
However, between these two fighters, Alhassan is the better overall fighter, the better striker, and has fought way better competition. Now because Lazzez is a striker, Alhassan won't have to worry about being taken down (even though he has solid takedown defense), he can settle in and strike his way to another victory.
Prediction- Alhassan via TKO
Khamzat Chimaev vs John Phillips Odds
| UFC Fight Night 172 | Khamzat Chimaev | John Phillips |
| --- | --- | --- |
| To Win Outright | -350 | +275 |
The 3rd leg of the parlay, but certainly not the last leg. For those of you that aren't familiar with Khamzat Chimaev, you are truly in for a treat. A very well rounded grappler ( no surprise there), with good technical striking, and a knack for finishing, Chimaev has literally finished all of his opponents by either TKO or Submission.
To top that, none of his opponents have made it out of the 2nd. However, he will be facing a step up in competition as the undefeated 6-0 Chimaev is going to be looking to improve that record to 7-0 against the very tough John Phillips.
Phillips run in the UFC hasn't been so inspiring other than his last fight where he won by ko in 17 seconds. Prior to that fight, he lost by decision to Jack Marshman and 2 submission losses at the hands of Kevin Holland and Charles Byrd. Chimaev will more than likely be better everywhere, but I don't see him taking any chances as we can see Phillips's weakness is his ground game. I see this fight going in the direction of Chimaev's prior fights. He will set up his striking in order to bring the fight to the ground and submit Phillips with Ease!! Prediction – Chimaev by Submission
Now…onto the last leg of the parlay!
Calvin Kattar vs Dan Ige Odds
| UFC Fight Night 172 | Calvin Kattar | Dan Ige |
| --- | --- | --- |
| To Win Outright | -310 | +250 |
This is a very exciting fight between two guys fighting in my opinion as a contender eliminator fight at 145lbs. Calvin Kattar has been on my radar for a little bit and his last win against Stephens proved that he is a problem in the division.
Calvin is easily one of the best/more powerful strikers in the division with legitimate KO power. He also has great cardio and carries that KO power throughout the entire fight. In his fight against Zabit, he was starting to take over the fight in the middle of round 3. I truly believe had that fight been a true 5 round main event, Kattar would have walked out the winner.
Returning after that loss and dominating Stephens also shows his maturation of a fighter that doesn't allow a loss to dictate the direction of his career. His opponent Dan Ige has been on quite the streak, especially with a split decision win over the experience and always tough Edson Barboza. Ige is a cardio machine who likes to push the pace with his grappling. He does a nice job with his improved striking to set up his shots and bringing the fight into his world on the floor.
However, in the fight against Barboza, we saw Ige get rocked and something tells me if Kattar lands the same shots Barboza did, Ige wouldn't have been able to recover. I think Kattar will be the bigger and more physically stronger fighter which will help keep Ige's grappling at bay. If he can keep the fight standing, which I believe he will, I think Kattar ends Ige's winning streak and will be looking at a top 3 fight sooner rather then later.
Betting Tip – If we make it to the last leg of our parlay, I always recommend placing a small straight hedge bet on the opposite of what we have in our parlay. Here we would place a straight wager on Ige. This will give us a win-win situation no matter who wins 😊
This next fight is not part of our parlay, However, it is an underdog play that I am definitely jumping on.
Cody Stamann +120 vs Jimmie Rivera -145
| UFC Fight Night 172 | Cody Stamman | Jimmie Rivera |
| --- | --- | --- |
| To Win Outright | +120 | -145 |
I truly love this matchup for where both guys are at in their career. Riviera is coming off back to back losses and faces a tough test here in Stamann. Riviera is a very well rounded fighter, but his inactivity and having COVID -19 somewhat recently concerns me. Not all fighters can come back from a long break like the legend Dominick Cruz.
In his last few fights, Riviera has been outstruck and outmuscled. I don't see that being any different here. Stamann is coming off a truly inspiring win over Brian Kelleher. It was probably the best Cody Stamann we have seen to date. His striking looking extremely improved. His combinations were very slick and accurate, and his speed was hard to stop. He also put on a very strong pace that would be hard for anyone to handle. I think Cody will push the pace and utilize his striking to bring the fight to the ground where his strong wrestling base will be used to control Riviera and grind his way to victory.
Prediction – Cody Stamann