Jack Hermansson vs Kelvin Gastelum Pick – FIght Island 2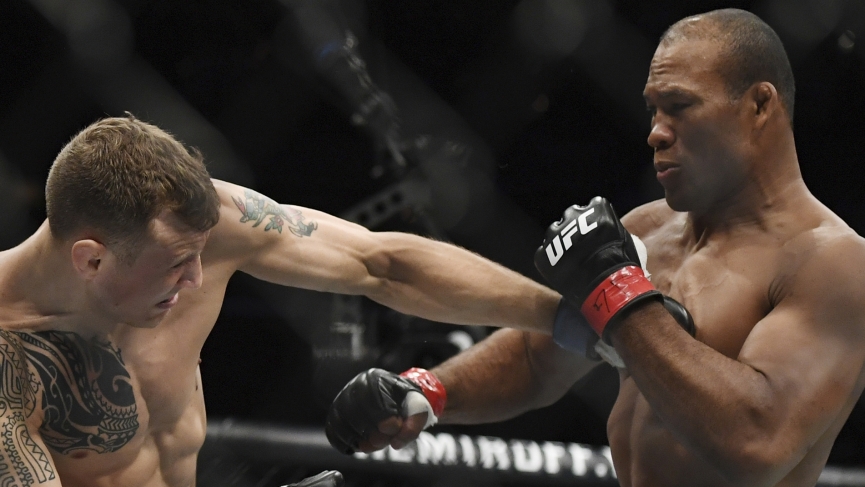 The Co-Main event of UFC Fight Island 2 is a very interesting match up between 2 would-be contenders at 185. As I am researching my Jack Hermansson vs Kelvin Gastelum pick, Kelvin is coming off of a 2 fight losing streak and is looking to re-establish himself in the division after his fight of the year with Israel Adesanya. Hermansson is looking to bounce back off of a devastating KO loss and is facing one of the fastest punchers at 185. This fight should be a great appetizer before the main event.
Jack Hermansson vs Kelvin Gastelum Odds
| Hermansson vs Gastelum Flyweight Bout | Jack Hermansson | Kelvin Gastelum |
| --- | --- | --- |
| To Win Outright | +100 | -125 |
Kelvin has heavy hands and speed on his side, but he is the smallest 185er on the roster and realistically belongs down a weight class. Hermansson is a HUGE 185er and will have massive size and reach advantage. This is a striker vs grappler match and whoever can implement their game plan will be the one winning.
| | |
| --- | --- |
| UFC Fighter | Jack Hermansson   |
| Odds | +110 |
| Age | 32 years old |
| Height | 6'1 |
| Reach | 77' |
| Wins by KO/TKO | 11 |
| Win/Loss | 20-5 |
| Finish Rate | 80% |
Jack The Joker has such a size advantage in this fight that it is unreal. The reach advantage is going to be a massive factor in this fight and might possibly be the deal-breaker. Hermansson has a serviceable striking but isn't anything to write home about. He does keep the range well and once he decides to close the distance that is where the danger lies for his opponents. Hermansson is nasty on the mat. His wrestling may not be the most impressive, but his submission offense is on another level and if he gets on top of Kelvin with that size advantage Hermansson might make this a short night.
| | |
| --- | --- |
| UFC Fighter | Kelvin Gastelum   |
| Odds | -125 |
| Age | 28 years old |
| Height | 5'9 |
| Reach | 71' |
| Wins by KO/TKO | 6 |
| Win/Loss | 15-5 |
| Finish Rate | 67% |
Kelvin is a previous winner of The Ultimate Fighter reality show and has done nothing but impress in the UFC. Kelvin is a very talented boxer and has some of the fastest hands in the division. Kelvin has cited a lack of motivation and potential depression after his loss to Israel Adesanya for his recent loss to Darren Till. For a fighter who was nearly crowned Interim Champion his most recent fight was highly disappointing, but he looks like he has that fire back.
Jack Hermansson vs Kelvin Gastelum: The Matchup
I have been going back and forth on this fight ever since it was announced. There is a very good reason for this fight being a pick-em price. If Kelvin is able to defend the takedowns and keep this fight standing he is going to absolutely pick The Joker apart. If Hermansson is able to control the range and get this fight to the mat then he will more than likely submit or TKO Kelvin. Kelvin did not look good in his last fight against Till even though that fight was very close. In recent interviews with Kelvin have revealed that he has made a lot of changes and has defeated his "demons". A re-invigorated Kelvin is a dangerous fighter.
Jack Hermansson (@JackTheJokerMMA) isn't looking past Kelvin Gastelum but admits it's "impossible" not to keep close eye on Robert Whittaker vs. Darren Till.#UFCFightIsland2 | More: https://t.co/HOLj09qyuq pic.twitter.com/iE6OLXbp0w

— MMA Junkie (@MMAjunkie) July 16, 2020
Hermansson is coming off of a bad KO loss so I can see him coming out a bit tentative in this match and looking to be all in or all out. Hermansson can stay out of Kelvin's range for the most part, but the blitz attacks of KG will close that distance in a hurry and leave Hermansson vulnerable in the pocket when KG gets close. Hermansson has to change levels or use his size to drag Kelvin to the floor and then keep him there, which is far easier said than done.
Jack Hermansson vs Kelvin Gastelum Pick
From a skills perspective, I have to give this fight to Kelvin, but the issue is that he is facing a monster in his prime and eventually size matters. When you have two similarly skilled opponents the bigger one is far more likely to win and even though Kelvin has some serious advantages in this fight once they tie up I think the physicality of Hermansson will become evident.
Honestly, this is the definition of a fireball and popcorn fight for me. Take a shot, sit back, and just enjoy this one. We don't have to bet every fight and this is about as much of a coin flip as you can get. If push comes to shove I think I would have to side with the size of Hermansson doing just enough to get the win, but I am in no way confident of that play.
The Pick: Jack Hermansson (+100)