Drakkar Klose vs Luis Pena Pick: UFC Vegas 19 Predictions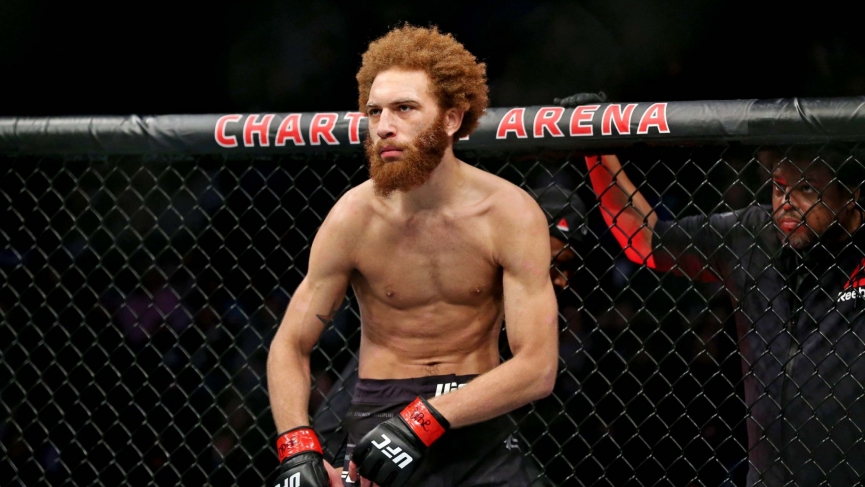 Drakkar Klose vs Luis Pena Pick – UFC Vegas 19 Predictions: UFC Vegas 19 is a card full of opportunity! Many live underdogs stand a genuine chance of pulling the upset. With the abundance of opportunities, we have to get creative for our underdog of the week, and I think we have a good one. 
〉More: UFC Vegas 19 Odds
Drakkar Klose vs Luis Pena Odds
| UFC Vegas 19 Odds | Drakkar Klose | Luis Pena |
| --- | --- | --- |
| To Win Outright | -160 | +153 |
| Inside the Distance | +400 | +400 |
| by Decision | +110 | +340 |
| Total Rounds | Over 2.5 (-240) | Under 2.5 (+203) |
| Fight Goes Distance | Yes: -205 | No: +170 |
| Where/When | UFC Apex, Las Vegas | Sat, Feb 20th, 5:00 PM ET |
The Fighters: Klose vs Pena
| UFC Lightweights | Drakkar Klose | Luis Pena |
| --- | --- | --- |
| Record | 11-2 | 8-3 |
| Finish Rate | 36% (4 Wins by T/KO) | 75% (4 Wins by Submission) |
| Age | 32 | 27 |
| Height | 5'9 | 6'3 |
| Reach | 70′ | 75′ |
Drakkar Klose is a fighter who has done nothing but impress so far in his UFC career. Klose's only two losses have come against very talented competition. The only time he has ever been finished came at Beneil Dariush, who has been fighting like a man possessed recently and is a top 10 fighter. Klose is a good wrestler with excellent submission defense and a solid boxing game to go with it. Klose may not have the most power in his hands, but he hits hard enough to back his opponents up and had Dariush hurt badly in his last fight. 
Luis Pena is a fighter who most of us remember from the Ultimate Fighter and by his nickname: Violent Bob Ross. Pena was injured on TUF and was unable to train and compete for the rest of the season, in which he was the runaway favorite to win. Since then, Pena has been training at ATT, one of the best MMA gyms globally, and just getting better. Pena has been priced as a complete fighter his entire UFC career and so far has been just barely getting by and was never really deserving of the price tag he was being listed at each week. It all came crashing down in Luis Pena's last fight when he faced Khama Worthy and made a mistake late in the fight leading to an unsightly submission loss against a fighter who was knocked out in his next match. 
UFC Vegas 19 Underdog Criteria
• Underdogs in the UFC Lightweight division have gone 25-34 over the last 13 months, profiting +9.42 units along the way.
Fight IQ
Luis Pena has never done anything but exactly what he needs to. Pena is a solid grappler who knows the benefits of position over submission. Pena never chases a finish at the cost of winning the fight or even giving up a dominant position in the fight. This leads to Pena being capable of winning seemingly "boring" decisions when out grapples with his opponents. This is a skill set that we as bettors need to look for when picking a live dog.
Chin
Luis Pena has never shown durability issues. The lone finish loss of Luis Pena's professional career was in his last fight against Khama Worthy in a very competitive fight until Pena made a single mistake late in the fight against an opponent who matched his height reach. Pena has shown excellent submission defense beyond this loss and has never been knocked out in his professional career. We can count on this man's chin to hold up on Saturday.
No Quit
Pena is a grinder. A natural wrestler Pena is more than willing to chip and grind away at his opponents even when he is deep in the fight, and everything is on the line. Pena is regularly the fighter who steals rounds with well-timed late takedowns. I have no reason to doubt the heart of Luis Pena, and we can count on him to do what he needs to, even if he is fighting an uphill battle.
Power
Power is a word that I wouldn't generally think of to describe Luis Pena, but we have made a few exceptions to this rule before, and this is the kind of spot where we can do that. Pena might not be able to head kick his opponent and knock them out stiff, but what he can do is drag them to the mat and choke them out. 4 of Pena's eight wins have come by way of submission, and if his opponent is durable enough to survive and not tap Pena is more than willing just to grind them into dust. Pena shows the fight-ending ability we need with his submission offense, and he shows a different kind of power that allows him to dominate the fight completely.
Drakkar Klose vs Luis Pena Pick:
UFC Vegas 19 Best Bets – Luis Pena (+150 via Bet365): As per usual, this play is not JUST a bet on the underdog. I like Luis Pena, and we have actually bet against him; so many people wonder why I am suddenly so high on the young fighter from ATT. Firstly the lay off Pena has been on is something that you cannot replace. Pena finally has taken some time to himself to evolve and grow as a mixed martial artist. When you are constantly jumping from fight camp to fight camp and preparing for a singular opponent, you just don't have the opportunity to grow. Pena is currently training closely with the uncrowned 155 champion in Dustin Poirier and the defending 135 champion Petr Yan who is joining ATT for his fight against Aljamain Sterling. These championship training partners are the kind of teammates that will push Pena to the next level. 
In addition to all the positives in this spot for Pena, this is also a spot with significant negatives for Klose. The issue I take with Klose is he appears to be a man who has lost his way. It wasn't so long ago that he left the MMA Lab in a move I greatly approved of when he switched to Fight Ready. However, recently, he has gotten into a dispute with the coaching staff at Fight Ready and is now training at a no-name gym with his main partner being Michael Johnson, who the UFC just released. 
Then we need to factor in the physical attributes of these men. Pena is larger than almost any 155-pound fighter, but we have to reiterate that he will enjoy a 5-inch reach advantage in this fight. When this fight takes place on the feet, that height and reach will cause issues for the plodding boxing heavy attack of Drakkar Klose. In the small cage in the UFC Apex, a fighter like Pena, who will look to use his grappling, will also be able to close range and use the cage more than normal. With Pena's situational advantages, having the cage benefiting his fighting style, the youth edge, and the reach advantage, this is a spot that I really like for Pena. The other factor we haven't discussed is recency bias. I mentioned that Pena is always a huge favorite and coming off of a loss to a fighter who got flatlined in his next fight is a perfect storm to have bettors looking to fade Violent Bob Ross. This line opened nearly a pick-em, and now we are getting +150 because the general public doesn't believe in Pena right now. This spot has everything we are looking for and a live underdog with a juicy line! I'll roll with Violent Bob Ross on Saturday at UFC Vegas 19.