Brunson vs Shahbazyan Best Bet Parlay – UFC Apex 5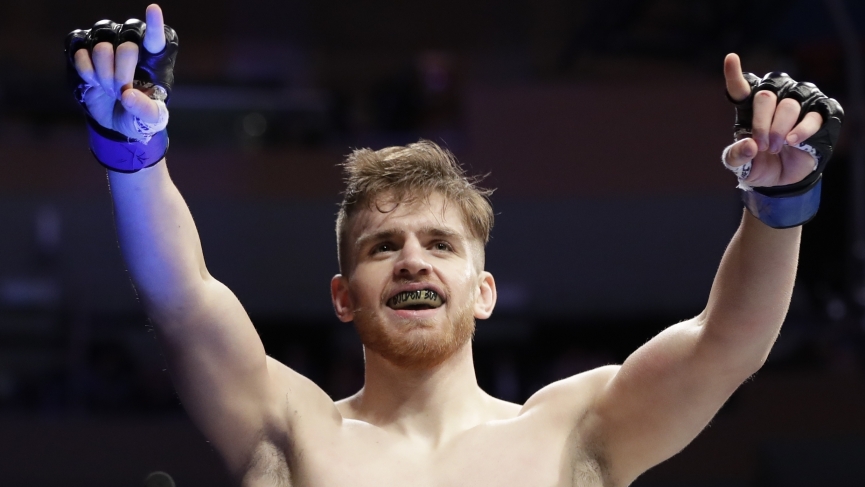 Brunson vs Shahbazyan Best Bet Parlay, yes I said it Parlay! Generally speaking, I do my best to avoid revisiting these articles throughout the week. I do my very best to provide new and different content every single time you click the link, but this is the BEST BET article. My style is to fire where I see value and more often than not that means that I am betting smaller unit sizes and more bets and I generally like them all about the same. This week is a different story. This week I have a true best bet.
Brunson vs Shahbazyan Best Bet Parlay Leg 1
The Fighters:
| | |
| --- | --- |
| UFC Fighter | Derek Brunson   |
| Odds | (+250) |
| Age | 36 years old |
| Height | 6'1 |
| Reach | 77' |
| Wins by KO/TKO | 11 |
| Win/Loss | 20-7 |
| Finish Rate | 70% |
I'll keep this brief! We already covered the main event in full depth and you can find that article here:
https://www.odds.com/cms/ufc/derek-brunson-vs-edmen-shahbazyan-pick-ufc-apex-5/
| | |
| --- | --- |
| UFC Fighter | Edmen Shahbazyan   |
| Odds | (-333) |
| Age | 22 years old |
| Height | 6'2 |
| Reach | 74' |
| Wins by KO/TKO | 9 |
| Win/Loss | 11-0 |
| Finish Rate | 91% |
Basically Brunson is an aging fighter who is falling into gatekeeper status. Shahbazyan is the new hotness and we expect him to roll here on his way to UFC contendership. I believe that this line is justified and especially with this main event being only 3 rounds Brunson will not have the opportunity to try to drag the young phenom into deep waters. I'm not honestly convinced that Brunson can survive 2 rounds with Shahbazyan, but in the event that he can we don't have to be concerned with the championship rounds.
Parlay leg 1: Edmen Shahbazyan (-333)
Brunson vs Shahbazyan Best Bet Parlay Leg 2
| | |
| --- | --- |
| UFC Fighter | Trevin Giles |
| Odds | (+175) |
| Age | 27 years old |
| Height | 6'0 |
| Reach | 74' |
| Wins by KO/TKO | 85 |
| Win/Loss | 12-2 |
| Finish Rate | 88% |
Kevin "Trailblazer" Holland is filling in on short notice to take on Trevon Giles for UFC Apex 5 and I love this spot. Holland is a fighter who had all the tools but was just a bit too young and a bit too green to be trusted. The day has finally come that he is taking his career seriously and now is the time to back him. Holland has recently been promoted to BJJ black belt and is hot off a first-round finish of Anthony Hernandez. Holland is slated to move down a weight class to 170, but has more than enough size and explosiveness to compete at 185 and could not turn down this opportunity.
Giles is a similar fighter who appears to have all the physical tools but still hasn't put it all together. Giles has sharp boxing and decent wrestling skills, but he tends to gas out in rounds 2 and 3 and the more tired Giles gets the worse he fights. Giles has been in control and fallen apart twice already against Gerald Meerschaert and Zak Cummings and both times gave up his neck in the 3rd round.
Now he finds himself taking on another BJJ black belt who never slows down, will have a height and reach advantage on him, and is really more skilled in every aspect of the game except possibly pure wrestling. I think this is a spot for Holland to step in and shine. I fully expect Holland to make Giles work for the first few rounds and just like we have seen previously when Giles cannot finish Holland he will start to demoralize. When Giles starts to breathe heavy and his arms get tired he will start to doubt himself. Holland has a 5th gear that he can shift into that Giles simply doesn't possess and he has a killer instinct that will bring us victory.
Parlay Leg 2: Kevin Holland (-213)
The Pick: Edmen Shahbazyan (-333) + Kevin Holland (-213)
Parlay Odds: -110