Alistair Overeem vs Alexander Volkov Pick – UFC Vegas 18 Predictions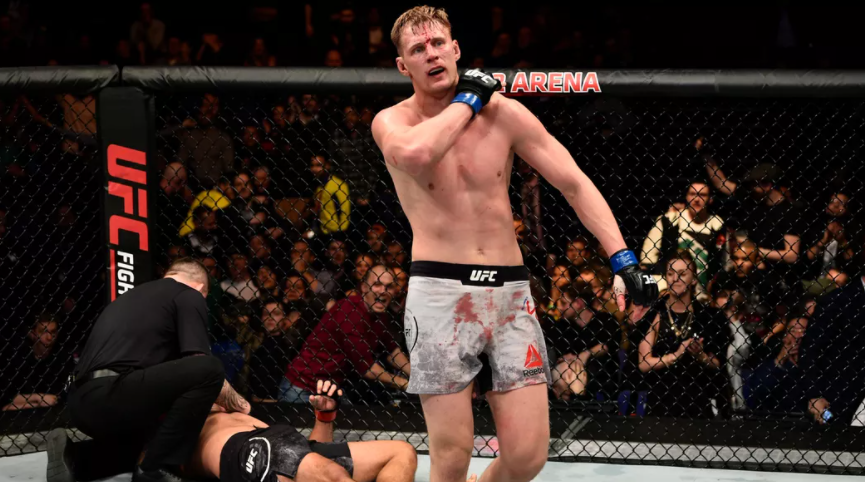 Alistair Overeem vs Alexander Volkov Pick – UFC Vegas 18 Predictions: The break is over! After a torturous three week break, we were treated to a rush of Fight Island events that were nothing short of epic. We were left on a cliff hanger with Conor McGregor being knocked out cold by Dustin Poirier and stuck licking our wounds or simply missing MMA for another week break.
Well, buckle in, MMA fans! This week we kick off a run of 8 straight weeks of UFC action with our Alistair Overeem vs Alexander Volkov pick.
| UFC Vegas 18 | Alistair Overeem | Alexander Volkov |
| --- | --- | --- |
| To Win Outright | +163 | -170 |
| Inside the Distance | +215 | +105 |
| by Decision | +700 | +440 |
| Total Rounds | Over 1.5 (-200) | Under 1.5 (+175) |
| Fight Goes Distance | Yes: +275 | No: -350 |
| Where/When | UFC Apex, Las Vegas | Sat, Feb 6th, 5:00 PM ET |
Alistair Overeem vs Alexander Volkov: The Fighters
| UFC Heavyweights | Alistair Overeem | Alexander Volkov |
| --- | --- | --- |
| Record | 47-18 | 32-8 |
| Finish Rate | 89% (25 Wins by T/KO) | 75% (21 Wins by T/KO) |
| Age | 40 | 32 |
| Height | 6'4 | 6'7 |
| Reach | 80′ | 80′ |
Alistair Overeem has been sneaky good the last two years. Since nearly being decapitated by Francis Ngannou in 2018, Alistair has made it clear that his epic MMA career is only missing UFC Gold, and he has put himself right back in the contender conversation. Overeem is 4-1 in his last 5 with TKO wins in all four victories.
Overeem's only loss in the previous two years came at the hands of Jairzinho Rozenstruik in the final seconds of a 25-minute main event, which he was handily winning up until the last minute of the fight. Overeem has been a money train, and I can understand why seeing him at underdog odds would be very enticing.
Alexander Volkov has been a dark horse at heavyweight who is finally getting his break out opportunity in the main event on Saturday. Drago has been on an excellent run in the UFC, with losses only coming to Curtis Blaydes and Derrick Lewis.
Much like Overeem's loss to Jairzinho, Volkov only lost to Derrick Lewis at the literal final second of their fight when he thought the fight was over and dropped his guard.
You must protect yourself at all times, and that is a lesson Volkov learned painfully that night. Volkov has rebounded well and looked to be in the best form we had ever seen him against Walt Harris in October 2020.
I am excited to see what this man will do in the next few years. With that being said, we are one step closer to discussing our Alistair Overeem vs Alexander Volkov pick.
Alistair Overeem vs Alexander Volkov: The Match-Up
If you want to line up to bet Alistair Overeem in this spot, it is hard to argue against it. The man is one of the most legendary fighters the UFC and MMA sport has ever seen, and he continuously turns back the clock. Every time you count The Reem out, he proves the doubters wrong and brings a new wrinkle to his game to find a way to win.
Overeem's experience is second to none, and he shows that veteran advantage every time out. You can count on few fighters, always fighting smart and rarely making mistakes, and Alistair Overeem is one of them.
That said, I have one of the biggest bets I have ever made on Alexander Volkov this weekend. Overeem is that magical age of 40 years old. When fighters hit 40, it is almost impossible for them to fight how they have most of their careers.
Their durability fades. Their gas tank empties faster. All fighters eventually lose the battle to Father Time, and most don't make it to 40 in the cage, to begin with.
I have nothing but respect for everything Alistair Overeem has done, but we have also to see the writing on the wall. He is nearing his career's twilight, and when he has fought elite talent, he has been losing and losing viciously.
Recently, Alistair's game plan has been to take his opponents to the ground and use his underrated wrestling and timing to control the fight. Once on the mat, Overeem makes them burn their energy getting up and then drains their will by returning them to the mat.
The fighters who fell to this strategy, however, have been less than stellar. Sergei Pavlovich, Alexey Oleynik, Walt Harris, and Augusto Sakai. All the names on this list are either very young fighters who have potential but don't have the experience yet, have bad ground games, or have lousy gas tanks. Volkov is none of those things.
Alistair Overeem vs Alexander Volkov Picks:
UFC Vegas 18 Main Event Best Bet – Alexander Volkov (-175) via Bet365: Alexander Volkov is one of the best-conditioned heavyweights in the division. Alexander Volkov is a strong wrestler who also has a Brown belt in BJJ if this fight hits the floor.
Volkov is also an incredibly technical striker who is eight years younger than Alistair, has a better gas tank, and can match the ridiculous 80-inch reach. This is a spot where the younger fighter has every advantage and, honestly, none of the weaknesses that Alistair's former opponents have offered up for him to take advantage of.
This is a 25-minute main event slot, which means that the durability and gas issues of an aged Alistar Overeem have plenty of opportunities to rear their ugly head. Overeem changed his fighting style in 2018 after suffering back to back brutal knockout losses and has avoided striking whenever possible since.
Volkov is not a fighter Alistair will gas out or be forced to make a mistake on the floor. Overeem isn't submitting Volkov, and I don't believe that Alistair can out-wrestle Volkov. If Overeem is forced to stand and trade with the young Russian who recently added 20 pounds of muscle, matches his reach, and outlands his opponents by nearly two significant strikes per minute, I do not like Overeem's chances.
Alistair Overeem vs Alexander Volkov Pick – Alexander Volkov by knockout round three.
---
UFC Betting Trends: Overeem vs Volkov
Alexander Volkov
(Since 2016 UFC Debut)

UFC Record

Profit (Units)

to Win by Decision
3-5
+6.25u
Over
7-1
+5.1u
Fight Goes Distance
4-4
+4.9u
to Win Outright
6-2
+3.7u
Inside the Distance
3-5
+2.16u

Alistair Overeem
(Since 2013)

UFC Record

Profit (Units)

Opp. Inside the Distance
7-11
+4.34u
Over
10-8
+3.08u
to Win Outright
(Since 2007)
19-8-1
+4.59u
to Win Inside the Distance
8-10
+2.82u
by Decision
3-15
+0.85u
UFC Heavyweight Division
| Since 2020 | Record | Win % | Profit (Units) | Buy Price |
| --- | --- | --- | --- | --- |
| 'Coin Flip' Dogs | 8-5 | 61.5% | +2.74u | -233 |
| Dog | 20-26 | 43.5% | +3.63u | +125 |
| Over | 25-21 | 54.3% | +1.23u | -114 |
---