UFC Fighter Interview and Odds Profile: Adrian Yanez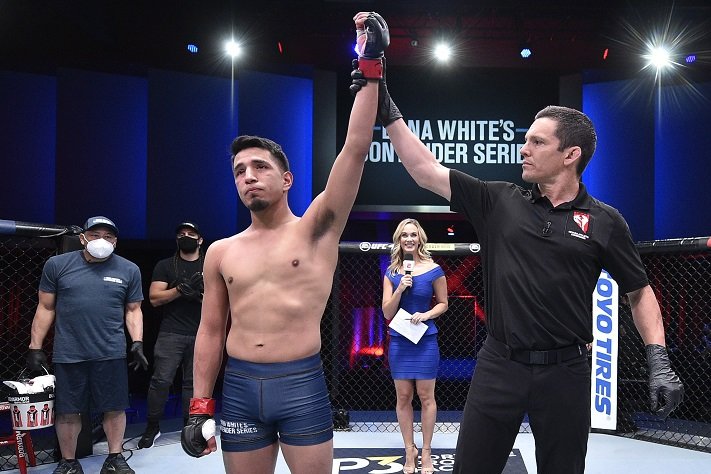 Odds.com's Adrian Yanez UFC Odds Profile: We talk to UFC debutant Adrian Yanez, as he gets ready for his UFC Vegas 12 bout with Victor Rodriguez. Yanez is a -300 favorite headed into the fight, but some value can be found when going over his fighter odds profile. 
Adrian Yanez Interview
Odds.com's James Lynch interviewed Adrian Yanez before his UFC debut on October 31st, at UFC Vegas 12.
Adrian Yanez Debuts:
Adrian Yanez made his professional MMA debut in 2014 with the 'Texas City Throwdown', and has fought at LFA, Bellator, and will be making his debut in the UFC at UFC Vegas 12, after picking up a victory earlier this year on Dana White's Contender Series.
Adrian Yanez Odds History:
Adrian Yanez has had 13 professional MMA fights, but only 5 of them have had global odds posted. Yanez's first pro-fight with odds posted was at LFA 7, in May of 2017, where he lost to Domingo Pilarte via split decision. Since then, Yanez has had three fights in LFA, and one fight on Dana White's Contender Series with professional odds posted. Yanez has gone 3-0 as a favorite lined at -350 or higher in those three fights. His only loss as a closing line underdog in his career was via a split decision to Miles Johns at LFA 35 in May of 2019. In his most recent fight earlier this year on DWCS, Yanez defeated his opponent easily lined as a -350 favorite, needing just 39 seconds to do so. With that, Yanez secured a contract with the UFC and will face fellow debutant Victor Rodriguez at UFC Vegas 12.
Fighter Betting Trends: Adrian Yanez
| | | |
| --- | --- | --- |
| Adrian Yanez | Record | Profit (Units) |
| 'to Win Fight' | 3-2 | -1.12u |
| 'Under' | 1-0 | +1.45u |
| 'Win Inside the Distance' | 1-0 | +0.63u |
| 'Fight Doesn't Go Distance' | 1-0 | +0.35u |
UFC Vegas 12: Adrian Yanez vs Victor Rodriguez
The best bet to make on Adrian Yanez in his upcoming bout at UFC Vegas 12 is by betting the 'Under 1.5 Rounds' at +105. Yanez is coming off a 1st round victory that only took him 39 seconds, and as his interview entails, he is looking to do the same vs Victor Rodriguez. With the 'Inside the Distance' prop sitting at -138, and Yanez sitting as a hefty -300 favorite, the best value bet to make, if you're backing Yanez is definitely on the Under.