Dallas Stars vs Vegas Golden Knights Pick – Game 5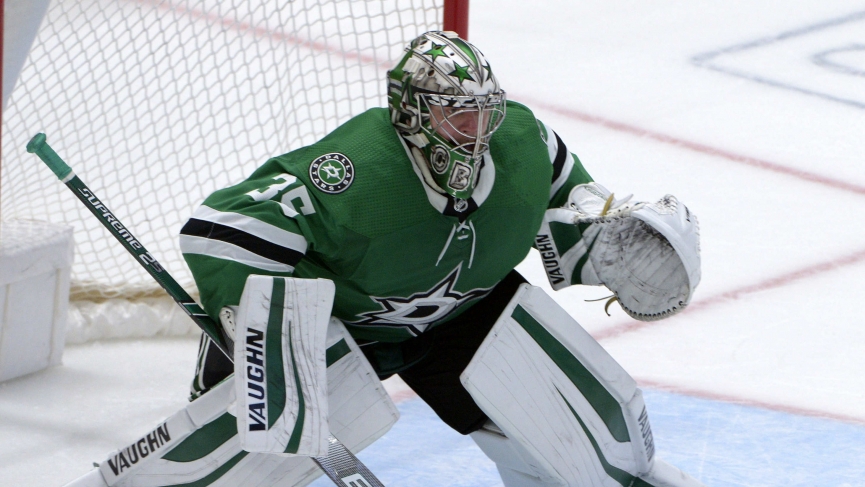 OddsHQ's Dallas Stars vs Vegas Golden Knights Pick for Game 5: The Stars lead the series 3-1 but have been outplayed in the majority of this match-up. The Vegas Golden Knights look to right the ship and avoid elimination in game 5 of the Western Conference Finals.

| | | |
| --- | --- | --- |
| NHL Betting | Vegas Golden Knights | Dallas Stars |
| Best Odds | -170 | +150 |
| Total | Over 5 (-123) | Under 5.5 (+110) |
| Where/When | Rogers Arena, Edmonton | 8:00 PM EST |
Puck-Luck
This playoff series has proven to be one of variance. Bad breaks and puck luck need to go your way in order to win games, every bit as much as you need to play well. It's not that every other sport isn't that way also, but it's much more pronounced in hockey. The Vegas Golden Knights clearly deserve a better fate in this series than currently being down 3-1. Vegas has outplayed Dallas for most of the series in every major category you can find, including shots on goal, scoring chances, puck possession, and offensive zone time.
However, in this sport, none of that matters. If you can't find a way to ultimately score goals, and put the puck in the net. The Golden Knights unfortunately haven't been able to find the back of the net with any sort of regularity. Dallas has defended quite well in their own zone, despite allowing a ton of shots. The Stars defense is keeping Vegas from getting to the front of the net for loose pucks and rebounds after their initial shots. More than anything, Stars goaltender Anton Khudobin is playing the best hockey of his lifetime in the net. He has been a brick wall in between the pipes in this series. Turning aside 99 shots in the last three games combined. In those last three games, the Golden Knights have outshot the Stars by a whopping margin of 105-67, and yet Vegas is trailing 3-1 in the series facing elimination here in Game 5.
Benn is Big Again.
Dallas Stars captain Jamie Benn has been a point of criticism in recent preview articles. Earlier in the series, it was mentioned that Benn, was not making any sort of significant impact on the ice for his team. However, since then, Jaime Benn has started to awake from his slumber in the last two games, chipping in goals in both games, putting up 4 points, including the game-winning goal in Game 4. Benn has been far more noticeable on the ice in games 3 and 4. He's making big plays, scoring big goals, and playing with that intensity, and physical edge that makes him a tough top-line forward to play against. When Benn uses his size advantage against the opposition to possessing and contain the puck, he has the capability of becoming a force. We didn't see enough of that from him earlier in the playoffs, but he has turned up his level of play in the last couple of games for the Stars. Dallas still needs Tyler Seguin to follow suit, as he continues to be mired in an extensive slump. Seguin has gone without a goal in the last eight games, while mustering only a point during that span.
With Injury Woes, Dallas' Depth to be Tested in Game 5
Dallas has taken a few injury hits in this series upfront. They were already without Roope Hintz, and now one of their depth centers Radek Faksa is also out due to a left-hand injury. Faksa hasn't provided Dallas with much in the way of offense, since at least the early portion of the second-round series against Colorado. However, Faksa is a very solid checking, and defensive-minded center, that plays a lot of important minutes. Specifically, on the penalty kill, which is a role he has excelled in, for the Stars. That, in theory, should make the Stars somewhat weaker defensively.
Hockey is played on Ice, not a spreadsheet
The expected goals for (xGF) in each of the last three games of this series indicates that Vegas should be scoring more goals than they have. Vegas leads Dallas 30-22 in high danger scoring chances in the last three games of this series combined but were victorious in only one of those games. Khudobin has played better than he's played at any previous time in his career. However, you have to believe that with the Knights' collective backs against the wall, and facing elimination, the Golden Knights will go on a relentless assault, and attack offensively against the Dallas Stars net and Khudobin. Vegas scored 3 goals on 36 shots the last time they faced elimination in Game 7 against Vancouver. Now if there's any time for that happen again in these playoffs, it is now.
On the other side, Dallas is talking about trying to gain more offensive zone time, scoring chances, and goal production of their own, heading into Game 5. The Stars are finally realizing that they have been relying way too much on their goaltender in the last few games to help them win. Dallas has only scored one power-play goal in this series, and that should be due for an improvement.
Dallas Stars vs Vegas Golden Knights Pick – Game 5
This series is a perfect 4-0 to the under so far, with one low scoring game after another. However, we are now seeing our first total of 5 in this series, after the total was lined at 5.5 for each of the first four games. This is the ideal spot and price to shift gears, look the other way, and expect our first over of the series here in Game 5 on Monday. The biggest factor about the over is the 'elimination game angle.' Knowing that if Vegas is trailing in the 3rd Period, there will be lots of time with an empty net in the latter stages and the potential for a late goal-scoring explosion. Elimination games in the NHL Stanley Cup Playoffs are just about always an automatic Over the total betting situation, especially with a total sitting as low as the 5. Even in what has been a low scoring series to this point, the Over is a comfortable play at 5, laden with value. Best odds available on Under 5 is at +110 (via BetMGM)