Five Stanley Cup Contenders With The Best Value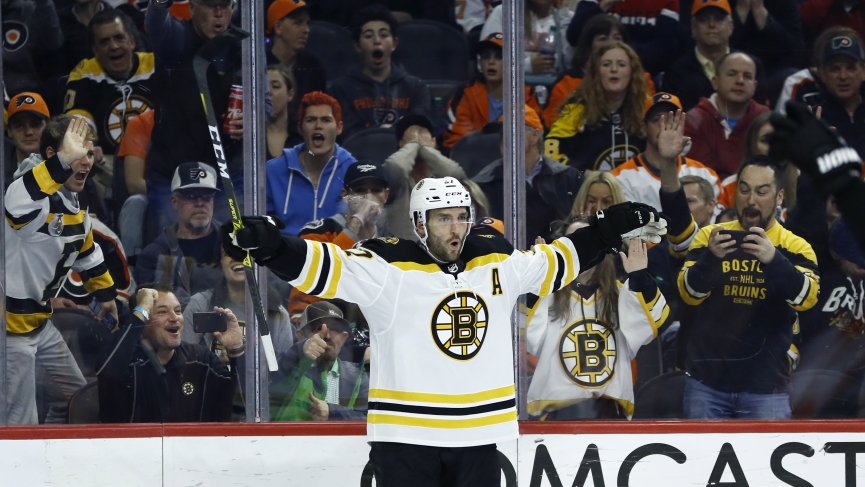 Boston Bruins had a strong showing during the regular season, will that continue once the season resumes?
Toronto Maple Leafs have the the "sleeper" team of the Atlantic Division, will they step up in the playoffs?
Calgary Flames have played consistently during the regular season justifying their value doubling since preseason.
Pittsburgh Penguins were not worth your money in the preseason yet is now a top contender in their division.
Philadelphia Flyers finished their regular season strong, can they continue their momentum?
While it feels like a lifetime, it has been at least a  month since the NHL announced it would postpone the remainder of the season, and though we are all eager to watch live sports again, many of us who gamble are even more eager to place a bet.
It's true that futures bets do not give instant gratification (or disappointment) like placing a bet an hour before puck drop, but they do offer a chance to put your evaluation and prediction skills to the test, and even more of a reason to hold onto the hopes of finishing the 2020 season.
I understand the urge and the need to place a bet. Right now, for many people, any bet on any event will do. But for those of you who are sick of losing silly little $5 bets to your friends, I am here to remind you that you can still bet on sports, and with a little bit of thought behind it, you may even make some good money.
Here are the top five Stanley Cup contenders with the most betting value.
Boston Bruins 6 to 1 (+600)
Coming in at number five is the league leading Boston Bruins. The Bruins had everything going for them this year. They were the first and only team to reach 100 points, one of only two teams to win 20+ games both at home and on the road, and had a goal differential of +53 which, to nobody's surprise, led the NHL.
The old saying goes, a hot goalie is the most valuable commodity in hockey come playoff time, and no one was hotter this season than Tukka Rask. The 33-year-old goaltender was in the midst of posting the best numbers of his 13 year career, including a league leading 2.12 GAA to go along with five shutouts and a .929 SV % which was only bested by the Dallas Stars back-up goalie Anton Khudobin.
All this to say that Boston is clearly the all-around best team in the NHL this season, and it surprises me that they are even 6-1 right now given the fact they started the season with 10-1 odds and have been so dominant.
There is value in this team if you believe that nothing will stop them from avenging their loss to St. Louis last year and hoisting the Stanley Cup. Hockey is a game of momentum, repetition, and hard work. The Bruins embodied that and were the definition of a well-oiled machine. I am just weary that with such a long lay-off nothing that happened during the season will mean all that much, and +600 is just not enough for me personally to push those concerns aside.
Toronto Maple Leafs 25 to 1 (+2500)
If you bet on the Leafs preseason you are likely pretty disappointed right now in both the team's performance and the fact that a bet on Toronto now has the potential to be worth over 150% more than the +950 payout at the beginning of the season.
Toronto is not as strong as some of the other teams we are discussing, and they are currently benefiting from the fact they play in the Atlantic Division, and that somehow the Florida Panthers took what was looking to be their best season in 20 years and threw it in the trash.
However, this is not a team anyone wants to face in the playoffs. They score the third most goals in the league, are top ten in every offensive category, and have an aggressive young core led by a pair of superstars in Auston Matthews and John Tavares. They may also have one of the most talented pairs of goalies in the NHL between the perennial Vezina Trophy candidate Freddy Anderson, and his very capable backup Jack Campbell.
If you have liked Toronto at any point this year, you should love them at 25-1. Go ahead and pull the trigger.
Calgary Flames 35 to 1 (+3500)
Here we have another team whose value has doubled since the pre-season.
Though the Flames do not particularly shine in any specific categories, they have found a way to beat good teams this year, and have provided us with the most entertaining rivalry in all of hockey.
The Flames have value in the playoffs due to their location and the fact they have been very good on the road this season. Calgary is a long way to travel for teams like Dallas, St. Louis, or even Las Vegas.
If the Flames are able to defend home ice and keep things rolling on the road, they could have a real shot at a respectable playoff run.
Pittsburgh Penguins  13 to 1 (+1300)
There was a point during this season in which I would not have placed a single dollar on this Penguins team, regardless of odds. After opening the season as a 20-1 mid-tier favorite, the Pens struggled with injuries and hit a mid-season lull which saw multiple losing streaks, topped off by an eight-game losing streak including losses to three of the bottom five teams in the NHL.
Thankfully those times passed, and the Penguins were able to get back on track and once again establish themselves as a top contender in the east.
No team may end up benefiting more from this unexpected stoppage of play than the Penguins. We have seen Crosby led teams bounce back from bad seasons many times before, most recently in 2015-16 when they fired their coach and worked up from the bottom of the league standings in order to make the playoffs and eventually win the Stanley Cup.
You can never count out an organization with the prestige, experience, and leadership that the Penguins have. Odds makers know this, which is why the Penguins remained in the neighborhood of +1300-1500 even in the thick of their struggles.
This team now has an opportunity to get healthy and remember who they are. Take the +1300 right now, because once the season starts again we could see that number drop rapidly.
Philadelphia Flyers 13 to 1 (+1300)
That's right! The Flyers have more value than anyone. Kudos to you if you saw this coming, because I sure didn't.
Philadelphia opened the season at +3250 but have come down consistently over the course of the season, and rightfully so. They were seemingly untouchable at home with an NHL best record of 25-6-4, and had been churning out wins like crazy, including 9 in a row right before the season suspension, and 19 of 26 dating back to January.
They also play top-notch defense. While allowing the fewest shots on goal in the NHL they are able to rally around their young goaltender, Carter Hart, who has posted impressive numbers in just his second NHL season.
The Flyers are playing their best hockey at the right time, and have an opportunity to take advantage of teams such as the Capitals or Penguins who have not played to their highest abilities this season.
Good teams with young goalies seem to be the recipe for success lately. Whether you are talking about the Blues last year with Binnington, the Penguins with Murray, or even the Caps with Holtby, the 2020 Flyers resemble those teams in all the best ways, and are my pick to win the Cup this year.
Long-shots To Consider
I'm not quite sure how things are going to work when play finally resumes, but if teams are given even a few games to fight for a playoff spot, the Rangers (+4000) may have the ability to sneak up and take out the Bluejackets for the 8th spot in the East.
Columbus leads the Rangers by two points despite being four games back in the win column. They have been mediocre both at home and on the road, but the much-needed solid efforts by their young goaltenders have helped them swing back into a positive goal differential. Something neither team who sits above them possess.
There is another 40-1 opportunity waiting for you in the Western conference, and it may even be a better bet. The Minnesota Wild were starting to play really great hockey before the postponement. They were 7-3 in their last ten, and 15-8 over the last two months of play with a goal margin of +19. They currently sit just one point out of a playoff spot, and though the Wild have a reputation of early playoff exits, their odds will never be more favorable than they are right now.
These teams may be a long shot to actually win, but at a 40-1 clip even a small bet could net you a profit through hedging.