NHL Picks – Wild Odds to Win Stanley Cup – Fact or Fiction?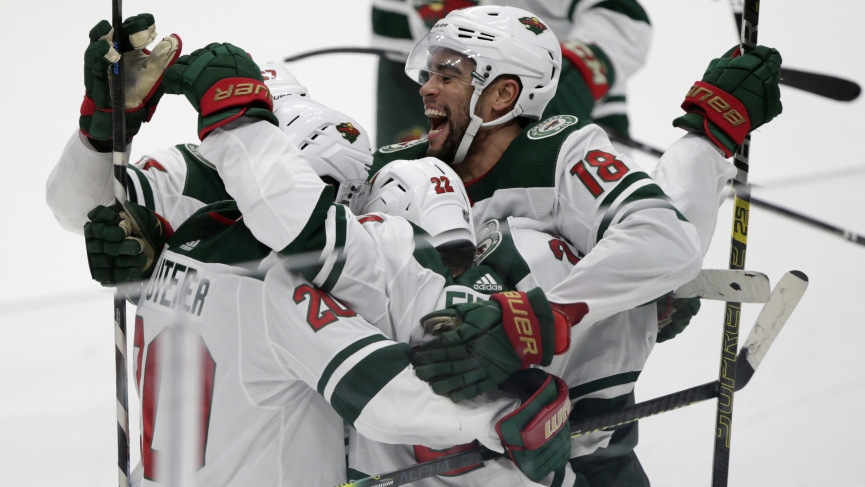 I will be writing a series of NHL articles determining whether we have "fact" or "fiction" in the betting markets when it comes to NHL Stanley Cup futures value with particular teams should we see the NHL season resume at some point. This article investigates the Minnesota Wild who are currently priced at around +5000 to win the Stanley Cup.
Team In Transition
Minnesota is caught in the middle right now and trying to figure out who they want to be as a franchise. The Wild made the playoffs in six consecutive seasons from 2013-2018 before missing the playoffs last season. That signaled the start of a potential rebuild for the team but due to salary cap concerns, the Wild and their management group have been forced to keep many of their aging, veteran players like Zach Parise, Mikko Koivu, Eric Staal, and Ryan Suter. They are in the midst of converting to a younger and faster team but they aren't fully there yet which is why this is a team that is stuck in the middle of a transition period and not sure what they are. Minnesota has played with the focus of a team trying to make the playoffs but if they don't make it to the postseason, they are going to be in no man's land and not getting all that great of a draft pick in the first round either.
Minnesota's "Wild"-ly Inconsistent Ways
The Minnesota Wild were just one point behind Nashville and Vancouver for the final remaining Wildcard playoff spot in the Western Conference when the season was suspended due to COVID-19. That speaks volumes about the up and down, inconsistent ways of this hockey team. Minnesota has held serve on home ice with a 19-16 home record but they are 16-18 on the road. The Wild's defensive play has declined with each passing season as Minnesota is allowing 3.1 goals per game which puts them 24th in the NHL in goals allowed and their penalty kill is also below league average at 25th in the NHL with a 77.2% penalty kill conversion rate.
Goaltending has been an issue for this squad as well. Devan Dubnyk has struggled at times this season. His GAA has increased and his save percentage has decreased in each of the last three seasons. Alex Stalock is nothing more than a marginal backup goaltender in the NHL. Minnesota is not a potent enough offensive team to overcome defensive struggles unlike some other teams like Toronto, Washington, Colorado and Tampa Bay to name a few. The Wild has a Top 10 power play in the NHL but their even-strength goal-scoring production is mediocre at best. This is not a team that is loaded with superstar, upper echelon skill, and game breaking ability. The depth for this team isn't as good as it once was either with both the forward group and the blue line which is why injuries have also played a negative role in this team's downfall.
Final Verdict – "Wild Out"
One of the rap and hip-hop tracks I listened to growing up as a teenager in the early 2000s was "Wild Out" by The Lox and I think I will apply that song title to my analysis on the Minnesota Wild from a Stanley Cup futures perspective. For me, the Wild are out of consideration for betting to win the Stanley Cup. First of all, it's even riskier to bet this team to win the Stanley Cup since they are currently not even in a playoff spot and have to get in first to have a chance at the title. Even if this Minnesota Wild squad makes the playoffs, I see them as a "one and done" team facing what would be a far superior opponent in the first round such as the defending champion St. Louis Blues or Colorado Avalanche who would both be possible first round opponents for the Wild should they emerge with one of the Wildcard playoff spots. It's worth noting Minnesota lost in the first round in each of those six previous playoff appearances from 2013-2018 so this is not a franchise that has any track record of success in the postseason. I will pass on endorsing Minnesota as a team to invest in regards to NHL Stanley Cup futures.