NHL Picks: Blackhawks Future Odds Don't Scream Betting Value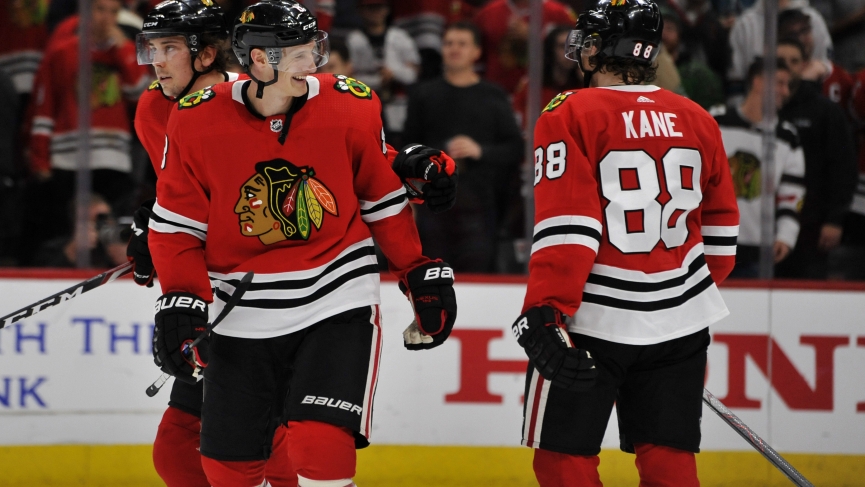 For those of you old enough to remember when the Chicago Blackhawks were a dynasty (you know, five years ago), then this article might be hard to read. Despite having the best American born hockey player of all-time, Patrick Kane, the future of the Chicago Blackhawks doesn't look great. "The Captain," Jonathan Toews is also still playing great hockey, but the dynamic duo is about the only two left from the glory years.
Blame BLOWman for the fall
Bowman has made some horrible trades in the last few years and doesn't seem to have an understanding of how the salary cap works. Replacing Coach "Q" was a desperate move that ended up setting us back another few years.
Trading away the "Breadman," Artemi Panarin was a crushing blow, that continues to haunt the Hawks to this day. All Panarin has done this year is rack up nearly 100 points, and look like an absolute stud in doing so.
Bowman continued his incompetence this season, by trading goaltender Robin Lehner for two used hockey sticks and a Zamboni tire. The Blackhawks once looked like they would win the Stanley Cup every single year, but now they are facing elimination in mid-March.
BlackHawks Championship Odds
Yes, I put those three words together… Sportsbooks continue to list odds for the Blackhawks to win the Stanley Cup, even though this team is dead in the water. The Blackhawks are currently listed anywhere from +25000 to +30000 to win the Stanley Cup, which means that this team is going nowhere.
A bet on the Blackhawks at this time means you enjoy giving money away. Save that money and spend it on a ticket to a game next season, when the Blackhawks might actually have the Madhouse on Madison rocking again.
Even though losing sucks, losing games does the Blackhawks more good than winning at this point. Losing means a better draft pick in the 2020 NHL Draft, unless Bowman somehow uses that pick on another unproven defenseman.
There is nothing left to play for, and Jeremy Colliton needs to give his stars a rest and start taking some losses. The Blackhawks currently have a 16 percent chance to land a pick in the top three, and an 84 percent chance to land in picks 9-12.
A big difference in the 2020 NHL Draft order, and a big difference in the future of the Hawks moving forward.
The 2019-20 season was supposed to be the season to get back on track, but it will be three straight years of missing the playoffs. It sucks. It sucks bad. Seeing the Blackhawks at the bottom of the Central Division isn't fun, especially when the St. Louis Blues are on top.
Calder Trophy Future Odds
Despite another tough season, there have been a couple of huge bright spots, most notably Patrick Kane and Dominik Kubalik.
Calder Trophy Future Odds:
Cale Makar (Avalanche) -130
Quinn Hughes (Canucks) +100
Dominik Kubalik (Blackhawks) +5000
Dominik Kubalik is going to be a stud for the Blackhawks. Wait, he already is a stud. Kubalik should finish the season with over 50 points and could be a 100-point scorer in the next few seasons.
Adding another player like him on a team that already has Patrick Kane and Alex DeBrincat is huge, but the Hawks need about three more players like him. Bowman gets a bit of credit for Kubalik, but playing on a line with Patrick Kane hasn't hurt. Kubalik won't win the Calder Trophy, but he will get plenty of votes.
Bet Patrick Kane Total Points
Patrick Kane is the best American born hockey player of all time, and he will have a statue outside of the United Center the day he retires. Kane is the biggest reason that watching the Blackhawks is still fun as he continues to make opposing goalies look stupid.
Oddsmakers set the over/under for total points at 101.5 for Kane this season, and it does look like he is going to go under. Kane is closing in on 90 points but is behind his pace of 110 points a season ago. Still, Kane is a stud and will be a force to be reckoned with next season again.
April in Chicago is supposed to mean Blackhawks playoff hockey and Cubs baseball, but the Madhouse on Madison will be quiet again when the playoffs roll around. It's unacceptable for this trend to continue, and this will be a big summer for Stan Bowman.
As soon as the future Stanley Cup odds are released in June, bet on the Hawks because you can only keep Toews and Kane down for so long. Enjoy your time on top now, Blues, because 2021 is our year.