NFL Week 1 Picks: The Early AFC Prediction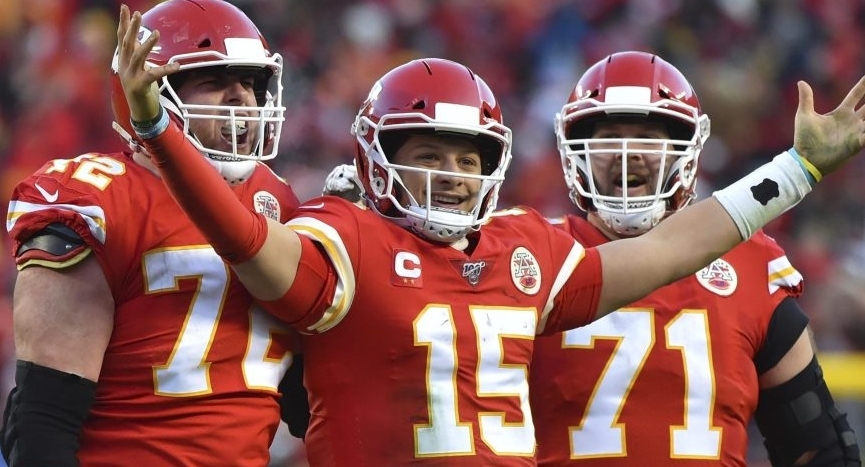 Odds.com has the early AFC look on 'NFL Week 1 Picks'. Even though the NFL season is still three months away, it's never too early to take a look at NFL odds. Let's peruse the AFC where the reigning champion Kansas City Chiefs will have plenty of challenges as they try to defend their title. Week one is a time of hope. Every team has playoff aspirations. Who will get their season off to a fantastic start and cover the spread while doing so?
Houston Texans at Kansas City Chiefs
The reigning champs will open up at home against the Houston Texans. Patrick Mahomes versus DeShaun Watson is a rivalry that could dominate league headlines for the next 10 years. Right now, Mahomes has a better coach and crew. This will be our first look at the Texans without DeAndre Hopkins, who was traded in a controversial offseason move.
The line is sitting at Texans +10 right now, but there is no reason to get involved unless you favor the Chiefs because the public should bet this to an even bigger number for the Texans. I am leaning Texans here. Although they probably won't win, they definitely have the talent to keep it close. Their bad offseason moves are leading this team to be underrated. Yet the public should give us even juicier line value here, so there's no reason to act fast on this game if you favor the Texans.
This game will start the NFL season off with a bang! It is one of the many reasons why we can't wait for the NFL to begin.
Lean: Texans +10
Miami Dolphins at New England Patriots
This should be a fun first look at two teams going through major organizational changes. The Dolphins drafted quarterback Tua Tagovailoa and hopefully, he will be ready to play. Tua is poised for stardom unless injuries derail his career. New England on the other hand, will be facing its first season in 20 years without the leadership of Tom Brady. They will attempt to work their magic with a different quarterback. Hot takes will be buzzing around this game as those who have discredited Brady as a system quarterback will be waiting to pounce if the Patriots are able to move on from Brady without losing a step.

Brady fans will be eager to see if New England falls off without the quarterback's leadership.
Regardless of your feelings on Brady, the Patriots still have a very strong defense. This could give Tua problems in his first start. The Dolphins are well-coached under Brian Flores. He worked under Belichick before being hired in Miami. They have similar styles and I expect a close game. I don't know if the public will be as eager to pound the favorite here so it might be worth grabbing this number now.

Lean: Dolphins +7

<!–– MetaBet Message: No odds for an upcoming game found for '456979' ––>
Cleveland Browns at Baltimore Ravens
The Ravens have had plenty of time to stew on their early playoff exit in which the offense sputtered. The Browns added even more weapons in the off-season as well as a new head coach. This is a tough season to take over a team, however, without OTAs and limited training camps it will be harder to install a new system.
Meanwhile, the Ravens will be fine-tuning their offensive attack. While Tennessee was able to slow down the awesome weapon that is Ravens quarterback Lamar Jackson, the template is not easily duplicated without a quick and talented defense. I don't think the Browns have that type of talent. They will be lacking the continuity that the Ravens will have with established coach John Harbaugh.
I expect the Ravens to come out quickly and put up a blowout win to remind everyone that they are true Super Bowl contenders. This is a game you will want to grab early because the public should be on the same side.
Lean: Ravens -8.5
New York Jets at Buffalo Bills
The Buffalo Bills showed marked improvement last season. They are the trendy pick to overtake the Patriots as the AFC East champions. Jets coach Adam Gase needs to turn things around this season or this will probably be his last season as head coach. This game features two quarterbacks who will definitely be hindered by the lack of training camps in OTAs this year. Both quarterbacks are in a crucial stage of their development and need as many reps as possible.
Regardless, the Bills are a much stronger team and much more unified under their head coach Sean McDermott. Their defense is outstanding. It is very easy to foresee the Bills completely shutting down the Jets offense, which other than Le'Veon Bell, really lacks explosive weapons.
This is a tough game to call, and I really don't see myself getting involved in this game. However, I do lean the Bills. The Bills defense should stand out as the top squad on this field and make it a tough opening week for Sam Darnold and the Jets.
Lean: Buffalo -6
Indianapolis Colts at Jacksonville Jaguars
The Indianapolis Colts added veteran quarterback Philip Rivers in the off-season. There are serious concerns about Rivers's arm strength at this point in his career. If Rivers can regain some of the pop that his arm had earlier in his career,, he could be a crucial addition to the Colts. His fiery leadership and ability to read defenses are still a coveted asset in the NFL. Yet it's hard for this author to believe that Rivers will be successful after watching the ducks that he threw last season.
The Jacksonville Jaguars are in contention to be the worst team in the NFL. A "Tank for Trevor" strategy seems to be in play as this team doesn't have a lot of positives to look forward to. Their best players constantly want out and the "Sacksonville" defense, which seemed poised to make the Jaguars a perennial contender, has dissipated as the players have either been traded away or moved on in free agency.
Jacksonville quarterback Gardner Minshew is a fun story but is probably not in the top 20 quarterbacks in the NFL. It looks to be a rough season for the Jaguars and their fans. Even with a feeble armed quarterback, the Colts will probably roll here. Their roster has so much more talent from top to bottom. Yet seasoned gamblers know that the Colts are not a team to be trusted on the road so I will probably be avoiding this game. I definitely lean the Colts here in a blowout against the NFL's least talented team.
Lean: Colts -7
Los Angeles Chargers at Cincinnati Bengals
This game could feature two rookie quarterbacks. Joe Burrow will be making his debut for the Bengals after being the number one overall draft pick. The Chargers took a quarterback with their top draft pick as well, but he will have to beat out capable veteran Tyrod Taylor in order to win the starting spot. It is quite plausible that the Chargers wait before they trot out their rookie quarterback Justin Herbert.
The Chargers have a talented defense and a better overall roster to surround their young QB. The Bengals were a tough team to watch this year and Joe Burrow will be put in a tough situation to turn this floundering franchise around. The Chargers are favored by a field goal which seems about right. The Bengals fans should be fired up for the first time in years as Burrow gives them hope. The Chargers have a much more talented team and will probably win a game I'm not very anxious to get involved with. However, I definitely lean the Chargers based on the strength of their roster.
Lean: Chargers -3
Tennessee Titans at Denver Broncos
The Titans were the surprise team of last year, making it to the AFC Championship game. The Broncos are a trendy pick to become the surprise team of this year after rookie quarterback Drew Lock excelled in the final four games of last season. Both teams are led by a strong defense with a capable offense that prefers to control the game through their rushing attack. This should be a low-scoring game and seems to be a good spot to bet a prime-time under. With both teams having solid defenses and run based offenses, I'm going to stay away from picking a tricky side here and just look for a low scoring game.
Lean: Under 42