NFL Week 15 Parlay Picks and Teasers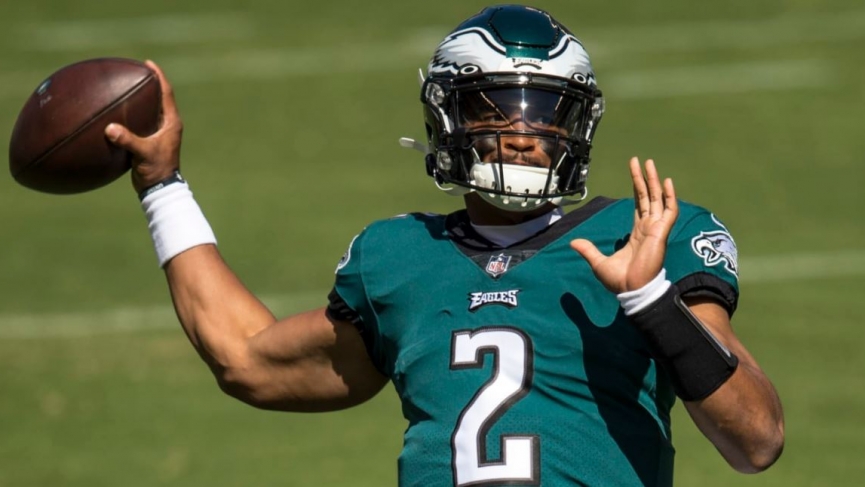 NFL Parlay Picks and Teasers – Week 15: Road Teams are hitting at a 77% rate (160-46-2) on the 6pt teaser this season. Here's a pair of parlay picks and teasers for your NFL betting needs.
We're coming down the home stretch of one of the strangest NFL seasons of all time, as only three weeks remain before the playoffs get underway. We've carefully looked at every game on the board on Sunday in Week 15, and we've also cross-referenced each contest with some of the strongest seasonal trends that pertain to these two types of popular wagers. Off a 2-0 sweep in Week 14, we hope to duplicate that success on Sunday.
NFL Betting Trends
The Numbers Don't Lie: As mentioned above, we have been carefully tracking several strong trends when it comes to both money-line parlays and six-point teasers.
6-POINT TEASERS: Road dogs are hitting at a 76% rate (98-29-2), while the road team is hitting at an even better 77% at 160-46-2 on the 6 point teaser in 2020.
MONEY-LINE PARLAYS: Road favorites have hit at a 70% rate on the moneyline in the NFL in 2020, going 56-24 for a marginal profit of just +1.74 units.
---
NFL Week 15 Teaser Best Bet:
| | | |
| --- | --- | --- |
| Week 15 Games | Tease | Teaser Odds |
| Bears vs Vikings | Bears +9 | -275 |
| Eagles vs Cardinals | Eagles +12.5 | -240 |
| Total Teaser: | Bears +9, Eagles +12.5 | -108 |
Teaser Odds via Bet365
How To Bet Teasers
There are a few basics as far as betting teasers are concerned. It's best not to cross over zero with these selections but instead cross over three "key numbers" (3, 4, 6, 7, 10, and 14 are the key teaser numbers.) Why are these considered key numbers? That's because those are the five most common margins of victory in Football. Another important thing to consider when making a teaser is assessing whether or not your ticket's opposing sides will run up the score in the second half if they do have a lead. So, with these rules in mind, let's quickly break down our two "play on" sides.
Chicago Bears from +3.5 to +9.5 (at Minnesota): An important divisional contest here. Both teams are 6-7. Minnesota's two-game win streak was snapped in last weekend's 26-14 loss at Tampa Bay, while Chicago finally broke a six-game losing slide in a dominant 36-7 victory at home over Houston. The Bears have switched between Nick Foles and Mitch Trubisky at quarterback this season, but the latter will get the call in this one. So far Trubisky has 13 touchdowns and five interceptions this year.
The Bears are only averaging 93.2 yards per game on the grounds, so expect Allen Robinson II and Darnell Mooney to play a big part in the Bears offensive plans today (they have combined for 1,477 receiving yards and nine touchdowns.) Chicago is only allowing 22.4 points per game as well.
The Vikings are averaging 27.3 points per game. Running back Dalvin Cook has been a force all year, as he leads the league in rushing. The Bears lost this game at home earlier in the year 19-13, so the revenge factor does come into play here as well. Finally, note that the Vikes are already a poor 1-4 ATS in their last four at home. With an added six points to their spread, we like the hungry Bears to deliver the goods in the first leg of our two-team six-point teaser.
Philadelphia Eagles from +6.5 to +12.5 (at Arizona): This is a big game for both teams and we're expecting a competitive battle until the final moments. The Eagles are 4-8-1 and the Cardinals are 7-6. Arizona needs a win here to keep pace in the competitive NFC West, while the Eagles also need a victory here, sitting in third place in the weak NFC East, but still with a mathematical shot at winning the division.
Philadelphia made a big move by taking out quarterback Carson Wentz and going with Jalen Hurts last weekend, and it would go on to pay dividends, as the rookie led his team to an upset 24-21 win over the Saints. Hurts had 309 yards, two touchdowns and an interception and he appeared to get stronger as the game progressed.
Arizona cruised to a relatively simple 26-7 win at the Giants last weekend. Kyler Murray has 23 touchdowns and ten interceptions this year, but the Cardinals are still a disappointing 1-6 against-the-spread in their last seven overall. We can expect another full four-quarter effort from Philadelphia today and with an added six-points to its spread, we look for it to get the job done in the second part or our Week 15 teaser.
---
NFL Week 15 Parlay Picks:
| | | |
| --- | --- | --- |
| Week 15 Games | Pick | Odds |
| Seahawks vs Washington | Seahawks | -300 |
| Chiefs vs Saints | Chiefs | -160 |
| Total Parlay: | Seahawks, Chiefs | +116 |
Parlay Odds via Bet365
Remember, for our Week 15 parlay, we're throwing the spread options out the window and avoiding the potential for any bad beats. Instead, we're taking these two favorites on the moneyline.
Seattle Seahawks -300 (at Washington): Seattle is 9-4 and they've split its last six road games. Quarterback Russell Wilson was 36 touchdowns and only 12 interceptions. The offense for Seattle is one of the best in the league, behind the dynamic play of DK Metcalf and Tyler Lockett, who have combined for 2,066 receiving yards and 18 touchdowns. How does the saying go, 'all good things eventually come to an end?'
After four straight wins, we think that Alex Smith and this pedestrian Washington Football team offense will struggle to keep pace with the high-flying Hawks. And don't look now, but after struggling through the first half of the season defensively, Seattle has now conceded 21 points or less in four straight games. After four straight victories, including three in a row on the road, all signs point to the Washington Football team finally having a letdown this weekend.
Kansas City Chiefs -160 (at New Orleans): The defending champion Chiefs will once again be put to the test in Week 15, but we're expecting Patrick Mahomes and company to be up to the task. KC comes to New Orleans at 12-1 and on an eight-game win streak. The Saints' nine-game win streak was just snapped last weekend, falling 24-21 to a desperate Eagles team.
Taysom Hill has filled in admirably for the injured Drew Brees, but note that the Saints are still just 1-4 against-the-spread in their last five versus teams with winning records. Is Brees starting? That's the big question this weekend. Whether the Saints' veteran plays or not, we think the transition that New Orleans is going through at the quarterback position right now isn't doing it any favors.
Especially facing a red hot Kansas City side. No upsets here, we expect Mahomes to take advantage of this situation and we look for him to help his team punch its ninth consecutive victory.
---