Bad Beat of the Year as Ravens and Browns Have Epic MNF Clash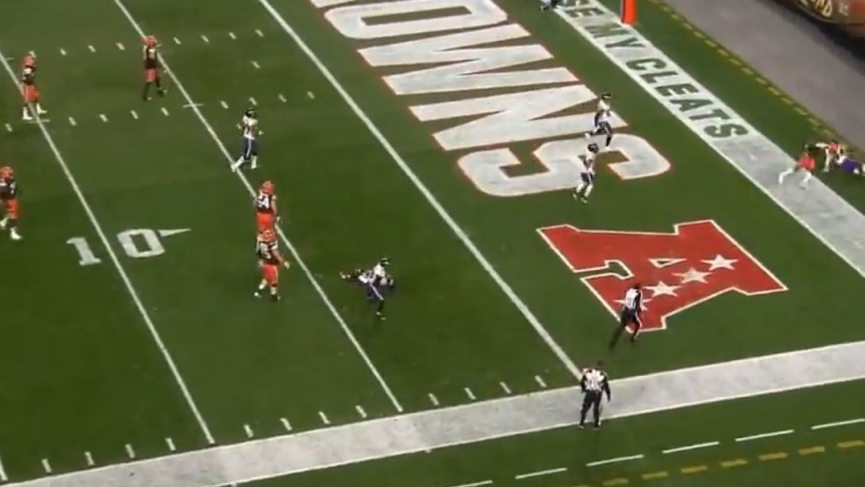 Bad Beat in Cleveland vs Baltimore Will go Down as Worst of 2020: Cleveland and Baltimore played arguably one of the most memorable games of 2020, and if you bet the side, you'll either want to forget about it or you thoroughly enjoyed the final sequence.
It was a drama-filled and very crucial AFC North rivalry game that opened at pick'em on the spread and saw Baltimore take all the money and close as the -3 favorites. Both teams respectively failed to convert an extra point but were both successful on 2-point conversions. Cleveland rallied from two touchdowns down, and after they tied the game at 42, they left Baltimore slightly over a minute to march down the field. 
After quarterback Lamar Jackson completed a pass to Mark Andrews at the Cleveland 37 with no timeouts, Baltimore rushed up to spike the ball, which they did with 7 seconds to go. This left Justin Tucker needing to make a 55-yard field goal for presumably the win, which he did to make the score 45-42 with 2 seconds remaining.
The spread was Ravens -3…..

The last play lateral miracle results in a safety resulting in the Ravens covering the spread. Absolute bad beat…. pic.twitter.com/0T5FMaXRIT

— Bench Bros Sports (@benchbrossports) December 15, 2020
Baltimore kicked the ball through the endzone leaving Cleveland with one play from their own 25. After multiple laterals, receiver Rashard Higgins threw the ball towards his end-zone, where Jarvis Landry picked the ball up and was shoved out of the back of the Browns end-zone for a safety. The result meant Baltimore had won 47-42, and all Ravens tickets had cashed while costing Cleveland +3 backers a push.
Historical Bad Beats
A similar instance to this happened on Monday Night Football on October 2nd, 2017, when Kansas City quarterback Alex Smith led his team down the field to kick the game-winning field goal over Washington. Kansas City closed at-275 on the moneyline, and as 6.5 point ATS favorites, with a betting total of 48.
The made field goal had made the score 23-20 for Kansas City with 4 seconds to go, seemingly preserving Washington +6.5 and 'under' tickets. That was until, like tonight, Washington started to lateral the ball, which the Chiefs' Justin Houston eventually picked up and ran in for a touchdown to change the score from 23-20 to 29-20 and cash both Kansas City -6.5 and 'over' 48 tickets.
🤮 Bad Beat Bracket: Football Region 🏈

Round of 64 (#7 vs. #10)

#7: October 2, 2017
Redskins-Chiefs (-6.5 | O/U: 48) on MNF

🗣️ The old Double Moose. Redskins attempt last second lateral .. Chiefs TD ruins spread & over/under: pic.twitter.com/44mKHcTNz1

— The Action Network (@ActionNetworkHQ) March 28, 2020
You can say these teams had good intentions in trying to score with these laterals, similar to when Todd Gurley had a walk-in touchdown but stopped after picking up a first down to help his team run out the clock in a 2018 game when his Los Angeles Rams hosted Aaron Rodgers and the Green Bay Packers. Los Angeles was up 29-27 at the time, and the Rams were favored by 7.5 with a total of 57.
Todd Gurley doesn't care about your fantasy team, the spread, or the over/under. pic.twitter.com/xNoc42LdyB

— NFL Update (@MySportsUpdate) October 28, 2018
If Gurley had scored, it would have sent the game 'over' the total, and would have put the Rams in a covering position with under a minute to go, and Green Bay having no timeouts. These intentions have certainly helped or hurt bettors and the sportsbooks previously and certainly will again, but it's the reason why we can't turn off the game until the game clock shows double zeros.