Mahomes Locked in as Strong Favorite to Win 2020 MVP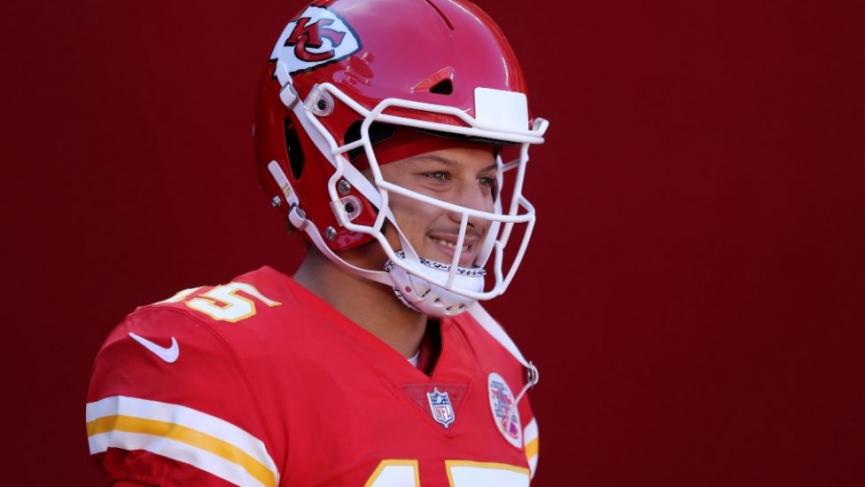 Patrick Mahomes MVP Odds have him locked in as the heavy betting favorite: Through the first five games of the season, Russell Wilson was on autopilot. The numbers – 19 TDs, just three interceptions, and more than 300 yards a game through the air – screamed MVP. Seattle won all five and was talking about an undefeated season. But both the Seahawks and Wilson have faded.
Big Ben and Josh Allen no longer in MVP contention
Ben Roethlisberger one-upped Wilson in leading the Steelers to 11 straight wins by exhibiting the same grit and guile he has shown every year since 2004. But now Pittsburgh has lost twice in a row, and Roethlisberger's MVP chances also appear lost.
Josh Allen's chances have risen along with Buffalo's ascension to the top of the AFC East, but Allen lacks the wow factor right now. And there was even talk that Tom Brady might be able to hold off the aging process enough to move Tampa Bay's needle and win a fourth MVP. No dice, however.
So, with three weeks remaining, barring an injury or Covid intervention, the NFL MVP battle becomes a match race between Patrick Mahomes and Aaron Rodgers.
NFL Most Valuable Player Odds
Updated: Dec 14th
via bet365
Patrick Mahomes -275
Aaron Rodgers +200
Josh Allen +2500
 Russell Wilson +4000
Ben Roethlisberger +10,000
Tom Brady +8000
Patrick Mahomes -275
Mahomes is on pace to throw for 5,179 yards this season, on average 323 yards per game. To put that in perspective, in Johnny Unitas's best season (1963) he averaged 248 – 75 yards per game fewer than Mahomes. Yes, the game is different today. But still. Mahomes is coming off a hot-and-cold game against Miami last weekend. He did throw for 393 yards (24 for 34) and a pair of touchdowns, but he was picked three times (after tossing two other interceptions all year) and was sacked three times. It all added up to a bizarre 33-27 victory at Miami in which the Chiefs fell behind by 10 in the first half and then held on late as the Dolphins scored twice late to make it close. Add a 30-yard sack on Mahomes, and KC was glad to escape South Beach with a win that clinched its fifth straight AFC West title. Three games remain for Mahomes to pad his numbers and join Brady and Rodgers as multiple winners of the award who are still active. Mahomes will have his hands full this Sunday against New Orleans, which has one of the best defenses in the league. Games 15 (Atlanta) and 16 (San Diego) figures to provide plenty of opportunity for stat padding.
---
Aaron Rodgers +200

Like the Bolivian army chasing Butch Cassidy, Rodgers just won't go away. Green Bay has clinched another NFC North title, and the venerable Rodgers continues to put up solid numbers that lead to victories. Detroit got nailed by Rodgers last Sunday, falling 31-24 as Rodgers tossed for 290 yards on 26-for-33 passing. Add three touchdowns to that line, and another game with zero interceptions. Rodgers, in fact, has not been picked since the Colts got him in the first quarter way back on the Sunday before Thanksgiving. If you want to compare the entire body of work between Rodgers and Mahomes, Rodgers stacks up well – fewer passing yards, but the same completion percentage (68.4), more TD passes (39-33), and fewer interceptions (4-5). If Rodgers doesn't stumble down the stretch (Carolina, Tennessee, and Chicago), he could make things uncomfortable for Mahomes.
---
Russell Wilson +4000
Wilson's chances of winning the award took a punch to the gut last Sunday when the Seahawks (now 9-4) suffered an unexplainable 17-12 loss to the Giants. Yes, the NFC East Giants, who went into the game with four wins despite playing in what may be the worst division in the league in the last couple of decades. Wilson has had far better games (in fact, most of his games this season have been better), but the numbers weren't that godawful – 27 for 43, 263 yards, one TD and an interception. What has to be concerning in the Pacific Northwest today was Wilson's odd indecisiveness. He was sacked five times by a Giants defense that has been improving lately. To be fair, it WAS New York's fourth straight win, so there some small comfort in that.
---
FAQ: NFL MVP Odds
Who is the Favorite to Win the 2020 NFL MVP Award?
As of December 14th, Kansas City Chiefs QB Patrick Mahomes is a heavy -275 favorite to win the 2020 NFL MVP award.