Justin Herbert Odds on Favorite to Win Offensive Rookie of the Year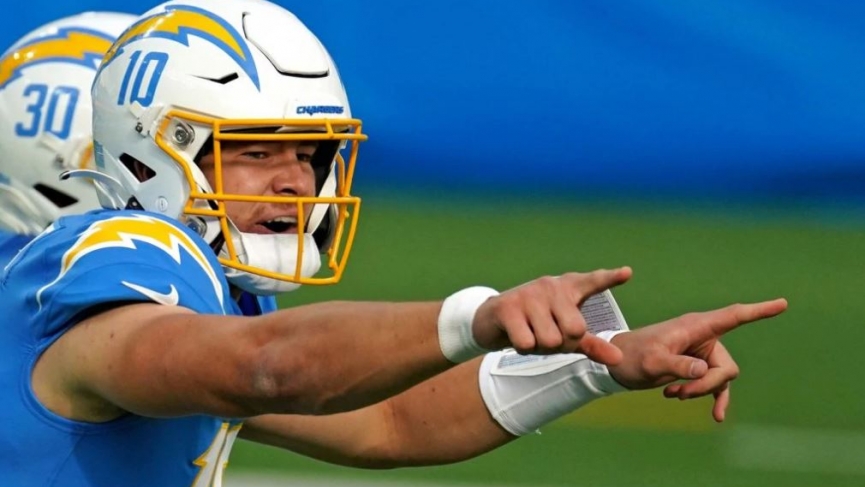 Justin Herbert Odds on Favorite to Win Offensive Rookie of the Year: Herbert sits as a -1200 favorite to win the award, and has gone wire to wire as the betting chalk since his dramatic debut in early September.
Odds to Win Offensive Rookie of the Year
| | | | |
| --- | --- | --- | --- |
| Player | Position | Team | Odds |
| Justin Herbert | QB | LA Chargers | -1200 |
| Justin Jefferson | WR | Minnesota | +700 |
| Jonathan Taylor | RB | Indianapolis | +900 |
Not a lot of things have gone right for the Chargers since they uprooted themselves from San Diego and moved to Los Angeles, but at least they know they have the quarterback position locked down for perhaps the next decade with Justin Herbert at the controls.
Herbert finished off a tremendous rookie season on Sunday by leading the Chargers past the playing-for-nothing Chiefs, but a win is a win. For good measure, Herbert led LA to wins in their final four games on the way to a foundation-building 7-9 record.
To the victor goes the spoils, and among the spoils will most likely be the NFL Offensive Rookie of the Year award. Herbert entered Sunday's game with the odds (-1600) heavily in his favor to win it, and his numbers against Chiefs backups did nothing to harm his chances. Herbert finished with 22 completions in 31 attempts, for 302 yards and 3 touchdowns.
Herbert and Bengals QB Joe Burrow were neck and neck favorites for the award in early November, but Burrow fell by the wayside on Nov. 22 when he suffered an ACL tear. Since then Herbert has, with one exception, done nothing but create distance between himself and his two primary threats – Minnesota wideout Justin Jefferson and Miami QB Tua Tagovailoa.
Doubts about Herbert surfaced when he stunk out the joint in a 45-0 loss to the Patriots in early December, but unlike most other rookies he was able to forget about that bad game. In the four games since then (all Charger wins), Herbert completed 101 of 140 passes – 8 of them for touchdowns. The final TD pass gave him 28 on the season, a rookie record.
Herbert served notice early on that he would be more than just another scared rookie when the Chargers (then winless) went into New Orleans on Oct. 12 and gave the Saints a serious scare, losing by a field goal in overtime. Herbert threw for 4 touchdowns (and zero interceptions) in that game.
Not bad for a kid who figured to sit for the season behind journeyman Tyrod Taylor, and got to play only when a Charger team doctor inadvertently punctured one of Taylor's lungs while trying to administer a pain-killer just prior to the start of the Chargers' second game of the year.
Meanwhile, Jefferson made the best case for himself that he could in Week 17, hauling in 9 passes for 133 yards in Minnesota's 37-35 victory over Detroit. It marked the third time this season that Jefferson had 9 catches in a game, and the seventh time with 100 or more yards receiving. But he ended the year with just 7 touchdowns, and none after Dec. 6, with 1,267 receiving yards.
For his part, Tagovailoa didn't get into a game until mid-October, played in only 10 games total but came out with guns blazing in the Dolphins' regular-season finale – 35 completions in 58 attempts for 361 and a TD. Three interceptions in the finale, however, probably ended any legit chance Tagovailoa had to win the award. He finished with 1,453 yards passing and 10 TDs.