Kansas City Chiefs vs Las Vegas Raiders Pick – NFL Week 5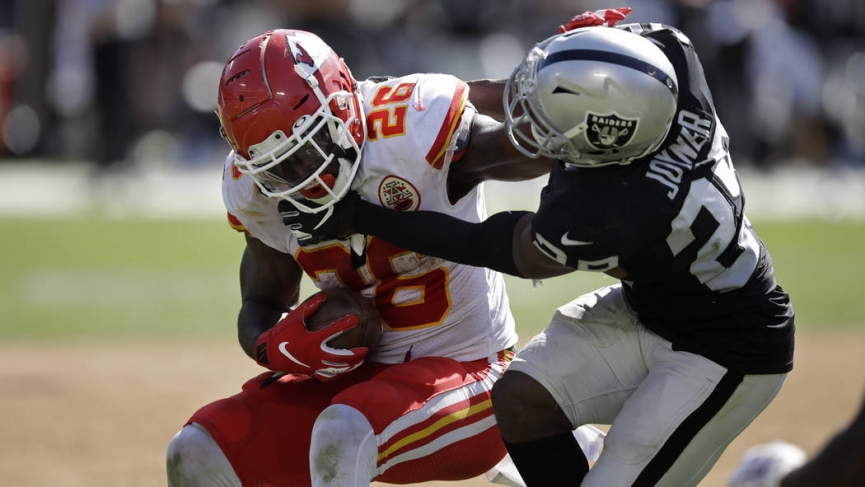 Odds.com's Kansas City Chiefs vs Las Vegas Raiders Pick – NFL Week 5: Andy Reid and the Kansas City Cheifs are riding an 8-0-1 ATS streak in their last 9 home games. They host their AFC West rivals in the Las Vegas Raiders on Sunday at Arrowhead Field as -11 point favorites. 

| | | |
| --- | --- | --- |
| NFL Betting | Kansas City Chiefs | Las Vegas Raiders |
| Best ATS Line | -11 (-109) | +11.5 (-109) |
| Total | Over 55.5 (-110) | Under 56.5 (-121) |
| Where/When | Arrowhead Stadium | Oct 11th, 1:00 PM EST |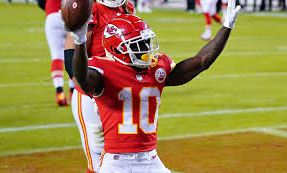 The Las Vegas Raiders are in Kansas City taking on the Chiefs in week 5 of the NFL. The Raiders come into this game riding a 2 game losing streak. They are in 2nd place of the AFC West with a 2-2 record. The Chiefs come into this one riding a 4 game win streak as they sit in 1st place of the AFC West with a perfect 4-0 record. This game has an added element to it as it is a divisional game so it has more meaning to these two teams.
Raiders Spiralling
The Las Vegas Raiders had a good start to the season winning their first two games but, they've lost their last two games in a row and now head into Arrowhead in a divisional battle against the defending Superbowl champions. The Raiders' offense averages 261.5 passing yards per game and 115.3 rushing yards. For the Raiders to win this game they will have to control it with their ground game and try to kill as much clock as they can on their drives. The Chiefs' run defense this year has been awful, allowing 161 yards per game on the ground.
Their pass defense has been very stout though, only allowing 195 yards per game. The Raiders have a solid running back in Josh Jacobs and they will have to use him to exploit the Chiefs' defensive weakness. The problem with this is that the Chiefs are a very talented team on offense and will most likely be leading in this game. If the lead becomes too large the Raiders will have to abandon the run game and will be forced to throw the ball to make plays. Derek Carr has some good weapons but the Chiefs pass defense is so good he could easily find himself struggling to move the ball upfield on Sunday.
Still the Champs
The Kansas City Chiefs roll into this game being undefeated through their first four games, still flying high after winning the Superbowl last season. This year, the Chiefs are averaging 276.5 passing yards per game and 129.3 rushing.
Now, the Raiders have been good on pass defense this year, allowing 250.3 yards per game but, it has been there run defense that has been lacking allowing 138.5 rushing yards per game. The Chiefs by far will be the toughest competition this Raiders team sees all year, and they have to play them twice. The Raiders have played two very solid teams at home, beating the Saints who were in their first game without Thomas, and losing to a currently undefeated Bills team that has high playoff hopes this year. Their one true test on the road was in New England where they got squashed by 16 points.
Now they go to an even tougher building to play the best team in the league and it's not looking good for them. Mahomes is a very dynamic quarterback and can make big plays out of nothing. He also has a powerful new running back who has made an impact on the team this year. He is averaging 76 yards per game rushing but, Mahomes is also a dual-threat and has already gained 100 rushing yards on the season. The Chiefs offense also has five players with over 100 yards receiving and eight different players with a touchdown, including a full back and an offensive tackle. This team spreads the ball around and with an offensive mind like Andy Reid running the show you never know what play could come up next. This game could get out of hand quickly for the Raiders.
Las Vegas Raiders vs Kansas City Chiefs Pick:
There's no other way to put this nicely, the Chiefs are just better than the Raiders on offense and defense, and they are still the best team in the NFL by far. On the two occasions these teams met last year, the Chiefs won both games by 18+ points. The Raiders have not been good on the road this year, they beat a struggling Panthers team by 4 in the first game of the season and lost in New England by a lot. The Chiefs have won 3 of their 4 games by 14+ points, including a game in Baltimore, one the best teams in the league. This game has a repeat of last year written all over it, Chiefs win here and they win big.
 The best current price on Kansas City is at -11 (+100) via PointsBet