Las Vegas Raiders vs Kansas City Chiefs Pick – NFL Week 5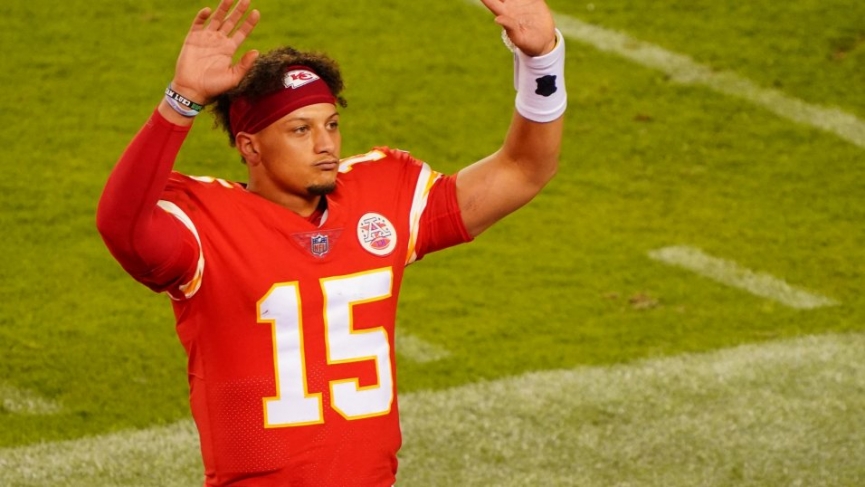 Odds.com's Las Vegas Raiders vs Kansas City Chiefs Pick – NFL Week 5: The undefeated Kansas City Chiefs take on the 2-2 Las Vegas Raiders at Arrowhead stadium. Kansas City is 3-1 ATS and to the 'under' whereas Las Vegas is 2-2 ATS and 3-0-1 to the 'over (4-0 depending on how you grade last week's game).'

| | | |
| --- | --- | --- |
| NFL Betting | Las Vegas Raiders | Kansas City Chiefs |
| Best ATS Line | +11.5 (-109) | -11 (-109) |
| Total | Over 55.5 (-110) | Under 56.5 (-121) |
| Where/When | Arrowhead Stadium | Oct 11th, 1:00 PM EST |
An underrated defense?
Whenever people talk about Kansas City you think of Patrick Mahomes and a great offense but the defense has been holding its own this year. Last week against perennial backup quarterback Brian Hoyer they gave up just 10 points. In week one, they had to face Deshaun Watson. In week two, they had to face rookie Justin Herbert without any preparation as he was announced the starter minutes before the game. In week 3, they faced last year's MVP in Lamar Jackson. Despite not having the easiest path, Kansas City has yet to give up more than 20 points in any of these contests. At 17.5 points per game allowed, Kansas City ranks second in the NFL in scoring defense.
Statistically, the Chiefs defense ranks 12th in yards per play allowed by giving up 5.4 yards. Note of the teams' Las Vegas has played; only New Orleans ranks better. The Chiefs are giving up 6.0 yards per pass attempt which ranks third in the NFL. These are not numbers of a bad stop unit and it's easy to see why Kansas City games have been trending 'under' the total.
Interestingly enough, three of Kansas City's previous opponents – Houston, LA Chargers, New England- are all tied with Las Vegas in yards per play at a league-average 5.8 yards. The Kansas City defense therefore should be up to the task of containing this Raiders offense.
Raiders offense
Las Vegas offense is predicated on running the football and a dink and dunk passing attack. Las Vegas is led offensively by running back Josh Jacobs who currently leads the NFL in rushing attempts showing their commitment to running the football. He is just however 7th in yards and 41st in yards per rush thus they haven't been the most effective.
In the passing game, they are led by tight end Darren Waller with 243 receiving yards. A large reason for that is injuries to the wide receiver position as first-round pick Henry Ruggs III and third-round pick Bryan Edwards from this past year's draft have both missed time with injuries. There is the potential that Ruggs III plays but as a rookie, you have to wonder if the time missed and lack of pre-season impact the timing between him and quarterback Derek Carr.
Ball control offense
Last week against Buffalo, Las Vegas punted one time which would have you think they had a great offensive day but they scored just 23 points.  Their first four possessions all ended in points but note they had to settle for field goals on three of those drives. Also, every drive was over 10 plays indicating a lack of explosive ability.
In the NFL, the Raiders rank fourth in completions per games at 26.5 and second in completion percentage at 73.61%. Yet they only rank 15th in yards per pass attempt at 7.3 yards indicating a methodical offense. No surprise that they are number two in the NFL in third-down conversion percentage at 52.94% as they are usually 'staying on schedule' and creating manageable situations. Being able to posses the football will be a key element in keeping Patrick Mahomes and the Kansas City offense off the field thus limiting possessions. An important aspect if Las Vegas intends on competing in this game for four quarters.
A Kansas City script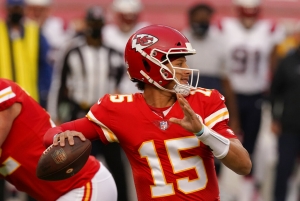 Kansas City thus far has been an 'under' team where-as Las Vegas has been an 'over' team. With Kansas City an 11.5 point favorite, I expect a game script that will favor Kansas City. Last year's meetings between these two teams give us a glimpse as to what that will look like. Kansas City was favored by a touchdown or more in both contests last year and they were able to establish a big lead in both. Note that the Raiders scored 10 and 9 points in those contests and both games stayed 'under' the total. If Kansas City establishes a big lead, expect them to use the clock as they did last year. In the second game, their final touchdown against Las Vegas took 14 plays and 9:32 off the game clock.
Las Vegas Raiders vs Kansas City Chiefs Pick:
If this is a close game, the Raiders likely can control the clock with their ball-control offense. If Kansas City blows them out, I can easily see this game being played very quickly in the second half. An experienced Kansas City team knows they don't have to open up the playbook to beat Las Vegas and the Chiefs defensive unit is underrated, making this total too high. Take Under 55.5 points.
 The best current price on the Under is at 56 (-110) via FoxBet