49ers Season Win Total: Can They Avoid A Super Bowl Hangover?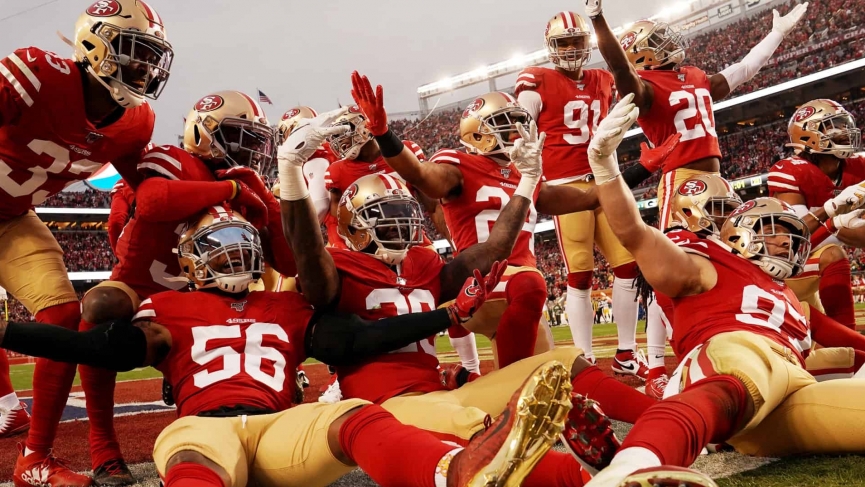 First of all, we don't know if the NFL will have a season this year. If you're not a big "news" person, there's a global pandemic going on and it's really ruining a lot of people's plans for 2020. What we do know is that the NFL makes billions of dollars in revenue each year, and that money gets shared between the billionaire owners of each of the 32 NFL teams. Billionaires tend to have some influence in the United States, so let's assume there's an NFL season in 2020. Now we can go ahead and address the San Francisco 49ers, and their looming task of dodging the dreaded "Super Bowl Hangover".
2020 San Francisco 49ers: The Hangover?
The idea behind a Super Bowl hangover is that a team works so hard and sacrifices everything to get to the big dance only to fall short. Which has such a physical and psychological effect on the team that they just can't get up to perform at the same level the following season. While this may be true in some capacity, it doesn't take into account many more important factors.
First and foremost, personnel change. The Los Angeles Rams lost the Super Bowl to the New England Patriots in 2019 in embarrassing fashion. The league's 2nd ranked offense scored a measly 3 points in the Super Bowl. However, under everyone's new favorite coaching darling Sean McVay, the Rams were expected to pick up right where they left off. Instead, they went 9-7 and missed the playoffs.
Was it because they were sad about losing the championship? Or was it because they put all their eggs in one basket and didn't cash in? Rams GM Les Snead traded away major draft capital and also got the team into salary cap hell. They lost key players on both sides of the ball. On the defense, they lost Ndamukong Suh, Aqib Talib, and Lamarcus Joyner. On offense, they lost Roger Saffold, a key piece of their O-line, but more importantly, Todd Gurley's knee was injured, and their offense was predicated on his ability to shred defenses.
Or how about the Atlanta Falcons follow-up season to their devastating 28-3 collapse? Did they tank the next season because of the embarrassing meltdown in the championship game? Or did they lose offensive mastermind Kyle Shanahan and simply just not have the same game planning expertise on their side. The reality is championship caliber teams often get picked over, and that leaves them at a disadvantage in the follow-up season. Which brings us to the 2020 49ers.
2020 San Francisco 49ers: The Losses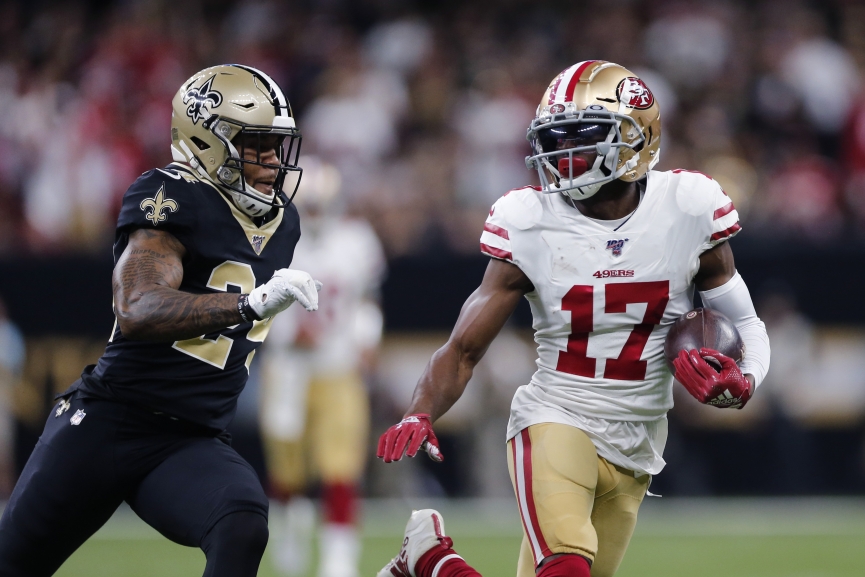 Like most championship teams, the 49ers lost key players. In fact, on paper, the 49ers had 3 catastrophic losses. They lost veteran receiver Emmanuel Sanders to their NFC rival New Orleans Saints. Sanders came in at the trade deadline last year and transformed the offense. Prior to his arrival, the Niners passing game struggled. They had no veteran leadership. They had no clear cut WR1, and their top option was a rookie still learning Kyle Shanahan's complex system. Sanders came in knowing the offense because his OC in Denver Rick Scangarello came from Kyle's coaching tree.
Sanders is a consummate professional and former Super Bowl winner and no doubt a huge loss. The Niners also lost team captain and All-Pro defensive tackle Deforest Buckner in a trade to Colts for the 13th pick in the draft. Bucker is the best DT in the NFL not named Aaron Donald. Bigger Loss. Finally, they lost future Hall of Fame and 49er legend Joe Staley to retirement. Staley has anchored the Niners O-Line for 13 seasons and was the heart and soul of the team. A leader on and off the field, Staley's loss is almost immeasurable. The loss of three players of this caliber could ruin some teams. The combination of talent and leadership from these three players is enormous. So how do you manage that loss and stay on top?
2020 San Francisco 49ers: The Additions
Let's begin with Joe Staley. For starters, you can't replace his character. He's one of a kind, and historically speaking one of the most beloved players to ever wear red and gold. A great way to mitigate the damage from losing a 6-time pro bowl left tackle, is to replace him with a 7-time pro bowl left tackle who happens to be 4 years younger. Enter Trent Williams. The Niners lost a stud LT with Joe Staley and arguably still upgraded the position.
Not only is Williams one of the best-left tackles in football, but he's also already played in Kyle Shanahan's system, and is healthy after sitting out a year while feuding with management in Washington. Not terribly surprising considering Dan Snyder's track record of being human garbage. Trent Williams is an ideal scenario to overcome the loss of Joe Staley. Similarly to Staley, there's really no replacing Deforest Buckner. 49ers GM John Lynch had a difficult choice to make this offseason with having to keep key players AND manage the cap. Buckner got a contract worth $21 million per year, from the Indianapolis Colts. Good for the Buckner and good for the Colts.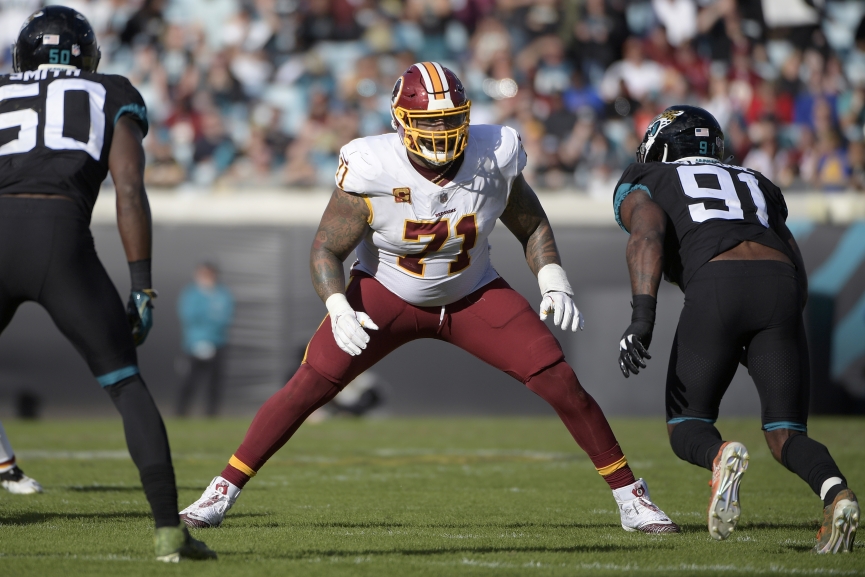 The 49ers couldn't afford to keep Buckner at that price. By moving on from Buckner they were able to re-sign fellow Oregon Duck and emerging star Arik Armstead, and also retain the services of veteran safety Jimmie Ward. Lynch then used the 13th pick from the Colts to trade back and ultimately select Javon Kinlaw. Kinlaw isn't Deforest Buckner yet, but he is a monster. At 6'6" 325lbs he's ideal to play the 3 technique for San Francisco. They also boast the deepest rotation at D-line in the NFL to help ease Kinlaw into the league. Trading a star in Buckner to get younger, cheaper, and keep multiple assets is a move akin to something Belichick would do. Lynch is becoming a very good GM right before our eyes.
Finally comes the replacement of Emmanuelle Sanders. It's easy to point to rookie Brandon Aiyuk as the plan for replacing Sanders. The Niners traded up to 25 to select him in the first round of the draft, and he's got a similar set of skills to the departed veteran. But Kyle Shanahan isn't dumb. He knows a rookie isn't going to jump into his system and replace a veteran of Sander's talent. Instead, this will be another task taken on by committee. Aiyuk is an ideal fit for Kyle's system. He's a YAC monster like Deebo Samuel and has great speed despite a weak showing at the combine.
But the Niners also have Jalen Hurd and Trent Taylor returning from spending 2019 on IR. Hurd is a hybrid WR/TE/RB who has the potential of being a matchup nightmare for Kyle to deploy. Trent Taylor has great chemistry with Jimmy Garappolo and was poised for a breakout season last year before suffering a Jones fracture in his foot during preseason. Those three plus Deebo, Kendrick Bourne, and some guy named Kittle provide Shanahan with a full arsenal of diverse weapons to attack opponents in 2020.
2020 San Francisco 49ers: The Future
Another thing to consider is that the 49ers were ahead of schedule to make the Super Bowl last year. They were 4-12 the previous year and they were widely regarded as a team early in the rebuilding stage. In fact, most NFL "experts" called them pretenders late into last season. Even though they were decimating teams and winning tough games with an injury-depleted roster. This isn't a team that put everything into winning last year. They're a team that is still ascending.
The core of their team is entering their prime and there are emerging superstars that have not yet scratched the surface on what they can do in the NFL. Often teams will get within striking distance and give away all their assets to win now and gamble away the future (see the Rams). The Niners are a deep team, largely built through the draft. They've managed to find talent in the later rounds of the draft and with UDFA's. They're built for sustained success into the 2020s.
2020 San Francisco 49ers: The Edge
Sportsbooks have the San Francisco 49ers season win set at 10.5. Barring any major injuries, the over is easy money. As far as winning their division, the Seahawks will be good because they have Russell Wilson, but they lost some key pieces and should take a small step back. The Cardinals are getting all kinds of love, but they're not quite there. They won't be as dysfunctional as the 2019 Browns, but given the hype, they will be as disappointing.
The Rams are in cap hell because Les Snead mortgaged their future to put up 3 points against the Pats. Bet on the Niners to win the division and bet on them to show zero signs of a Super Bowl hangover. I haven't seen the season totals for Jimmy G yet, but I suspect with the departure of Sanders and the amount Garappolo is being disrespected they will all be low. People seem to ignore that coming off an ACL tear, in his first full year as a starter he still managed to put up good numbers, and take his team to within 7 minutes of a Lombardi trophy. Garappolo is far more likely to improve than he is to regress in his second full season in Shanahan's system and help this 49ers team avoid the dreaded Super Bowl hangover.