Miami Heat vs Boston Celtics Pick – Game 5 East Finals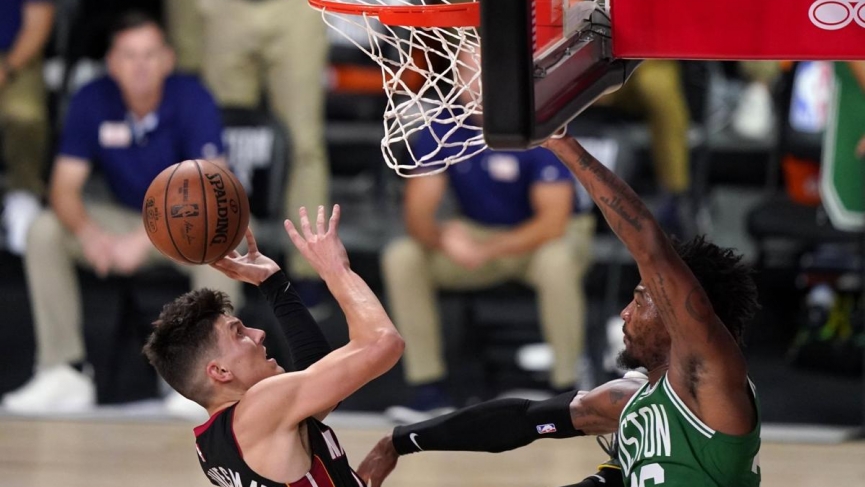 Odds.com's Miami Heat vs Boston Celtics Pick – Game 5 East Finals: The Heat have won and covered in 84% of their playoff games in the 2020 NBA bubble. Meanwhile, Boston has gone 66% to the Under, with 10 of their 15 games going under the betting total. With their backs against the wall, it is likely that the Celtics try to slow down the pace even further, against this highly effective Heat offense in game 5. 

| | | |
| --- | --- | --- |
| NBA Betting | Miami Heat | Boston Celtics |
| Best ATS Line | +3.5 (-110) | -3 (-109) |
| Total | Over 212.5 (-117) | Under 213.5 (-110) |
| Where/When | The Arena, FL | 8:30 PM EST |
'Holding Out For A Herro' and they got one in Game 4
The Miami Heat took a commanding 3-1 series lead in the Eastern Conference Final with a 112-109 win in large part thanks to a playoff best 37 point scoring outburst from rookie sensation Tyler Herro who had one of those special performances where everything he touched turned to gold or in this case ended up going in the basket. Herro was an incredible 14-for-21 shooting the basketball connecting on 67% from the floor including 5-for-10 50% from the perimeter. He simply could not be stopped or contained by the Boston Celtics, but he wasn't alone in bringing the necessary effort, and performance required for Miami to bounce back successfully from their Game 4 loss. Jimmy Butler, Goran Dragic, and Bam Adebayo also contributed 20 or more points as well. Adebayo in particular played through a left wrist injury in Game 4, and he's currently listed as questionable for Game 5 on Friday night although he is likely to play. Miami's defense was also excellent for the first half, and again for much of the 4th Quarter when they trailed briefly early in the 4th, but ended up pulling ahead by upwards of 8 points and putting the Celtics in a bind. Herro was absolutely outstanding in Game 4, but you can be sure that special attention to him will be paid by Boston at the defensive end of the court in Game 5.
Too Little, Too Late Tatum
Jayson Tatum's stat line will show 28 points on 10-for-22 45% shooting in Game 4, which is a solid night usually for him, but the problem is all of those points came in the second half. Tatum was held without a single point in the first half, and that was a big reason why the Celtics were trailing at Halftime. He erupted in the second half but was once again defended well down the stretch by the Heat to ensure that Miami got out of Game 4 with the win. The Celtics don't have the depth on their bench to be able to withstand many bad halves of offensive basketball from their best players including Jayson Tatum as he along with Jaylen Brown, Kemba Walker, and Marcus Smart have carried the load for Boston in terms of scoring production. Another slow start for Tatum in Game 5 may yield the same outcome for the Celtics, and he will need to ensure he is taking good shots, and making them from the onset of the next game in order to help Boston extend this series
The dreaded turnover could result in season over for the Celtics
Miami is leading this series 3-1 in spite of the fact there are some key statistical categories that are actually in Boston's favor after the first four games of this series. Boston is +19 in rebounding margin in this series, and the Celtics have a better overall FG percentage overall, and from 3 point range in this series. Yet here we are with Miami up 3-1 in the series, and having a chance to finish off Boston here in Game 5. The biggest difference has been the ability for the Heat to force turnovers in bunches, and their ability to score, and convert in transition after those turnovers. They have forced an average of 16 turnovers per game in the series. Boston in their last two losses in the series has committed a whopping 39 turnovers, and Miami turned those into 43 points. Boston has to value the basketball more, and either make sure the basketball ends up as a clean pass or an attempted shot rather than an empty trip, which has been the case far too many times throughout the first four games of this series.
Miami Heat vs Boston Celtics Pick – Game 5
The Boston Celtics are -3.5 favorites here in Game 5 with the price being right about the same as they were lined in Game 4. Miami eliminated Indiana in the first round on the first chance they had to advance, but they did lose their first elimination game against Milwaukee in the second round. That game had under some unique circumstances though as The Greek Freak got injured in that game and didn't return, and the Heat were somewhat guilty of letting their foot off the gas pedal with a sizable lead as the Bucks came back to win. Miami would then knock off Milwaukee in the next game, which was Game 5 to end that series. The Heat have the mentality to possibly end this series here in Game 5 and to be honest I haven't seen Boston take care of the basketball enough nor bring that same level of defense in crunch time down the stretch of close games as Miami has brought throughout this series. Miami's only loss by more than this point spread in these entire NBA Playoffs was their Game 3 loss to Boston. This is a very tough Miami team to beat by a margin, which is why they have been on a phenomenal 11-2 SU and ATS surge here in the playoffs. I'm on Miami +3.5 in Game 5 as I believe once again Boston will be in tough to win this game at all let alone win it by a margin.
The best current price on the Heat is currently at 3.5 (-110) via DraftKings