Wiz vs Twins & Eagles vs Dinos Picks for Sunday Games 1am ET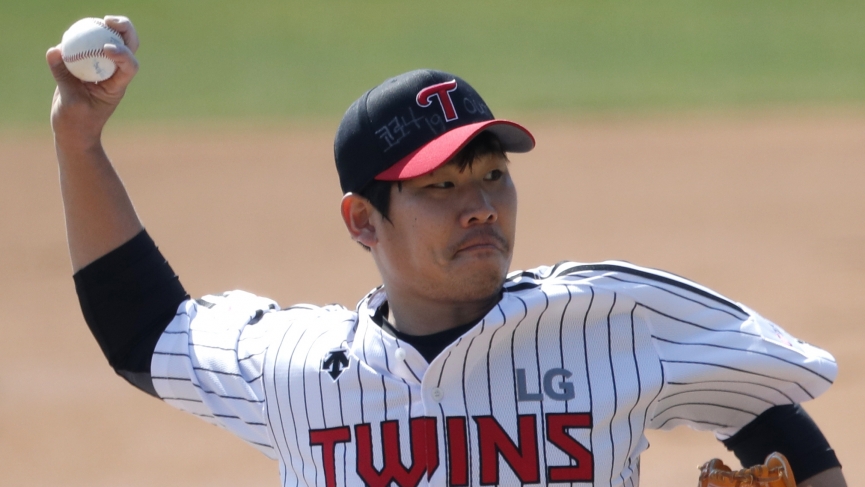 Rubber matches are upon us. LG looks to tighten things up, going for their 10th win in their last 13 games. KT will not go down easy, winners of 6 of their last 8, they will need some bullpen production if they want a chance in this one. NC Dinos, on the other hand, will look to keep the top spot in the KBO, when they take on the ailing Hanwha Eagles.
KT WIZ vs. LG TWINS (-160) @ 1am ET
| Team | Odds | Over/Under |
| --- | --- | --- |
| KT Wiz | +145 | 10 |
| LG Twins | -160 | 10 |
The KT Wiz continued mashing starting pitching, winning yet another first five money line last night. KT is led by former Cleveland Indian prospect Mel Rojas Jr,  averaging .452 at the plate, while hitting in 9 RBI's, and collecting 2 HRs. When it comes to hanging with the big boys in the KBO, this team can hold their own.
| Probable Starters | Team | Stats |
| --- | --- | --- |
| William Cuevas P10 | KT | 4-4, 4.19 ERA, 1.22 WHIP |
| Lim Chan-gyu P10 | LG | 4-3, 5.36 ERA, 1.50 WHIP |
Posting a .323 batting average on the year, and only 1 back for the league lead in RBI's. All this has been done without 3 key starting players, this just shows KT is a deep team with a variety of talent across the offensive side of things. My MLB comparison for this team would be the Colorado Rockies. KT has blown the most potential wins in the KBO, and when you have a second half WHIP hovering around 2.00 all season long, that's not a recipe for success.
LG on the other hand has a much similar team to the Wiz, the difference is LG has the bullpen to lock you down.  LG has an impressive second-half whip on the year, posting a steller 1.18, light years ahead of what KT has in their arsenal. LG's season did not start off to what the managers and players had expected, going 1-3 losing by double digits in all of those games. After a rainout the following day, LG strung together 9 wins out of a possible 12. During that time, LG didn't run into back to back loses, bouncing back strong each time.  
Starting pitching, we have to give a slight advantage to Lim Chan-gyu, from the LG Twins. Lim has dazzled this year, posting a nice 2-0 record, with an average of 6.5 K's, and 0.50 walks. Though last year you did see Lim have some troubles on the mound, his walks and hits were getting out of control. His hot hand is going to be tested, as KT looks to keep those bats humming. 13 of KT's 16 games have seen them score at least 4 runs.
Looking at who LG will face tonight, William Cuevas will get the start for the Wiz. William currently is sitting 2nd in their pitching depth chart, starting the season 1-1, while holding a 5.71 ERA, with an impressive 1.04 WHIP. His WHIP tells me he doesn't have trouble finding the strike zone, though he does struggle vs top tier teams. With the importance of this game, it's going to be crucial for both pitchers to eat innings for their respective teams. In return, we do not see KT or LG taking advantage of this spot until the bullpens come in to leak the runs late. 
Tonight's KBO Pick: F5 Under 5.5 +100
HANWHA EAGLES vs. NC DINOS 1 am ET
| Team | Odds | Over/Under |
| --- | --- | --- |
| Hanwha Eagles | +215 | 9 |
| NC Dinos | -260 | 9 |
Can the Dinos be stopped? All this team does is play solid ball day in and day out. NC has 5 starters who lead the league in opposing batting average at .226. Their pitching doesn't stop with the starting five, bullpens second-half production has held teams to a 1.43  WHIP. That's the 3rd best in the league, behind only LG and Lotte.
| Probable Starters | Team | Stats |
| --- | --- | --- |
| Jang Shi-hwan P10 | HAN | 1-6, 5.09 ERA, 1.67 WHIP |
| Lim Chan-gyu P10 | NC | 2-0, 1.69 ERA, 1.31 WHIP |
NC sits third in the KBO with a .283 team batting average, and a league leading 22 HRs. This week we've noticed NC's batting numbers have taken a slight dip, and a big part of that has been these Hanwha Eagles. The Eagles have improved their second half numbers, going from a 1.60 WHIP in week one, to now a 1.31 WHIP in week three.
Hanwha trots out .258 batting average while holding the opposition to .267 batting average. If you take a close look at quality starts, Hanwha leads the league with 10 on the year. This tells you they are lasting more than 5 innings, not giving competition much to work with.
Starting pitching is what separates these two teams. Mike Wright is making his debut in the KBO this year, and let me tell you, he's in cruise control. Posting a 2-0, with a 1.69 ERA, and a 1.31 WHIP, it's only a 3 game sample size for Mike, but his ERA is the lowest I've seen all year. One area of concern is regarding his walks per game, averaging 2.7 a game is more than what you'd like to see.
He's faced 2 top hitting teams in KT and Doosan and combined he only allowed 1 run in both of those starts. When Mike gets in a groove, good luck hitting this guy. Hanwha is in the bottom tier of the league, in both batting average and on-base %, this will present a problem for the Eagles.
Hanwha is not in a good spot when it comes to starting pitching, they will send Shi-hwan, and this guy is struggling. In three starts this year, Shi-hwan has an ERA of 7.20, and a WHIP of 2.33. His latest appearance might have been his worst yet, going only 3 innings, giving up 7 runs, while walking 4. You could say this is a bounce back spot, I do not believe so. NC stands out as a prominent KBO finest early on, if you mix all the sauces together, you get a "David versus Goliath". Don't forget that Bet365 has up to date KBO odds for this matchup.
Tonight's KBO Pick:  NC DINOS RL -140