Tigers vs Wiz Odds For Tomorrow's Early AM Matchup

After being shutout for only the second time all year last night, the Kia Tigers will look to avenge the heavy-hitting KT Wiz. Ace Yang Hyun-jong is on the mound for Kia, and a rookie starter going for KT, the time is now for the Tigers to close out this series. We'll be on the Kia Tigers full game ML -130 at your sportsbook of choice.
Kia Tigers vs KT Wiz at Suwon Baseball Stadium @5:30am EST
It's game 3 between the Kia Tigers and the KT Wiz, as Kia sits 4th in the KBO, while KT is a few sports back in 7th. Wins did not come easy for the Tiger early on, struggling to find offense, winning only 2 of their first 6 games to the season. All of Kia's losses were due to lack of runs, and losing games by four to five runs on average.
Tigers vs Wiz – Who's got more wins?
Since the troubling start, Kia has gone on a massive run, winner of 5 of their next 6 games, outscoring opponents 23-15 in the process. During the run, they did not have any eye-popping stats to follow up with, though only allowing 15 runs in 6 games, which is very impressive.  On a larger spectrum, Kia has won seven of their past ten, posting a +28, and +31 run/hit differential. 
KT Wiz is no slouch themselves. This team can rake with the best of them, averaging at home the second highest amount of runs, only behind the Doosan Bears. Tonight could look a little different, as KT will face Kia's ace Hyun-jong, a nasty throwing lefty, who we'll have much to say in just a bit. First, I want to bring up KT's last ten games.
They're on a streak similar to Kia, winning 6 of their last 10, posting a +28, and +23 run/hit differential. Late in the game be cautious betting KT Wiz. All season long the Wiz have struggled to close teams out, self-destructing in front of their own eyes, blowing the most amount of possible saves in the KBO,  and it's not even close. 
Kia closed out last week with a second-half WHIP of 1.08, and on the year Kia has a 1.41 WHIP. This is much better than KT, who has an abysmal 2.04 WHIP, and just last week KT seemed to have hit a new low, posting a 2.82 WHIP in the second half of games. 
Starting Pitching for this matchup: Ace vs Rookie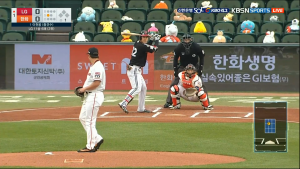 Starting Pitching is what separates these two teams.  Kia has an ace, Yang Hyun-jong on the mound for his 5th start of the year, he holds a 3-1 record, with a 3.43 ERA, and a 1.14 WHIP. Hyun-jong's ERA is good for 18th in the league, while his WHIP lands him 15th in the KBO. He's averaging 5.2 innings a start, allowing only 4.5 hits, striking out 4, and walking only 1.5.
If we take a look at a larger sample size from Hyun-joong, we see a 6-1 record,  with a 1.75 ERA, and a 0.95 WHIP. Hyun-jong looks to me to be one of the leading candidates for MVP, even as a 13-year veteran of the squad, this guy makes everyone around him look better on the field. Hyun-jong is one of the few players left who led his team to both 2009 and 2017 KBO Championship titles. A true legend to all Kia Tiger fans.
A cool feature the KBO gives you is the pitcher's gamer score (GS). Hyun-jong has the highest "gamer score"  starting tonight, at 62.0. Hyeong-jun (KT starter) has a gamer score much to be desired, posting a mediocre 37.0. This tells me Hyeong-jun has a lot of work to do if he wanted to become a polished starter like his counterpart.  
Looking ahead who KT Wiz have in tonight's matchup, it's none other than an eighteen-year-old rookie So Hyeong-jun. Making his 4th start to the campaign, Hyeong-jun has started his career with a 2-1 record, posting a 6.48 ERA, and a 1.56 WHIP. His numbers are good for 45th and 36th in the league, considerably worse than his competitor Hyun-jong from the Tigers.
Hyeong-jun will average 5.6 innings a game, giving up 7.7 hits, striking out 2 batters, while walking 1. Once the bullpens comes in for relief, I'm extremely wary as to what KT's gameplan will be. Stopping league leading Preston Tucker, and the surging Kia Tigers will not be easy.  
So, who do I bet on?
Take away from tonight's game will be: Can the offense from KT hit one of the best KBO pitchers in the last decade? If that's the case we'll have a close one down the stretch. I will be fading both KT's starting pitching and bullpen, as the Tigers look to close out the series with a bang. Give me ace Yang Hyun-jong, and the Kia Tigers to keep our winning streak intact. 
Tonight's KBO Pick: Kia Tigers ML -130