Tampa Bay Rays vs LA Dodgers Pick – Game 4 World Series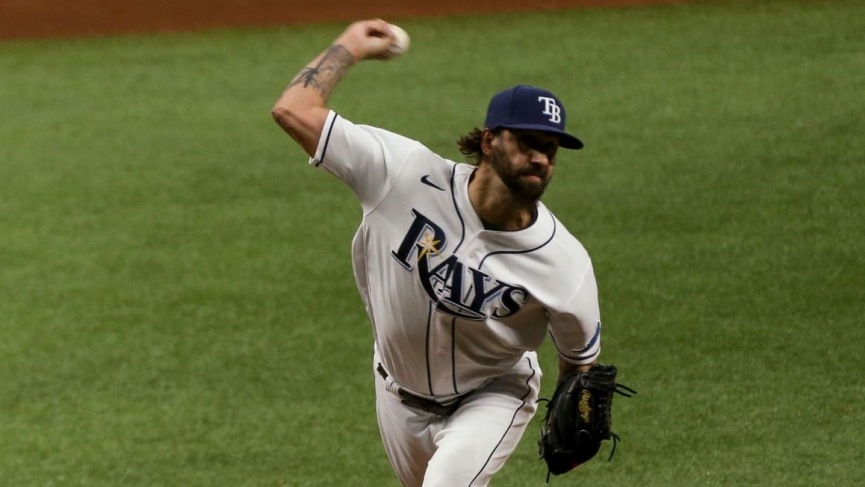 Odds.com's Tampa Bay Rays vs LA Dodgers Pick – Game 4 World Series: The Dodgers are 2 wins away from their first World Series in 32 years. The Rays are in a must-win situation with a depleted bullpen. Game 4 goes Saturday night from Arlington, Texas.  
| | | |
| --- | --- | --- |
| World Series Game 4 | Tampa Bay Rays | LA Dodgers  |
| Series Odds | +375 | -500 |
| Game 4 Odds | +150 | -170 |
| Total | Over 8 (-120) | Under 8 (+100) |
| Where/When | Globe Life Field | Oct 24th, 8:08 PM EST |
The window is shrinking on the Rays 2020 World Series hopes. In a bullpen game for both teams, Manager Kevin Cash will look to Ryan Yarbrough to eat innings up. Yarbrough has been mediocre in the postseason, and his task will be large, to say the least. Jose Urias has the trust of manager Dave Roberts he's done nothing wrong in the playoffs allowing only two runs in 16 innings. 
Starting Pitching:
2020 Postseason
Inning
Hits
Runs
BB
K's
HR's
ERA
WHIP
Urias 

(LAD)

16

7

2

3

16

1

1.13

0.62

Yarbrough

(TB)

10.2

11

4

3

6

3

3.53

1.37
The Dodgers could not have picked a better guy to follow up Walker Buehler in the rotation for the World Series. Urías has been unbelievable in the postseason, pitching 16 total innings and allowing just 1 earned run. He has also struck out 16 batters and issued just 3 walks. The Los Angeles Dodgers did not use left-handed pitcher Julio Urias out of the bullpen during the World Series, rather resting the young electric arm to start Game 4. Urias has been one of the Dodgers' most consistent pitchers in the playoffs going 4-0 with a 0.56 ERA,. Opponents have hit just .125 against him, and his only earned run he's allowed came on a solo home run. In Urias last start he allowed just two hard-hit balls in play (95 mph exit velocity or higher) and only two batted balls with an expected batting average (xBA) over .400, factoring in the quality of contact and the launch angle. Manager Dave Roberts may trust him more than any other pitcher on the team right now. 
The Rays will look for Ryan Yarbrough to pitch his way to an ever so important second victory. The last thing the Rays need is to go down 3-1 in the World Series. Yarbrough has made three starts in the 2020 postseason, he's not striking out nearly as much batter as he did at the end of the 2020 regular season. Yarbrough will mix in four pitches tonight, with three out of his four being used at nearly a 25 % rate or higher. The key for Yarbrough is to throw strikes early and live around the corners of the plate. If Yarbrough can mix in his off-speed pitches to a team who generally rake the fastball, expect a solid 3 innings from Yarbrough. The way Yarbrough mixes his pitches, the Dodgers will have to be patient at the plate if they want to be successful in game four.
Offensive Output
Money talks when it comes to the Dodgers. Mookie Betts and Clayton Kershaw account for more than the entire Rays budget, meaning those two players make more than the whole Rays team combined. Los Angeles has enjoyed right-handed pitching all season, averaging the highest on-base percentage at home. The advantage lies with the Dodgers offense, seven out of the nine possible starting batters hit for an OPS over .750. This tells you the ball is leaving the park, or these Dodgers are hitting for extra bases. Bad news for Yarbrough, when the Dodgers get a lefty on the mound their OPS rises to no less than .900. Again, these are five of a possible nine guys who can rake left-handed pitching. For the Rays to get back in this series, it will have to be a self-inflicted wound from the Dodgers. Self-implosion is the only way the Rays have a chance in this series. 
Tampa Bay will be faced with a left-handed pitcher. Clayton Kershaw made mincemeat of the Rays offense last time the Rays were faced with a lefty on the mound, striking out 8 batters in six innings.  Unfortunately for the Rays, Charlie Morton was not able to pitch deep into last night's game, lasting only 4 innings allowing five runs in that span. The good news for Tampa Bay, Randy Arozarena went yard off Kelly Jansen at the end of the game. It just shows how volatile the Dodgers closing situation is. Tampa Bay will need to keep up with the Dodgers, but with only two players hitting over.750 OPS versus left-handed pitching, the Rays are just undermanned and under-matched versus the powerhouse Los Angeles Dodgers franchise. The Dodgers have too much offense for the Rays to come back, if the Rays starters cannot generate outs early on, we have a duplicate of games one and three.
Bullpen Reliance:
Rays – Unfortunately for the Rays, Charlie Morton was pulled earlier than expected, and the Rays were forced to use more arms than they would have wanted to out of the bullpen. Good news for the Rays, Ryan Thompson made his postseason debut going one strong inning striking out one. This crafty righty has a unique sidearm delivery that had the Dodgers staring into space. A new spark from the bullpen might just be needed to get their confidence back in check after the Dodgers walked all over it.
Dodgers – We gave flack to Dave Roberts and his bullpen managing in games one and two. The way Buehler was able to eat innings, his decision has looked to pay off. Roberts will now look to relievers in games one and two having over two days of rest. If Buehler was not able to eat innings as he did, the Dodgers would have been forced to use more arms than anticipated. Not taxing your bullpen is a key to any team's World Series success.
Tampa Bay Rays vs LA Dodgers Pick
Best Bet: Dodgers Team Total Over 4.5 (-106) via Bet365: Until the Rays can show use they have more bats other than Manuel Margot and Randy Arozarena, This Rays offense just lacks the firepower to keep up with the Dodger bats. The Dodgers are playing pressure-free this World Series, despite not winning since 1988 with plenty of previous attempts falling short. The Rays have great defense above par pitching, but they lack big bats to keep up with the Dodgers offense. The car just can out of gas for the Rays, while the Dodgers are driving their Tesla full charge.