Oakland Athletics vs LA Dodgers Pick – 9/22/20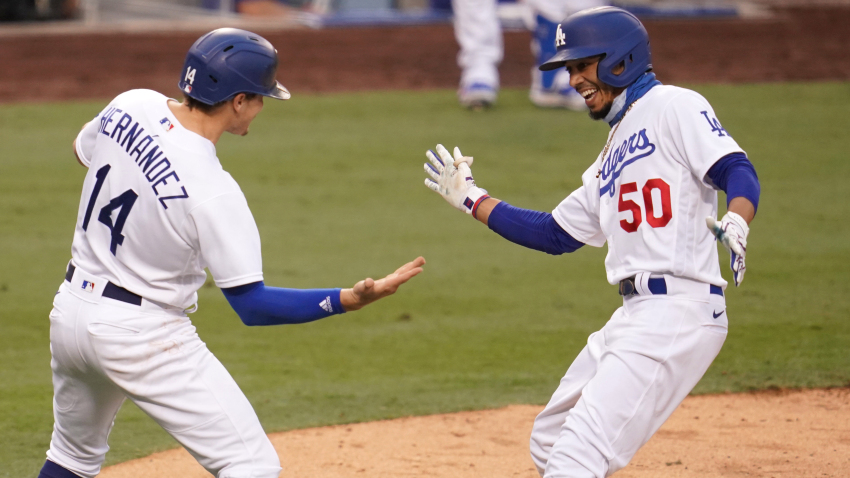 Odds.com's Oakland Athletics vs LA Dodgers Pick for 9/22/20: The Dodgers 32 of 38 wins this season have come by 2 runs or more, they head into Oakland on Tuesday hoping to do much of the same. LA sends Dustin May to the mound. May is 1-1 this year with a 2.68 ERA, while the Dodgers boast a 7-3 record when May pitches. 
| | | |
| --- | --- | --- |
| MLB Betting | Oakland Athletics | LA Dodgers |
| Best Odds | +146 | -159 |
| Total | Over 8.5 (-133) | Under 9 (-110) |
| Where/When | RingCentral Coliseum | 9:40 PM EST |
The Oakland Athletics are in LA for a 3 game series against the Dodgers starting on Tuesday. The Dodgers are 38-16 on the season sitting at 1st place in the NL West currently 4 games ahead of the 2nd place Padres. The A's are 33-20 on the season on pace to clinch their division as well being 6 games ahead of the 2nd place Astros. Both teams have been having a stellar season thus far but now meet each other for the first time since 2018.
Dodging the Loss Column
The Dodgers have been rolling all season holding the best record in the MLB and showing no signs of slowing down as playoffs creeping just around the corner. This is a team that's 5-1 in their last 6 games averaging 7.1 runs per game across that span. In their last 7 wins, LA has won all of them by 2 runs or more. In fact, 32 of LA's 38 wins this season have been by 2 or more runs.
The Dodgers have just been demolishing teams and rightly so as they are tied for 2nd in the league in OPS. Hitting isn't all they do well though, they have had plenty of help from their pitching staff. The Dodgers pitching currently leads the MLB in collective ERA at 3.06. Speaking of good pitching, Dustin May is expected to start. He has had a pretty good year being 1-1 on the season with a 2.68 ERA. Despite being 1-1 this year, the Dodgers are 7-3 in games that May has pitched in. All but one of those victories were by 2+ runs. And in the 10 games, he's made an appearance in, the Dodgers average 5.1 runs per game backing him up with plenty of run support. It's obvious that LA has been firing on all cylinders and it's hard to see them slowing down now when clinching the best record in the league is just an arm's length away.
Trouble Heading for Oakland
The Athletics have been having a good year as they are on pace to clinch the division for the first time since 2013. They are one win away from being out of reach for the Astros making it the first time since 2016 that the Astros won't win the AL West. But now they are about to face their toughest challenge of the season as they take on a red hot LA team in Dodger stadium. Oakland has been on a bit of a roll as of late being 4-2 in their last 6 averaging 4.5 runs across that span. The A's have been finding ways to win games thanks to a solid bullpen that hosts one of the best ERA's in the league but when they lose they lose big. In their last 10 losses, the A's have lost 8 of those by 2 or more runs. They do have one of the best pitching staff in the league as they hold up at 5th with a collective ERA of 3.64 but pitching can only get you so far. They need to back their boys up with hits which is something that they do not do well as they sit in the lower half of the league in OPS.
It has seemed to work out for them all season but considering they now go up against the team with some of the best pitching and hitting in the MLB it's just not going to be enough. Especially when Frankie Montas is expected to be on the mound on Tuesday. Montas is 3-4 on the season with a 5.86 ERA. He is coming off a nine-day rest from paternity leave so he should be fresh but that doesn't change the fact that he has a 10.80 ERA in his last 5 starts. The A's are 2-3 in the last 5 games Montas has been in but he did not get credit for one of those wins making him 1-3 in his last 5. Also, all 4 of his losses this season have been blowouts losing by 3+ runs in each. If Montas continues to pitch the way he has lately then he is going to get rocked by this Dodger lineup and it could be over early for the A's in this one.
Oakland Athletics vs LA Dodgers Pick – 9/22/20
LA is a team that no one wants to step in front of right now. They are 16-8 at Dodger Stadium this year taking on a mediocre Oakland team that is just 13-12 on the road. Oakland has the pitching to keep them in games but LA is built all-around in both departments and just floating above the water while on the road is not going to help this A's team here. This is a Dodger squad that has been expected to win the World Series the last 3 years but has been stifled in each of those playoffs. They continue to make the moves and build their squad on both sides of the ball year in and year out just to improve the team in any way they can even if it's just a slight improvement.
This is a team I will be keeping my eye on going forward, is it finally their year to win a World Series? The odds are in their favor right now, it is theirs to lose but as for this game I have to back the Dodgers on the run line. The climb just seems too uphill for this Oakland team in this spot. When LA wins they win big and when the A's lose its steep. And the way Montas has been pitching falls right in line with those stats and is lining up to be another blowout loss for him. The best price on the Dodgers -1.5 currently is at +130 via DraftKings