MLB Picks: Toronto Blue Jays Odds to Win World Series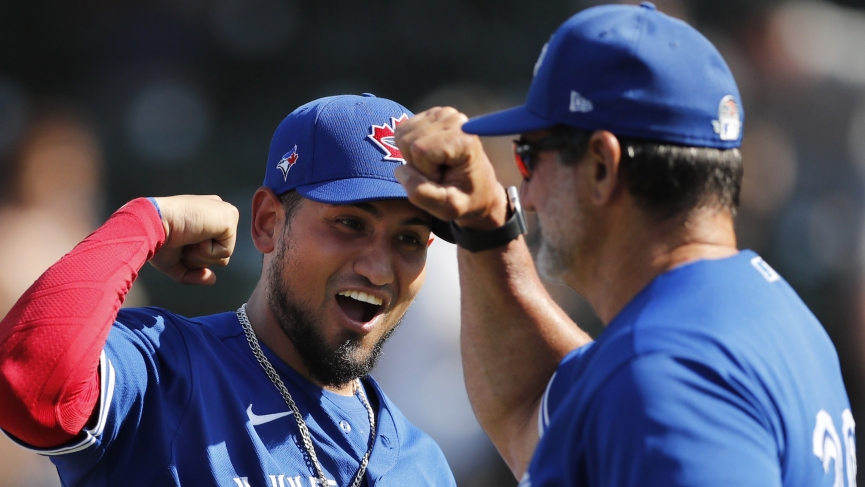 2019 Record: 67-95, 4th in AL East
Odds to Win 2020 World Series: 100/1 (+10000) at DraftKings
Like sands through the hourglass, so are the days of our lives. Many associate those words with a long-running soap opera, though they are originally attributed to Socrates. Right now, they're very fitting when it comes to the 2020 MLB Picks season.
Blue Jays Odds at 100/1 Longshots to win Third World Series Title
And what an upset that would be. DraftKings currently lists the Blue Jays as 100/1 longshots to win a third World Series title in franchise history, and first since taking back-to-back crowns in 1992-93. This season is supposed to belong to the Los Angeles Dodgers and New York Yankees, heavy favorites to win their respective league pennants. Both possess enough talent to simply wear down opponents over the course of a 162-game schedule, but we've seen teams reel off incredible runs for 50-game stretches before. That's all it might take during a shortened schedule of, say, 100 games to push a squad like Toronto into the playoffs.
We have also seen teams arrive a year earlier than expected, and the Blue Jays surely fit that realm of possibility with a roster budding with some of the game's best young talent. In fact, it's likely that 25 or more major league teams would gladly swap entire infields with Toronto. Cavan Biggio, Bo Bichette, and Vladimir Guerrero Jr. fill out the lineup card at second, short and third, that trio coming up during the 2019 season and showing every sign of following in the footsteps of their former big-league dads. Biggio and Guerrero come from Hall of Fame stock, but it might be Bichette who eventually proves to be the best of the three.
Travis Shaw, the veteran at 30, is expected to take over at first and is just a couple years removed from back-to-back 30 HR campaigns in Milwaukee. Danny Jansen rounds out the diamond at catcher and whacked 13 homers in 107 games a year ago.
Lourdes Gurriel, Teoscar Hernandez and Randal Grichuk aren't ever going to be confused with Willie, Mickey, and the Duke in the outfield, but the trio combined for 77 HR last season. Gurriel hit 20 in just 84 games and holds the most potential of the group.
O, Blue Jays! Your MLB Futures Suggest You Need Help On The Bump
While the youthful offense could very well indeed arrive a year early, the same unfortunately can't be said about the mound corps that are filled by casts off from several organizations. Yes, Hyun-Jin Ryu had a fabulous season with the Dodgers in 2019, LA winning 21 of his 30 starts – including the postseason – while the lefty crafted a fine 2.32 ERA. But durability has long been Ryu's shortfall, though a shortened 2020 schedule could work in his favor.
The former Dodger is at the top of the rotation that has Chase Andersen, Tanner Roark, and Trent Thornton in the 2-4 slots. Roark could sneak in there and have a fine season, as could either Ryan Borucki or Matt Shoemaker at the rear of the rotation. Again, however, there are some major injury concerns with them all.
Hard-throwing Ken Giles makes for a decent enough arm at the back end of the bullpen, but it could be a crapshoot for manager Charlie Montoyo when it comes to bridging a game from the starters to his closer. Wilmer Font, Sam Gaviglio, and Anthony Bass are the most likely names to fill setup and middle relief roles. Fix these holes in the bullpen and watch as the team's MLB odds will adjust in the Blue Jays' favor.
Will Spring Training Sites Be Used For Regular Season Games Once The MLB Resumes? 
Each day baseball stays off the field, it moves MLB closer to never taking to the diamonds this year. Baseball is no doubt closely monitoring what's taking place in the Korean Baseball Organization as well as Taiwan where baseball is back in business, sans fans. Some teams and many players have been cool to the idea of a similar setup for the major leagues.
Count me among those who believe something will be worked out, and soon. Any season now has to be dramatically shortened, but that could lead to more unexpected results in the end, and give a team such as the Toronto Blue Jays a chance to upset the MLB futures odds.
Several scenarios have been bandied about for how the game could return this year, among them the idea of sequestering teams at their Spring Training sites, doing away with the traditional AL/NL alignment, and going with the Cactus and Grapefruit Leagues. As tough as life is for Toronto in the AL East, it won't get any easier in the Grapefruit League.
The Blue Jays would still have to take on their usual division foes, plus the Minnesota Twins and Houston Astros, the top favorites on MLB odds boards to win the AL Central and West Divisions. Toronto was originally slated to face the NL Central in inter-division play, and would still go up against the St. Louis Cardinals and Pittsburgh Pirates in the Sunshine State, but would also draw four tough foes from the NL East in the Atlanta Braves, Philadelphia Phillies, New York Mets and defending world champion Washington Nationals.
There are other scenarios that might seem just as crazy as that one, including a wild, all-in playoff bracket. Who knows how it will pan out, but for Toronto to be a factor in the World Series, the shorter the season, the better.