Woodbine Pick, Saratoga and Monmouth Best Bet August 23, 2020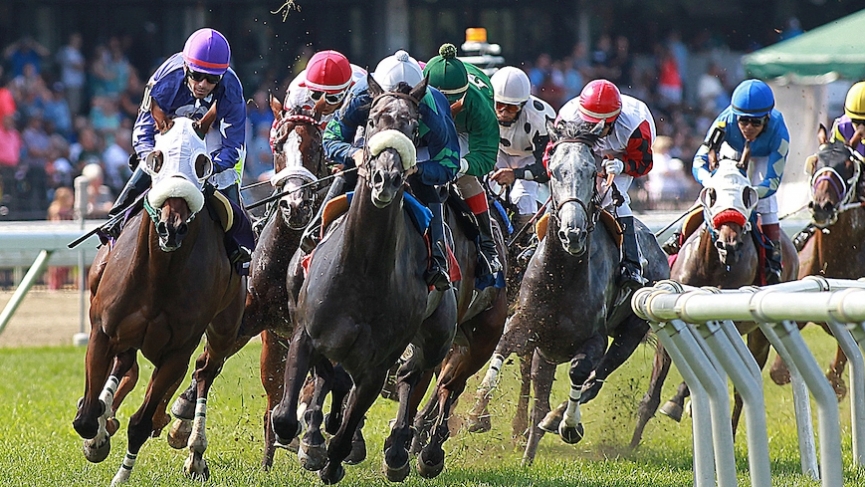 Today we serve up a Woodbine pick, Saratoga and Monmouth best bet to kick off a full day of horse racing action. Yesterday at Saratoga, Halladay led every step of the way holding off a game Got Stormy in the Fourstardave. The three horses who were favoured from the Chad Brown barn Raging Bull, Without Parole and Uni all did no running. Not sure Uni will ever get back to her peak form from the end of last year. Raging Bull and Without Parole were both coming out of the Maker's Mark Mile so it's tempting to suggest looking for opportunities to fade horses coming out of that race.
At Del Mar, Maximum Security was gifted an easy lead in the Pacific Classic and he did what good horses do and won the race rather easily. The other grade one, the Del Mar Oaks saw favourite Laura's Light be used a bit from an outside post to make the lead, she set honest fractions and had nothing in the stretch. Horses who used an off-pace style seemed to do well throughout the day on the Del Mar turf so perhaps that is an excuse and I'd use it if she didn't retreat as badly as she did. Red Lark became opportunistic, rallying to pull the 19-1 upset and picking up her second-lifetime win.
Today Saratoga has the grade one Diana while Woodbine has a pair of stakes which are preps for bigger events next month. One of those preps is the Catch a Glimpse where Dreaming of Drew figures to be a significant favourite off her flashy maiden win despite making her turf debut. I have some interest in the two runners coming out of a maiden event on July 9th at Belmont Alda and Illegal Smile. Alda won that race and is the more likely winner having showcased a strong late kick in both her starts. Illegal Smile attacked a strong pace that day and ran well in defeat. Without any confirmed speed horses wouldn't be surprised to see her setting the pace and she removes blinkers and adds Lasix. Let's look at some races: 
Woodbine 3rd: Into the Sunrise has easy speed 2:05 pm Et
The Woodbine 3rd is the Soaring Free for two-year-olds going 6 ½ furlongs on turf. Perhaps morning-line favourite Ready to Repeat will wire this field but not sure he is fast enough to make the lead and didn't love his last win in the Victoria on synthetic. After setting comfortable fractions, was hoping to see a more thorough finish at the end from Ready to Repeat but instead, he was losing ground late. He did win his lone turf race when breaking his maiden on the inner turf course. That day he outran Gretzky the Great, who is also running today, from an outside post to make the lead though he did have an experience edge which likely helped. Nevertheless, not convinced he is going to love this added distance.
Gretzky the Great broke his maiden last time when wiring an off turf event. My issue with him is he has to turn the tables on Ready to Repeat and in order to do that, he'll likely need to prove he can rate and as one of the betting favourites, I'm not interested in finding out if he can turn the tables.
Gospel Way is the alternative while making his turf debut as he is the lone closer in a race that has the potential to see a speed duel. Didn't understand his trip in the Victoria where he was kept four wide, appeared to be retreating and then came with a rally. He got a perfect inside out trip in his debut where a speed duel developed in front of him and he was able to take advantage. He will, however, have to run faster if he is to turn the tables on Ready to Repeat and beat the others even if he gets a strong pace to run into.
The horse I prefer is Into the Sunrise (7/2 ML) who ships in from Ellis Park for trainer Wesley Ward and will be adding Lasix. Ignore his poor debut on dirt as his turf debut was excellent. After watching the replay, was surprised to see a 214 opening quarter as he showed effortless speed and he finished the race strongly as well indicating he can get today's added distance.
Monmouth 9th: Completed Pass has back class 4:41 pm Et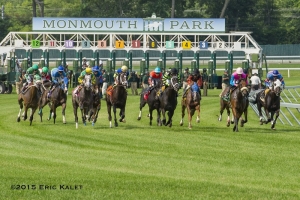 The Monmouth 9th is the Get Serious for three-year-olds and up going 5 ½ furlongs on turf. Archidust is your morning line favourite and he is 2/2 on the Monmouth turf. He can win but he arguably ran his best race to date last time off a four-month layoff. A four-year-old with 13-lifetime races, it is possible he is still improving but as the likely favourite, I'd rather watch him do it again than bet on it. 
Perhaps Satellite Storm can wire this field but at the very least he'll have to put up with Wentz early. He ran one of his best races off a long layoff last time in his six-year-old debut. That, however, is the only race going today's distance that would make him competitive and it came in his 28th-lifetime start thus he has less upside than the favourite.
The horse I prefer is Completed Pass (4-1 ML). Ignore his lone start at Monmouth, four races ago when he dwelt at the start. His previous two starts and his subsequent start at Laurel all saw his chances compromised by slow starts. Three starts ago he did manage to make up plenty of ground after a slow start. Last time, Completed Pass actually broke alertly and saw a form reversal where he was an easy winner. He has plenty of back races that would make him competitive, if not the favourite should he run back to them and they include a second-place effort by a neck to the classy Pure Sensation in the Pennsylvania Governor's Cup. His last race might be an indication that he's returning to form and his best form makes him a major contender.
Saratoga 8th: Starship Jubilee can win again 5:18 pm Et
The Saratoga 8th is the grade one Diana for fillies and mare four years old and up going 1 1/8 miles on the inner turf. I'm against Mean Mary who has almost exclusively committed to a speed approach and that approach has helped her win three straight graded stakes at longer distances. My issue is in those races she can get away with dawdling fractions like she did last time in the grade two New York with an opening half in 512 seconds. Don't think she is fast enough to clear morning-line favourite Rushing Fall and think she wants a longer distance.
Rushing Fall finished second in this race last year losing to stablemate Sistercharlie who also runs today. While she has a good record at today's distance, I prefer her at distances slightly shorter than this so while she can win and won't let her beat me, her odds are likely to be unappealing.
Perhaps Sistercharlie needed her six-year-old debut in the Ballston Spa last time where she finished third as a heavy favourite and she is the defending champion of this race. That last effort, however, is well below her high standards. If it were just that race, I'd look past it but it is the third straight subpar effort if you include her final two races from last year thus I wonder if she's still the same horse.
The horse I prefer is the Ballston Spa winner Starship Jubilee (9/2 ML). She seems to get better with age as the seven-year-old is a perfect 4/4 this year. Her win in the Canadian last year, at today's distance, at Woodbine provides evidence that she is capable of winning this race. Connections could've kept her home at Woodbine to run in the grade two Dance Smartly last weekend but show confidence aiming for this tougher spot.