Del Mar Picks and a Saratoga Best Bet August 22, 2020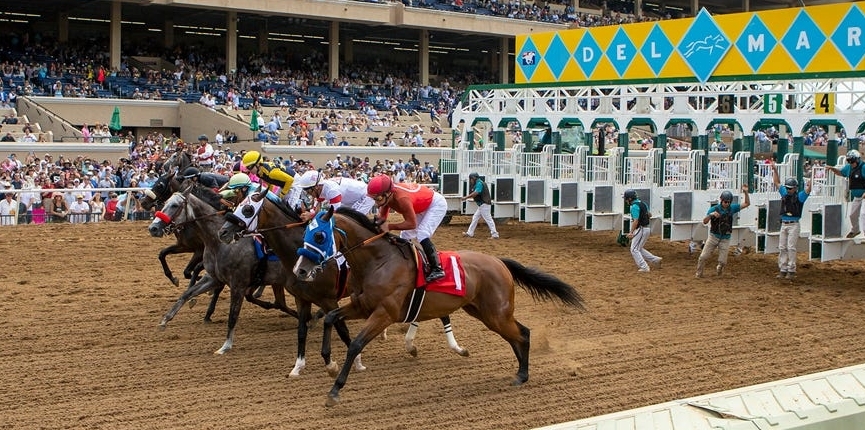 Today we will look at 2 Del Mar picks and a Saratoga Best Bet but before we jump in, let's take a look at what happened on Friday. Yesterday at Saratoga, Golden Pal became the third horse to break their maiden in a stake this Saratoga meet wiring the Skidmore. Today, Saratoga runs the grade one Fourstardave while Del Mar has five graded events including the grade one Pacific Classic where I have no interest in trying to beat prohibitive favourite Maximum Security. He probably needed his last race where he gutted out a win and should be tighter today. Let's look at some races:
Saratoga 9th: Got Stormy can defend her title 5:46 pm Et
The Saratoga 9th is the grade one Fourstardave for three-year-olds and up going one mile on the inner turf. Perhaps Halladay will make the lead this time and wire the field the way he did at Gulfstream earlier in the year though Got Stormy is fast enough to go with him early. Those Gulfstream races worked for him because he was left alone on the lead while other speed horses compromised their chances by inexplicably rating. Today, however, even if Halladay is left alone on the, he has series grade one closers trying to run him down in what is a class test for him.
Trainer Chad Brown has a quartet of contestants of which, Valid Point seems overmatched. Thought Uni was mediocre in her return and perhaps she needed that race off a layoff but she has run well fresh before. She was in the form of her life to end last year winning both the grade one First Lady and grade one Breeders' Cup Mile. With her form previous to that being good but not great and her average return, I'm not curious to find out if she can get back to her best races from last year at a short price.
Morning line favourite Raging Bull and Without Parole both come out of the same two races in the grade one Maker's Mark Mile and grade one Shoemaker Mile. In the Shoemaker Mile, two starts ago Raging Bull got an ideal setup with a wicked pace as he came from the clouds to win. Without Parole meanwhile was hopelessly blocked on the inside and couldn't find room until it was too late. 
Thought Raging Bull had every chance in the Maker's Mark Mile last time and didn't deliver settling for a minor award, something he did a lot last year thus I'm against him. Without Parole was probably a touch too far back last time, was wider than Raging Bull and the pace wasn't exactly fast. That said, the pace isn't expected to be overly quick today either. While Without Parole has had some excuses recently, he is now 0 for 4 since coming to the U.S. and he always takes money. I'd rather watch him finish the job in a big race first before betting on it.
The horse I want is the defending champion of this race Got Stormy (8-1 ML). The book on her is that she loves a firm turf course which is why she scratched out of the grade one Just a Game to instead face males in the grade three Poker a week later. You can argue the best two races of her career came at Saratoga last summer and she has enough early speed, in a race that is lacking it, that she should work out a great trip.
Del Mar 3rd: Baja Sur can turn tables 6:05pm Et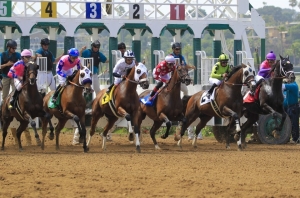 The Del Mar 3rd is the grade three Green Flash for three-year-olds and up going five furlongs on turf. Perhaps Chaos Theory gets a perfect setup and rallies from off the pace as he did in his last start at Churchill Downs. Think this five-furlong distance is a bit short for him especially when looking at his form at 5 ½ furlongs. Yes, that last win came at five furlongs but that was a much easier spot, so much so that he was odds on in that race. As the lone real closer, I wouldn't let him beat me but he likely won't be the most appealing win option. 
I'm against morning-line favourite Sparky Ville as his form is too inconsistent to trust. Three starts ago he almost pulled a 70-1 upset in the grade three Daytona but then came back to do little running in the Siren Lure losing to some of today's rivals. Last time he used a perfect inside out trip to win at the last moment. My issue is I don't trust him to repeat that effort and his form in previous years also show a history of not backing up big performances. 
Perhaps Mikes Tiznow will make the lead from the outermost post as he has in all but one of his races coming from Golden Gate. There is however another speed to his inside and while he is fast, don't view him as the fastest early and he has yet to prove it from a rating position. While he has won at Del Mar before, this will be his toughest assignment to date.
The horse I want is Baja Sur (5-1 ML) who needs to turn the tables on both Sparky Ville and Mikes Tiznow but if I'm right about Sparky Ville showing his inconsistencies today and about the pace scenario, he warrants a chance. Think drawing inside the other speed horses is a benefit as he is fast enough to at the very least keep them two and three wide, compromising their chances while he saves ground.
Del Mar 4th: Secret Keeper on Talent 6:36 pm Et
The Del Mar 4th: is the grade three Torrey Pines for three-year-old fillies going one mile on dirt. Trainer Bob Baffert has a pair of horses entered in Merneith and Provocation though Merneith is expected to scratch. Perhaps Provocation doesn't want to rate as she looked great in her debut and mediocre when asked to rate last time. The issue is she looks like the fourth fastest horse early and thus will have to rate again.
Harvest Moon is your morning line favourite and she is only one of a two proven going a route having won both her dirt routes. While she can win, don't think she beat much in those two wins and those races only make her the favourite if none of the others, in particular, those stretching out take a step forward.
The horse I prefer is Secret Keeper (7/2 ML) who might be more talented than Harvest Moon. She has won both her races at shorter distances and the best part of both is the way she finished them indicating a preference for more ground. Her breeding suggests she'll handle the stretch out and prefer her on the upside to the favourite.