Pony Picks: Breeders Cup Friday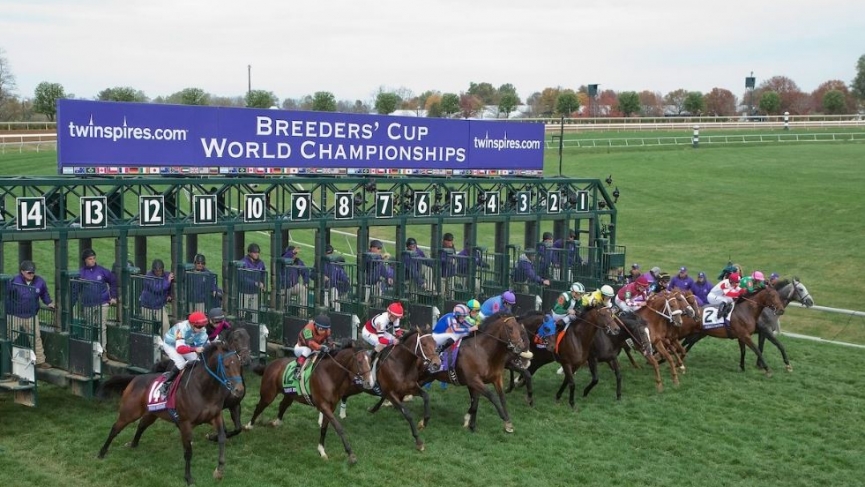 Breeders Cup Picks for Nov. 6th: Day one of the Breeders' Cup at Keeneland is here with five Breeders' Cup races for two-year-olds. The all stakes Keeneland card begins at 11:30 am Et with the first Breeders' Cup race the Juvenile Turf Sprint going off at 2:30 pm Et.
In the Breeders' Cup Juvenile Fillies Turf, I don't like any of the European horses and think the race might be as simple as Aunt Pearl wiring the field. In the event the pace gets heated, I'll also use Alda who always comes with a run.
Thoughts on the Breeders' Cup Juvenile Turf
In the Breeders' Cup Juvenile Turf, my strongest opinion is that the European contingent is stronger than the North American horses. Both horses out of the Pilgrim, Public Sector, and Fire At Will got great trips especially the latter setting a dawdling pace. Both horses out of the Bourbon, Abarta, and Mutasaabeq got great trips rallying from off the pace in a race that came apart. Summer winner Gretzky the Great is as good as any of the North American runners but he has repeatedly beaten the same competition at Woodbine.
Of the Europeans, perhaps Sealiway can win again as he dominated a Group One in France last time but several horses had an issue with the very wet racetrack which might have given him an advantage. He is the most experienced horse in the field and that race was by far his best performance to date and I don't trust him to repeat it. Note Sealiway has lost twice to Go Athletico -who also runs- previously and Go Athletico can certainly beat him again if he can overcome post 12. 
New Mandate draws well and proved last time that he could get the distance thus I'd expect him to be competitive. I won't be surprised if Battleground for trainer Aidan O'Brien goes off favored as he has been visually impressive in his last two races. His last race was over three months ago however thus you have to question where he has been. 
Yes, Devilwala finished in front of Cadillac last time but Cadillac is a much more likely winner today. One reason is Cadillac has a great post in post 5 whereas Devilwala has post 13. Cadillac proved two starts ago that he can get today's distance on a track listed as good when he dominated a Group Two event in Ireland and of the Euros; he is the most appealing option. 
Let's look at some more races:
Keeneland 6th: Cowan should get a great setup 2:30 PM ET
The Keeneland 6th is the first Breeders' Cup race, the Breeders' Cup Juvenile Turf sprint going 5 ½ furlongs for two-year-olds. Golden Pal is the center of the race being listed as a heavy favorite on the morning line and certainly, if he runs back to his last race and his 92 Beyer Speed Figure, he will win. That said he found an easy lead that day and he isn't likely to get the same scenario today. He has post 14, thus it's highly unlikely that he makes the lead as he did in his previous races. I don't consider him the speed of the speed as at the very least Momos and Bodenheimer are faster early and possibly others as well. Perhaps Golden Pal can rate, an element he has not shown to date, but at less than 2-1, I am not interested in finding out if he can.
The top four finishers of the Futurity at Belmont will compete in this spot but the only horse that has any appeal is the winner, Second of July, who has been the longest shot on the board in both his races. He should benefit from what should be an honest pace but last time he got a great trip from post two and today he'll have to work out a trip from post 13 while going a slightly shorter trip.
Race
horse
odds
Keeneland #6
#5 Cowan
+800
The horse I prefer is Cowan (8-1 ML) who drew really well in this spot, has been an off-the-pace type since switching to turf two starts ago and I expect him to rally into what should be strong fractions. He got a good trip last time when finishing a rallying second to Bodenheimer who was allowed to control things on the front end, a scenario that seems unlikely today. Ignore Cowan's first two races as turf clearly seems to be his preferred surface and should be a decent price in a race where he is likely to get his best setup to date.
Keeneland 8th: Simply Ravishing is simply stunning 3:50 PM ET
The Keeneland 8th is the Breeders' Cup Juvenile Fillies going 1 1/16 miles on dirt. I am against morning-line favorite Princess Noor who has been odds-on in all of her races in California, won all of them with ease, and goes out for prominent trainer Bob Baffert. My issue for her is from a Beyer Speed Figure perspective, she is just slow. All the other contenders can run races around a figure of 90 and she has yet to crack 80. It won't surprise me if she improved to 4/4 but she is never going to be a fair price to find out.
My other play against are the horses coming out of the Frizette at Belmont last time. The winner Dayoutoftheoffice has done nothing wrong in winning all three of her races. Don't think she beat anyone two starts ago when the heavy favorite had to be pulled up. Nothing wrong with her effort last time when stretching out to a mile but note she had an easy trip inheriting the lead when a longshot stooped and for the most part had the second-place finisher Vequist, who also runs, measured. Note Vequist was favored that day, she stayed on well and if the discrepancies in their morning lines hold, I might use Vequist. I don't think the added distance or the fact both horses are going 2-turns for the initial time, favor Dayoutoftheoffice in any way.
Girl Daddy is one alternative as there is a chance the pace could get heated and she is proven from rating positions including winning a stake at Churchill last time. Similarly to Princess Noor, she has won all her races but is a tad slow on paper. The major difference however will likely be price and at a better one, I'll use Girl Daddy.
Race
horse
odds
Keeneland #8
#1 Simply Ravishing
5/2
The horse I prefer is Simply Ravishing (5/2 ML) who has been brilliant to begin her career. She won her debut on turf at today's distance and then won an off turf stake at Saratoga. Yes, she didn't beat much in that race but it convinced the connections to keep her on dirt for the Alcibiades at Keeneland, at today's distance and she was dominant from start to finish. She has some rating ability but with the rail, don't be surprised to see her make all once again.
Keeneland 10th: Essential Quality is the goods 5:15 PM ET
The Keeneland 10th is the main event, the Breeders' Cup Juvenile for two-year-olds going 1 1/16 miles on dirt. Jackie's Warrior will be a strong favorite and he has done nothing wrong winning all four of his starts. He is very fast early but there is speed to his inside, Likeable, and to his outside with Classier and others. I don't doubt he can rate as in his debut he was beaten for early speed and with an inside post, he had to wait and then angle to the outside which he did willingly and won easily. What I do question is how far he really wants to go as this will be his longest race to date and his first time going 2-turns. While he had some challenges to overcome in his debut, he has had easy trips in his recent races setting uncontested leads.
Some will gravitate toward Reinvestment Risk who has finished second to Jackie's Warrior in his last two races. The idea being that a tougher pace scenario for Jackie's Warrior will be enough for Reinvestment Risk to turn the tables. While that is possible, If I am betting on a pace collapse I'd much rather use the unbeaten Sittin On Go at three times the price.
Race
horse
odds
Keeneland #10
#5 Essential Quality
+400
The horse I prefer is Essential Quality (4-1 ML) who rallied from off the pace to easily win his debut. Last time when stretching out in the Grade One Breeders' Futurity at Keeneland, he showed improved speed and dominated the event at today's distance to the point that he made 9/5 look like an overlay. Proven at today's racetrack and distance and having shown more tactical ability than many of his rivals, makes him the play.