Pony Picks: Breeders Cup Saturday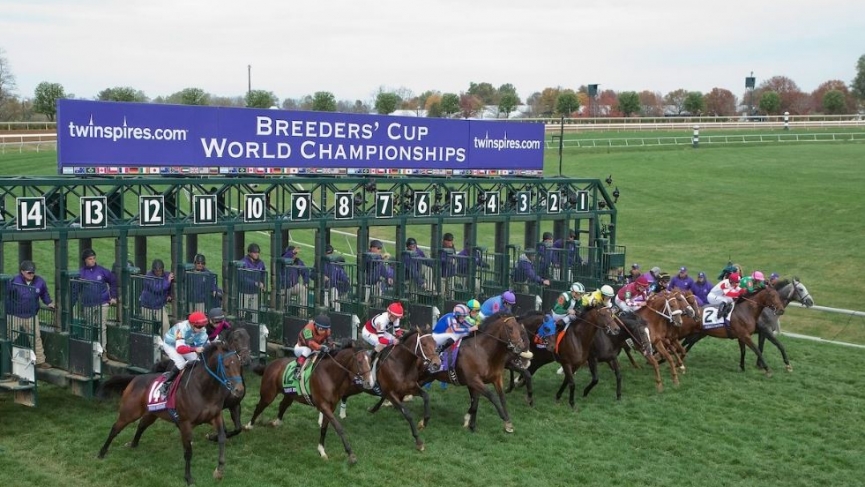 Breeders Cup Picks for Nov. 7th: Breeders' Cup Saturday is here with the card starting at 10:15 am Et. The first of nine Breeders' Cup races goes off as race four on the card in what should be a spectacular day of racing. Here is a quick thought on each race followed by today's picks:
I am against Got Stormy in the Breeders' Cup Turf Sprint as I don't trust her at this distance. Yes, she won at this distance last time but beating Into Mystic by a nose and beating this field are two different things. Imprimis is very logical based on his two efforts this year. Big Runnuer is a threat to wire this field and Glass Slippers has plenty of races in Europe that give her a chance.
I am not against Rushing Fall in the Breeders' Cup Filly and Mare Turf as I don't have concerns about the distance. I will use Starship Jubilee who has proven her versatility at various racetracks and distances winning Grade One's at a mile and 10 furlongs. The Europeans lack appeal outside of Cayenne Pepper. Note Cayenne Pepper won her last start and was second in her three previous and two of those came to Magical and Tarnawa who both figure to be contenders in the Turf later in the day. The issue with her is post 14 and that last performance may have been a peak effort that she might have trouble repeating.
In the Breeders' Cup Sprint, Yaupon looks like the speed of the speed and think he wires the field. I have no interest in C Z Rocket who has found easy spots all year. Whitmore and Diamond Oops are the logical horses to rally behind Yaupon.
In the Breeders' Cup Mile, I favor the Europeans in particular Kameko and Circus Maximus. Circus Maximus is a proven miler who has danced every dance in Europe. The same can be said for Kameko and if you ignore his two extended routes, his form looks even better. Yes, three starts ago he finished behind a couple of today's rivals but consider it was his first start against older horses thus he should be better this time around. The only North American horse I'd use is the defending champion Uni as she loves Keeneland and should get an honest pace to run into.
I am not against Monomoy Girl in the Breeders' Cup Distaff who continues to be top of the class. I will dare Swiss Skydiver to repeat her last effort, a game all-out win in the Preakness while facing older horses for the initial time and try to beat her for second. Primarily with Ollie's Candy who has run good races all year without much racing luck.
In the Breeders' Cup Turf, I wouldn't be surprised if the Europeans take the top four positions and think Magical makes amends for her head loss in this race two years ago. Let's take a look at some races:
Keeneland 4th: Come Dancing rounding into form 12:02 pm Et
The Keeneland 4th is the Breeders' Cup Filly and Mare Sprint for three-year-olds and up going seven furlongs on dirt where I am against heavy morning line favorite Gamine. Yes, in sprint and one-turn races she has been spectacular but she is facing older horses for the first time and has yet to prove she can rate. Her inside post almost forces her hand in trying to make the lead but with Serengeti Empress in this race, that seems like an unlikely proposition. Getting into a speed dual or rating for the first time are both unappealing options and as the favorite, I'll play against her.
If Serengeti Empress makes the lead, she is a threat to wire this field regardless of how fast the fractions are. She won the Ballerina at today's distance setting a blistering :213 opening quarter. Last time, again setting swift fractions at Churchill Downs, she was caught at the last moment by Bell's the One who also runs in this race. Respect Serengeti Empress' speed and won't let her beat me but their figure to be closers worth backing at better prices.
Perhaps Bell's the One can win again but she won three starts ago, was flat two starts ago, and won last time and I don't entirely trust her to repeat her performance. You could argue the reason for her poor performance two starts ago was she was too close to the early pace which hindered her late closing speed. I don't disagree but her previous performances before three starts ago don't give her a chance either so she only has her last race and perhaps her race three starts ago that would make her competitive.
Race
horse
odds
Keeneland #4
Come Dancing
+800
The horse I prefer is Come Dancing (8-1 ML) who has multiple efforts in the spring and summer of 2019 that would win this race. There was plenty of reason to question if she was the same horse this year but last time she chased around a loose on the lead Lady's Island and was able to run her down. She projects to get the right stalking trip behind the speeds and has plenty of back class thus with slight improvement, expect her to have a big say in the outcome.
Keeneland 6th: Pirate's Punch in open race 1:18 pm Et
The Keeneland 6th is the Breeders' Cup Dirt Mile for three-year-olds and up. I am against morning-line favorite Complexity as I don't trust him to run back to his peak effort last time. Note in that race, it was just a four-horse field and the second-place finisher, Code of Honor, has underperformed all year. His previous efforts would not make him the favorite.
There are several horses in this race that utilize a similar pressing, can set the pace but don't need the lead style. I am against Mr Freeze who was lucky to win last time as the second-place finisher did not get a good ride. Mr Freeze was in better form last year and he hasn't shown anything close to that form this year.
Art Collector is the wild card. He went through a three-race stretch over the summer where he was dominant but beating the same competition. Last time in the Preakness, he stepped up in class and underperformed. His best races give him a chance but he has yet to prove it at the highest level thus I won't let him beat be me but don't love him either.
Knicks Go has shown breathtaking talent in his last couple of races. He posted a career-best effort two starts ago dominating an allowance event at Oaklawn. Last time at Keeneland, off over a seven-month layoff, he was even more dominant winning by 10 lengths. Unlike others, however, think he needs the lead to be effective and I'm not sure he'll get it with Art Collector and War of Will to his inside and other speed to his outside. Expect him to be aggressively ridden and if he gets the lead setting reasonable fractions, he will be very tough to catch. Respect his talent and I'm not against him but as one of the favorites, I don't want to gamble that he will get the lead.
Owendale is the logical closer despite a tricky post 12 at this distance. My issue with him is he has yet to run a race that convinces me he can win in this spot. I prefer him underneath in exotics.
Race
horse
odds
Keeneland #6
Pirate's Punch
20-1
The horse I prefer is Pirate's Punch (20-1 ML) who showed improved form in his first start of the year when demolishing an allowance race at Fair Grounds by 11 lengths. Recently he has put together back to back strong efforts at Monmouth including last time when he showed a rating ability for the initial time. His lone start at Keeneland came last year when he finished second by a neck at 17-1. At the time, that was one of his best performances to date showcasing an ability to handle the racetrack. As an improved horse now, I expect him to put forth another strong effort. He fits the profile I mentioned earlier of horses that press the pace and will be close but don't need the lead. The difference is pirate's Punch price figures to be much more attractive.
Keeneland 12th: Tom's d'Etat is tactical 5:18 pm Et
The Keeneland 12th is the race of the year for horse of the year, the Breeders' Cup Classic for three-year-olds and up going 1 ¼ miles. I am against Tiz the Law who has done nothing little wrong winning all of his races at racetracks not named Churchill Downs. He is facing older horses for the first time and the horses that have finished behind him in the Belmont and Travers, haven't been great since. He has to turn the tables on Kentucky Derby winner Authentic and I'm not enamored with his chances either thus I'll play against him.
Trainer Bob Baffert has three horses entered and they have the three outside posts. I am against Authentic and Maximum Security as I don't trust either from rating positions. Perhaps Authentic can get to the front but he had post 9 in the Preakness last time, as he does today, and instead of rushing to the lead, he decided to rate. He hasn't performed poorly from rating positions but he hasn't been the same tough as nails horse that doesn't let anyone pass when he gets to the lead. Thought he was all out last time trying to get past Swiss Skydiver and asking him to repeat, if not exceed that effort while facing older horses for the initial time, is an unappealing proposition.
Maximum Security has won from rating positions but don't view his efforts in those races as strong or as thorough as his efforts when he is allowed to make the lead. Of the speed horses, I have some interest in Global Campaign who has been an improved horse since removing blinkers two starts ago. Yes, this field is much tougher but his price will be more than fair to include him in exotics.
Improbable is the morning line favorite and a very strong contender. His only blemish this year was his four-year-old debut when he was 4 wide on both turns, attacked a wicked pace only to be run down by Tom's d'Etat at the last moment. He has won his last three races turning the tables on Tom's d'Etat and beating Maximum Security. The only argument against him would be he has had everything go right in those races. Two starts ago Tom's d'Etat missed the break and spotted the field five lengths. Last time, Improbable was the lone closer and got a great setup while Maximum Security was part of a contested pace.
Race
horse
odds
Keeneland #12
Tom's d'Etat
+600
The horse I prefer is Tom's d'Etat (6-1 ML) who similarly to Improbable has done nothing wrong outside of spotting that rival five lengths at the start last time. Before that loss, Tom's d'Etat had won four straight and note in two of those wins he sat second, a length off the lead. In the other two wins, he rallied from well off the pace. In a race like this, that tactical ability should pay dividends in helping him adapt to any pace scenario; an obvious contender.