Saratoga Picks For The 7th, 8th and 9th Race – August 29 2020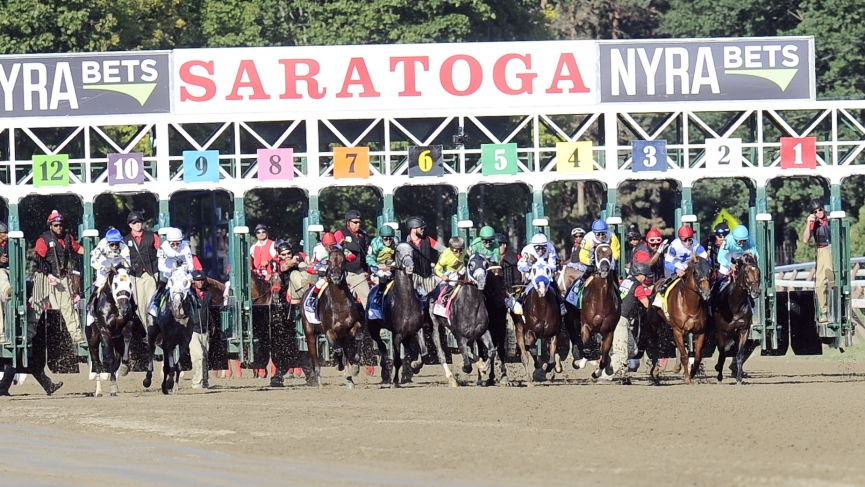 My Saratoga picks kick off today's horse racing action but as always, let's take a look back on how we did on Friday.  Yesterday at Saratoga in the Lake George, favourite Sweet Melania did not go for the lead but she was able to make the lead in the stretch only to be run down by long shot Selflessly in the stretch. Think that was more about Selflessly improving than anything Sweet Melania did wrong.
The two biggest events at Charles Town, the Charles Town Oaks and Charles Town Classic both saw the winners go wire to wire though in different ways. In the Oaks, Fly On Angel set a strong pace and was best in holding off multiple closers. In the Classic, Sleepy Eyes Todd took all the late money and set a dawdling pace and utilized that advantage to win going away by over seven lengths. Today, the main focus will be Saratoga which has multiple graded stakes.
Saratoga 7th: Basin turns back 4:32 pm Et
The Saratoga 7th is the grade two Amsterdam for three-year-olds going six furlongs on dirt. Yaupon and Long Weekend are your two-morning line favourites but something is going to have to give as they are both blazing fast early and if they both want the lead, they will only compromise each other. Yaupon is 2 for 2 winning his debut from a rating position with an outside post and then wiring allowance foes last time in a race that had no flow as no one changed positions from the opening quarter to the finish.
Due to that fact, Yaupon's last race might be worse than it looks on paper. The other issue with him is his inside post as he will either be sent hard to the lead and be under pressure throughout or trying to rate behind horses while taking dirt in his face. Something he didn't have to do in his debut and this is a class test.
Long Weekend looks like a need the lead type as his three wins have all come when he has established an early lead and his two losses, which include last time in the Gold Fever at miniscule 1/5 odds, were when he wasn't able to establish an early lead. He might be fast enough to make the lead but I don't see Yaupon conceding the lead to his biggest rival, at least not an easy one.
The horse I want is Basin (7/2 ML) who competed twice at Saratoga last year and won both races. The first was his maiden win and the other win was the grade one Hopeful. Both those races were sprinting and the Hopeful was the last time he tried sprinting. Since then he has been put on the Kentucky Derby trail and while he didn't do poorly in those races, don't think he took a step forward either and I've always questioned how far he wanted to go. Think that sprinting is what he has wanted to do all along and thus warrants consideration in this spot. Note those Saratoga wins last year came on tracks listed as fast and sloppy thus he should handle any surface and with the early speed signed on, he should get a fair pace to run into.
Saratoga 8th: Funny Guy can win his third straight 5:07 pm Et
The Saratoga 8th is the grade one Forego for four-year-olds and up going seven furlongs on dirt. Three horses come out of the grade one Alfred G. Vanderbilt including morning-line favourite Whitmore. Whitmore can win but don't view him as any sort of standout and the only horse out of that race that is of interest is Firenze Fire. Firenze Fire tried to rally wide, while Whitmore saved ground, into a pace that was dawdling. With a better race flow, Firenze Fire has some appeal.
I'm against Lexitonian who got a wicked pace to run into in the Bing Crosby at Del Mar last time and just missed. Even with that perfect setup, however, don't think he showed enough to be considered a strong contender in this race.
Complexity and Fortin Hill both compete for trainer Chad Brown. Of the two I don't trust Complexity as while he is a grade one winner, his other tries in graded stakes company have all been terrible. Fortin Hill appears to have the talent to win this race and this is the first time he's putting races together in his fifth career start. He's the alternative but this is a class test and he'll have to work out a trip from the outermost post.
The horse I want is Funny Guy (9/2 ML) and yes this is a major class test after running almost exclusively in races restricted to New York breds. Two starts ago, in his four-year-old debut he got a strong pace to run into and utilized his strong late closing kick. What interested me more is last time when the favourite set a moderate pace and Funny Guy showed improved positional speed sitting second throughout and taking over in the stretch. Those last two races are the best of his career and think he has just become a more professional racehorse as a four-year-old. Note he has won both his races at Saratoga as well as both his starts on wet racetracks.
Saratoga 9th: Pedro Cara an intriguing new face 5:43 pm Et
The Saratoga 9th is the grade one Sword Dancer going 1 ½ mile on the inner turf for four-year-olds and up. Yes, there is rain expected but grade one races are usually left on turf and I expect this race to be run on a turf course listed as good or yielding. There are five horses coming out of the grade two Bowling Green and for the most part, I'm against all of them. Sadler's Joy is the morning line favourite and he won the Bowling Green before being disqualified for interference. He made a powerful rally and was likely best that day. My issue with him is against this class level, while he usually runs well, he typically settles for a minor award.
I'm against Channel Maker who has run well on an off going previously but his recent performances lack appeal and think he has lost a step. Cross Border was the beneficiary of the disqualification last time as he was placed first and thus improved his record at Saratoga to 5 for 5. He is the only one out of the Bowling Green that has some appeal due to the fact he has some speed as the pace is expected to be slow.
Of the new faces, there appear to be two alternatives. Aquaphobia has taken a step forward since arriving in the Michael Maker barn. Last time in the grade one United Nations he not only proved his talent by winning the race but also proved he could compete at extended route distances. My only issue with him is that may have been a career-best effort in his 36th career start and he was 10-1 that day. He'll be a fraction of that price today to find out if he can repeat that effort.
The horse I want is Pedro Cara (10-1 ML) who has competed on wet surfaces plenty of times in France and won a group two in Qatar on a course listed as good. He has run once previously in the U.S. in the Jockey Club Derby Invitational at Belmont last year at today's distance. He lost by a head at long odds to the favourite. That race would make him competitive in this spot and his new trainer Graham Motion is known for having his horses ready off layoffs.