Saratoga Picks and Indiana Grand Best Bet August 6, 2020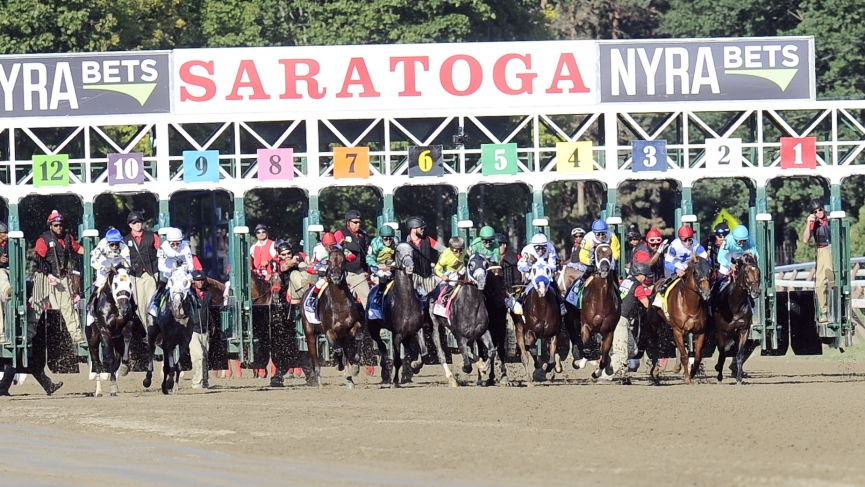 Before we get into today's Saratoga picks and Indiana Grand best bet, yesterday at Saratoga, trainer Todd Pletcher had three horses in the restricted Summer Colony, Nonna Madeline took all the money and proved that 1 1/8 miles was no challenge. Today, Saratoga has another restricted stake on turf this time. Let's look at some races.
Saratoga 5th: Lollygag has experience edge 3:30 pm Et
The Saratoga 5th is a restricted maiden allowance for two-year-old fillies going 5 ½ furlongs on turf. Your morning line favourite is Guardian Moon a firster out of the Jorge Abreu barn and while she can win, I think she is eventually going to want route races. Her trainer has excelled with first-time starters as Shawdyshawdyshawdy won at Saratoga on Saturday in a two-year-old turf route and Summer Brew debuted for the barn yesterday and was a game second in a dirt sprint. Considering I think she'll want more distance later, I don't want her at a short price as she'll likely take plenty of money for her hot trainer.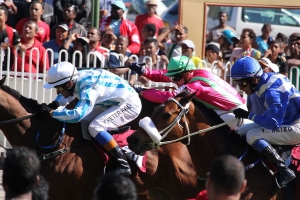 I'll let the entry trained by Linda Rice beat me as they are both first and she just does much better with second-time starters. I'm against Shesadirtydancer who has started twice previously. Last time she was able to set reasonable fractions at today's distance and conceded a clear lead making it hard to trust her.
Herald Angel would be the firster I'd want and Irad Ortiz Jr is lured but out of all the things her trainer Michael Maker excels at, first time starters on turf isn't one of them. Nevertheless, think she's a sprinter and is the alternative.
The horse I want is Lollygag (5/2 ML) who did a lot of things right in her debut. She broke alertly from the rail post, a difficult post for a horse like her who didn't show much speed. She angled wide and rallied strongly in the stretch. She goes from open maidens at Keeneland to restricted maidens at Saratoga and looks like a strong contender.
Indiana Grand 4th: Duplicitous a solid sprinter 3:44 pm Et
The Indiana Grand 4th is an allowance optional claimer for fillies and mares three years old and up going 5 ½ furlongs on dirt. If Purrfectly Claire repeats her last race, her maiden win she likely wins at a very short price. I just want to see her do it against winners while facing plenty of pace pressure at this sharp sprint distance.
I'm against Isabellacannetella who has missed over a year and is not protected in this race. Its Cold in Dehere was made the favourite last time and did little running without an excuse and while she has some back races that would be competitive, I don't trust her. Hoptown Honey has some speed and the rail but she is not the fastest early and figures to be caught chasing a lot of the times in this spot.
The horse I want is duplicitous (6-1 ML) who is one of two horses proven at Indiana and today's distance when she won her debut. Thought both her races at Churchill Downs recently would give her a chance in this spot. After trying multiple things, sprinting on dirt appears to be what she wants to do and she is finally putting sprint races together.
Saratoga 8th: Fresco can beat the boys 5:14 pm Et
The Saratoga 8th is the restricted New York Stallion Series for three-year-olds going 1 1/16 miles on turf. I'm against Dream Bigger who tries turf and a route for the first time. He figures to take plenty of support off his dirt form and if he translates it to turf he'll beat me.
Morning line favourite is maiden Jolting Joe who has finished second in all of his four maiden races. You could make an argument that this is class relief as a couple of those second-place efforts came against Art Collector and King Guillermo who will next be running in the grade one Kentucky Derby on dirt. Now you could counter with Jolting Joe got to face those horses on turf, their weaker surface and that is the reason they are running in graded stakes on dirt instead. I know Jolting Joe was coming off a layoff last time but he had a clear lead and don't think he is supposed to lose that last race.
Speaking of maidens, Fresco (5/2 ML) is the horse I want and she broke her maiden in the female version of this race a couple of weeks ago and will now face the boys. Prior to her win she had a loss by a nose and was compromised by a pair of wide trips. She ran to her paltry odds last time without needing her best and looks like a serious threat to repeat.