Pony Picks: Keeneland Plays – Oct 2nd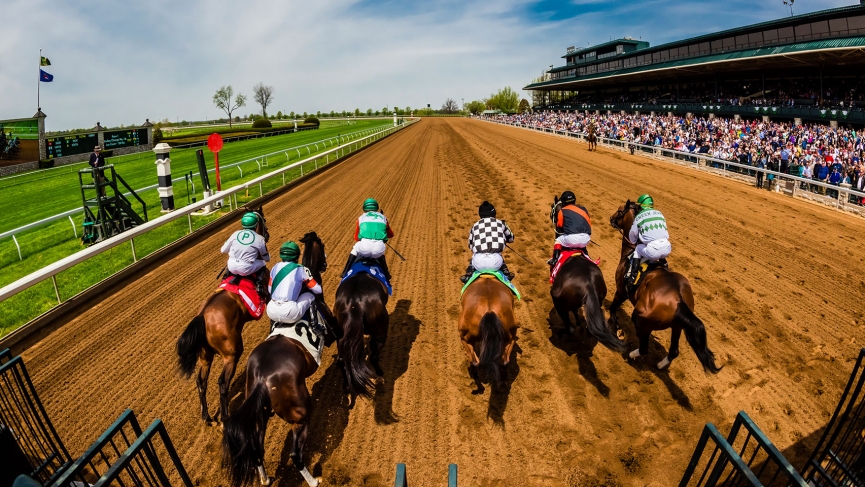 Odds.com's Horse Racing Picks for Oct. 2nd: Yesterday at Pimlico, Yaupon was an easy winner in the Chick lang remaining unbeaten. In the Jim McKay Turf Sprint, Hollis wired the field holding off a late challenge from Completed Pass. The pace collapsed in The Very One Stakes and A Great Time rallied from off the pace to win. Race favorite Jo Jo Air did no running.
Today, marks the start of the Keeneland fall meet with a pair of stakes including a pair of win and you're into the Breeders' Cup juvenile fillies. Let's take a look at some races:
Keeneland 6th: American Grace can improve 3:55 pm Et 
The Keeneland 6th is an allowance optional claimer for two-year-old fillies going one mile on dirt. I am against morning-line favorite Torsie's Charm who went wire to wire last time to break her maiden. The pace is expected to be contested and her rail draw doesn't give her many options.
One of those speed elements is Lady Lilly who tried tougher in the grade one Spinaway last time. Note in her debut she had a clear lead in the stretch and had to hang on late to win by a neck. Perhaps she can stretch out but she will have to show either more finish or a rating ability thus I'll let her beat me.
I am against Puye Timing and Tete a Tete who competed in a maiden event at Keeneland in July. Puye Timing won that race but I'm not enamored with the overall form of that race. Tete a Tete was able to win last time against easier off turf competition at Monmouth and that race doesn't appeal either.
One alternative is Dream Quist who took a lot of money in her debut on a track listed as sloppy. She did little running but didn't have to love the conditions. She broke her maiden in her second career start when stretching out to today's one-mile distance. Last time she tried turf at Kentucky Downs and she didn't have to love that quirky track. With excuses in 2 of 3 races and a win in her lone other start at today's distance, she warrants consideration. She is the alternative but does have to overcome post 10. 
The horse I want is American Grace (10-1 ML) who won her debut on talent alone. She was very green and did not keep a straight path. This caught up with her in her second career start when stretching out and trying a grade three event. This spot should be easier, her maiden win would make her competitive, and the more experience she gets, the more professional I expect her to be.
Keeneland 8th: Echo Town is turning back 5:05 pm Et
The Keeneland 8th is the grade two Stoll Keenon Ogden Phoenix going six furlongs on dirt. Morning line favorite Diamond Oops has always been a neat horse. He has run well at longs odds sprinting and routing on turf and dirt. As a favorite, however, he's not a value proposition as he isn't a standout. He did win his last race sprinting on turf but note he got a magical trip that day skimming the rail. 
I am against No Parole who went off the favorite in the H. Allen Jerkens. He made the lead in that race and then stopped badly. He was supposed to run in the Pat Day Mile last month but scratched. Hard to tell where his form is at and I'm not curious to find out.
Lexitonian and Whitmore both come out of the Forego at Saratoga a race that should be taken with a grain of salt as there was heavy rain and they skipped the warm-up and went straight to the gate. Two starts ago Lexitonian just missed in the Bing Crosby when getting a perfect pace scenario. Note the finished third in this race last year at 46-1 when Whitmore was better and second. Between the two, Whitmore is the more likely winner.
The classy Whitmore has danced a lot of dances, his record at Keeneland of 3-2-1-0 is good and he'll take money. His consistency means he'll take the money and of the favorites, he's the most logical but his consistency doesn't make him a standout.
The horse I prefer is Echo Town (8-1 ML) who gets back to what is his best distance today but does face older horses for the initial time. Ignore his last race when trying a mile for the first time. Two starts ago he won the grade one H. Allen Jerkens, a performance that would give him a chance in this spot at a fair price.
Keeneland 9th: Thoughtfully indicated plenty of talent 5:40 pm Et
The Keeneland 9th is the grade one Darley Alcibiades for two-year-old fillies going one mile on dirt. I am against morning-line favorite Crazy Beautiful. She encountered some trouble two starts ago but that was more the fault of the jockey who got cute and tried to split horses instead of letting her run wide. She was able to get the win so it didn't cost her but last time her rider once again tried to get cute and she was held up. Once she found the room, the winner had already gotten the jump and she had to settle for second. Perhaps Crazy Beautiful can win but she'll be an unappealing price being bet on trouble that her own riders caused.
Simply Ravishing won her debut on turf going a route and last time won the P.G. Johnson an off turf stake at Saratoga. She looked great in the race-winning by six lengths but consider it was a four-horse field. I want to see her beat a real dirt field first however thus I'll play against her.
The horse I want is Thoughtfully (3-1 ML) who proved a dominant winner in a maiden race at Churchill. She then tried the grade two Adirondack at Saratoga and once again proved a dominant winner. The difference between her and some of the other contenders is she still has to prove she can get a route but the daughter of Tapit is certainly bred for it. She has indicated tremendous talent and she'll win if handling the stretch out.