Pony Picks: Belmont and Pimlico plays for Oct 1st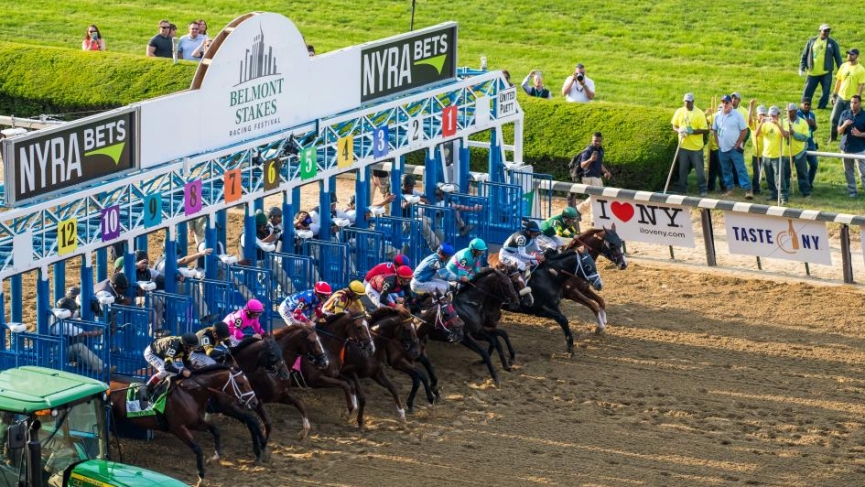 Odds.com's Horse Racing Picks for Oct. 1st


Yesterday at Indiana, Hungarian Princess turned the tables on Diamond Solitaire to win the City of Anderson going away. In the male equivalent, odds on favorite Betsdownletsride was able to deliver in the Hillsdale.
Today, Belmont has a stakes feature and Pimlico has multiple stakes leading up to Preakness stakes Saturday. The undefeated Yaupon runs in the grade three Chick Lang and I won't try to beat him. Let's look at some races.
Belmont 8th: Stimulus Check can win again 4:47 pm Et
The Belmont 8th is the Joseph A. Gimma for two-year-old New York bred fillies going seven furlongs on dirt. It's easy to see why Irish Constitution is the morning line favorite as she was game in her debut win and then tried the much tougher grade one Spinaway. She didn't run well in that race and while her maiden win was nice, she was head and head for the lead in her debut and think Chasing Cara or Stimulus Check has the ability to keep her honest or force her to actually rate.
No Mo' Spending is a logical alternative after she found a weak group to break her maiden last time. My issue with her through three races is that she seems one paced. I haven't seen any thorough acceleration from her thus I don't entirely trust her. 
The horse I prefer is Stimulus Check (7/2 ML) who was an easy winner in her debut. She showed professionalism when having to rate behind horses when starting from the difficult rail spot. She angled out in the stretch and was a decisive winner. Minor improvement is likely needed but considering all the things she did well in her debut, I fully expect her to improve.
Pimlico 6th: Completed Pass can win again 3:25 pm Et
The Pimlico 6th is the Jim Mckay Turf sprint for three-year-olds and up going five furlongs on turf. Morning line favorite Texas Wedge might be the most talented and while the finishing margins suggest he has been competitive in his last three races, I haven't been enamored with his late kick in any of them. I wonder if he's still the same horse that was winning stakes races this past winter.
Tiger Blood has been in the toughest races recently but has delivered mediocre performances in those races. His best form has always come in Florida where his connections always found the right allowances races and conditions for him to run in. He seemingly always comes up short in stakes company thus I'll let him beat me.
There is enough early speed to indicate a potential speed dual but Francatelli is almost guaranteed to try and get the lead as he has won three straight using a speed approach. He might be fast enough to do so but the issue is there is speed drawn to his inside and from post 10, he'll have to work extra hard to get the lead. This could leave him vulnerable in the later stages of the race.
The horse I want is Completed Pass (4-1 ML) who has appeared to regain his form from last spring having won two of his last three. The other performance was a neck loss at long odds. Note he won his lone career start at Pimlico, an experience that should give him an edge over the main contenders who have not yet tried this turf course.
Pimlico 8th: Wild About Star can defend her title 4:31 pm Et
The Pimlico 8th is the Very One stakes for fillies and mares three-year-olds and up going five furlongs on turf. I am against morning-line favorite Jo Jo Air who provided one of her best performances last time when getting a perfect trip. She was the beaten favorite in this race last year and her races prior to her last are just okay.
Chalon is trying turf for the first time and she'll take money based on her dirt form. I'm not curious as to how she'll handle the turf. Peaceful is a speed element to consider but she will have competition for the front end and while she did win two starts ago at Saratoga, she did so by setting pedestrian fractions that I don't expect her to get away within this race. 
One alternative is Ode to Joy as you can ignore her last race on dirt and her race two starts ago on synthetic. Turf sprinting appears to be what she wants to do and it did seem as though she was improving when she was winning a turf sprint three starts ago. She does need to run back to that effort if not exceed it in order to win but at a likely fair price, is worth considering.
The horse I prefer is Wild About Star (12-1 ML) who has shown a hatred for dirt so no surprise when in her last two races she ran poorly in off turf races. Her previous turf form would be competitive in this spot and note she won her lone try on the Pimlico turf, four races ago, in this very race defeating today's morning-line favorite.