Pony Picks: Woodbine plays for Saturday 9/19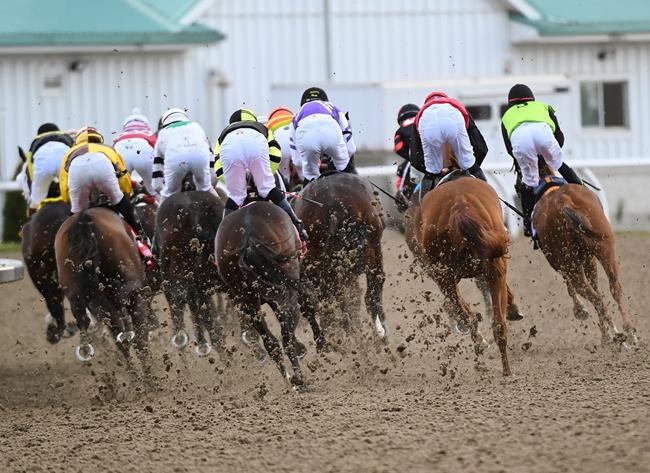 Odds.com's Horse Racing Picks for Sept. 19th Yesterday at Belmont, Danny California and You're to Blame turned the Miner's Mark into a match race with Danny California repelling the bid from You're to Blame. The two of them were well clear of the third place finisher. Today, all eyes will be on Woodbine with the main event being the grade one Woodbine Mile, a Breeders' Cup 'Win And You're In' race. Let's look at some races:
Woodbine 3rd: Sky's Not Falling should get an honest pace 2:16 pm Et
The Woodbine 3rd is the Ontario Racing for two year olds going five furlongs on the inner turf. Of the seven runners, one is a first time starter and four of them have seen all of their wins come on the front end. This includes both morning line favourites Amsden and Ready to Repeat. Played against Ready to Repeat last time citing that he got away with soft fractions in previous races which helped him win those. Last time he had to rate and had no real finish thus I don't trust him rating in this spot.
Morning line favorite Amsden goes out for prolific two-year-old trainer Wesley Ward. He was bet in his debut at Colonial like he couldn't lose and while he got the win, it was not very impressive. The runner up gave him a scare on the turn despite Amsden having everything his own way on the front end. Highly doubt a similar situation develops in this spot thus backing Amsden at a short price when he likely has to improve to win seems an unappealing proposition.
The horse I want is Sky's Not Falling (5-1 ML) who finished 3rd last time in a stake at Saratoga when trying turf for the first time. Note the 1-2 finishers were both trained by Wesley Ward and the winner Golden Pal was coming off a second place effort in a group two at Ascot. That race had little pace, no race flow with the winner never being pressured. If the potential speed duel develops in this race, Sky's Not Falling should be able to rally into it as he proved in his debut that he could rate. This might also be class relief for Sky's Not Falling considering Golden Pal would likely be 1/5 against this group.
Woodbine 7th: Tiz a Slam can make all 4:27 pm Et
The Woodbine7th is the grade three Singspiel going 1 ¼ miles on turf for three year olds and up. Admiralty Pier is expected to scratch and run in the Woodbine Mile which is significant as he was expected to be the speed. Trainer Graham Motion has two horses entered including morning line favourite Nakamura who disappointed in an allowance at Saratoga as the favourite. His race two starts ago when two lengths behind Zulu Alpha gives him credibility in this race but it doesn't make him a stand out and as one of the favourites, I don't want him. 
I am against Skywire as his synthetic form is much better than his turf from and I question today's distance for him. His only try at today's distance was last year's Queen's Plate where he was a non factor though he did not get a great trip that day. The race I have no excuse for is his try on the synthetic at Turfway going nine furlongs, a race he did no running in. He figures to take money based on his connections and I don't trust him.
The other Graham Motion trainee, Standard Deviation has some appeal as his efforts aren't that far off from those of his favoured stablemate and at a much better price he is worth some consideration. My only issue with him is every time he has stepped up in class he has disappointed.
The horse I want is Tiz a Slam (6-1 ML) who should be in front when Admiralty Pier scratches. Note he had a three race win streak last year which included a win in this race. In all three of those wins he went gate to wire but since then has not been in a race where he could control the pace and it has led to some subpar efforts. His last race is easy to ignore on the wrong surface and at the wrong distance. With the expected tactical advantage, he should be in a position to lead this field a long way.
Woodbine 9th: On talent, Shirl's Speight warrants consideration 5:39 pm Et
The Woodbine 9th is the grade one Woodbine Mile on turf for three year olds and up. I am against the morning line favourites from the Mark Casse barn. War of Will won a grade one at Keeneland last time at today's distance overcoming post 10. No issues with his performance in that race but each passing day that race continues to disappoint. The second place finisher Parlor came back to be off the board as the favourite in a race at Kentucky Downs. The third and fourth place finishers Raging Bull and Without Parole both did no running in the Fourstardave next out. Considering the suspect form of his last race and the fact that War of Will likely takes plenty of money because of his last race, I'll let him beat me. 
March to the Arch and Admiralty Pier both come out of the local Woodbine Mile prep, the King Edward, where March to the Arch rallied to win. That race was filled with speed and Admiralty Pier proved to be the speed of the speed and ended up compromising some of the other contenders. March to the Arch got a great trip and was able to run down Admiralty Pier providing one of the best efforts of his career. Perhaps he can repeat it but his price will be unappealing to find out and think it's likely that he'll show some regression today. 
Admiralty Pier is the more interesting horse out of the King Edward because he'll be a much bigger price and if War of Will let's him go, he could be a threat to wire this field. 
Value Proposition competes for elite connections and will likely take money. The one race that makes him competitive is his effort two starts ago where I thought he benefited from unique circumstances. There was a loose horse that had dumped the jockey and that horse went to the lead and when he tired while sticking to the rail, the other jockeys had to navigate around him. Value Proposition with an outside post had the benefit of staying clear of all this trouble thus I wonder how strong that performance really was.
Starship Jubilee is the alternative as she was given no chance last time chasing top class mares that got away with pedestrian fractions. She has not competed at a distance as short as a mile since last year's Nassau at Woodbine where she had a clear lead as the favourite and could not hold on. I cannot give her the excuse that it was on yielding turf as a few races later in the Canadian she ran one of her best races ever with the turf listed as yielding. Her form prior to her last race was very strong having won 6 of 7 and thus must be considered.
The horse I want is Shirl's Speight (8-1 ML) who is facing older horses and lacks some seasoning but on talent, he belongs. His debut was sublime when winning by open lengths while never asked going seven furlongs on turf. In his second career start, he switched to synthetic, tried a route and graded stakes company. He attacked a strong pace set by Untitled, put him away and was once again an easy winner under a hand ride. Yes the waters get deeper but he has shown every indication that he belongs and he should be a fair price to find out if he is good enough.