Pony Picks 10/8: Keeneland and Woodbine Race Tracks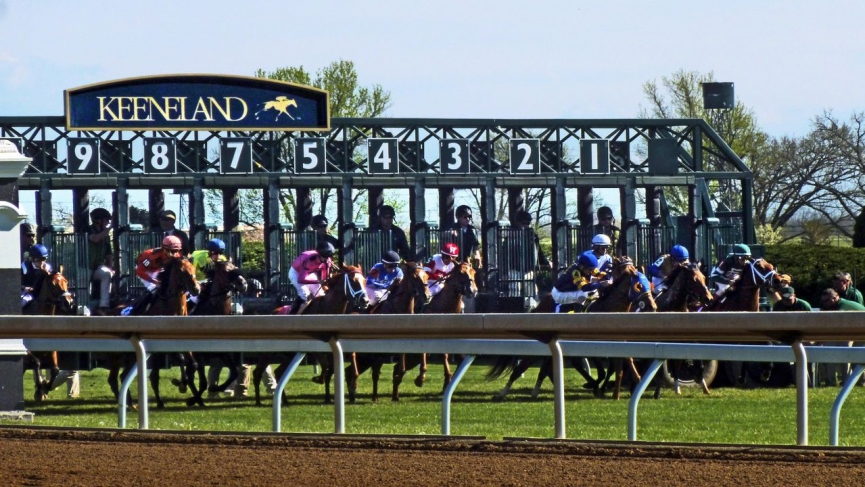 Odds.com's Horse Racing Picks for Oct. 8th: Yesterday at Keeneland, Aunt Pearl punched her ticket to the
Breeders' Cup with a decisive front running victory in the JPMorgan Chase Jessamine. At Indiana, Piedi Bianchi was cross-entered in the Merrillville and Florence Henderson and elected for the former where she had to settle for second behind Krunch. In the eventful Florence Henderson, Timeless Rose won the race but was disqualified and placed fourth for interference in the stretch; The Beauty's Tale was the beneficiary. In the A.J. Foyt, Strong Tide got a gorgeous trip from post nine saving ground on the first turn and getting an inside-out trip on the second turn to prevail as the favorite.  Today, Belmont, Woodbine, and other racetracks begin new weeks. Let's look at some races:
Keeneland 8th: Tizemotionalgold draws well 4:57 pm Et
The Keeneland 8th is a maiden allowance for fillies and mares three year olds and up going 1 1/16 miles on dirt. I am against morning-line favorite Black Magic Woman who has been favored in both her starts and bet in her debut like she couldn't lose. She set the pace in both her races and folded in the stretch. From post 12 and stretching out she'll either need to rate for the first time or likely set a demanding pace trying to clear over from the outside.
I am also against Villanelle who has taken a lot of money in both her starts. She failed to deliver in her debut but did perform better when stretching out and finishing second. My issue with her is just as in her debut, she was conceding ground late and it's not like her race came back overly fast.
Financial One took a lot of money in her debut and ran well passing a few horses when saving ground and angling out. She galloped out in front of the field indicating that she'll handle the stretch out. She still has to prove it on the racetrack and will likely be an unappealing price due to her elite connections.
The horse I prefer is Tizemotionalgold (6-1 ML) who has outrun her odds in both career starts. Her debut sprinting on dirt was good while rallying wide and note she finished in front of Villanelle that day. Last time she stretched out and tried turf. The winner was heavily backed out of the Chad Brown barn and Tizemotionalgold was clearly second. Note she draws the middle of the gate while all her main rivals are stuck with outside posts.
Woodbine 6th: High Society Girl can make all 5:07 pm Et
The Woodbine 6th is a maiden optional claimer for two-year-old fillies going six furlongs on dirt. I am against morning-line favorite For My Elbi who finished second in the rich Muskoka stakes two starts ago. Note she was favored in that race despite being a maiden and was able to take the lead before being caught late. She had no excuse last time when Silent Sister was better in second.
Silent Sister ran well in her debut making a wide rally. That said you can make an argument that the horses she passed aren't very good and they include For My Elbi. She made no impression on the winner who went wire to wire and of the horses that have run in this race only one of them has real early speed. Silent Sister therefore will either need to improve her speed or hope one of the first time starters can ensure an honest pace.
There are multiple first-time starters most of which do not appeal. The only one worth some consideration is Red Equinox. Her trainer Jamie Attard does well with first-time starters as does her sire Signature Red and she appears to be working forwardly.
The horse I prefer is High Society Girl (6-1 ML) who showed some speed in her debut a race that saw the 1-2 finishers come back to win with the winner taking a stake. Last time she dueled through swift early fractions and eventually tired. None of the horses with previous racing experience have the ability to go with High Society Girl early and it seems unlikely that one of the first time starters can go sub:22 second speed. Blinkers are added and if she's allowed to get comfortable on the front end, I like her chances to lead this field the entire way. 
Keeneland 9th: Monarchs Glen intriguing price option 5:30 pm Et
The Keeneland 9th is an allowance for three-year-olds and up going 1 1/16 miles on turf. I am against the entry of American Tattoo and English Bee. American Tattoo hasn't performed well this year and English Bee has been on the edges in recent events and he was favored in his last two wins, both last year which he won by small margins a head and a neck.
Morning line favorite Spectacular Gem scratched out of the Shadwell Turf Mile to run in this spot. He has shown improvement this year as a four-year-old winning his first couple of races but could not sustain that momentum last time. He does his best work on the front end but will have Renaissance Frolic to keep him company. He was in career form until his last race and I wonder if his form will start going south and at a short price, I'll let him beat me.
Both Ramsey Solution and Big Score come out of a restricted stake at Kentucky Downs where Ramsey Solution won. Of the two I prefer Big Score as I am willing to throw out the Kentucky Downs race. Note in that race Big Score went off at a much shorter price because he had better form but today the prices are likely to be similar because of one race on a quirky race track. 
The horse I prefer is Monarchs Glen (10-1 ML) as you can throw out the off turf race last time. Three starts ago he was behind Breaking the Rules and Digital Age who both came back to win. He lost to Digital Age again two starts ago and that horse is now a grade one winner. Those recent turf races represent him favorably to the rest of the field and at a fair price, I'm willing to find out if he's good enough.