Pony Picks 10/7: Keeneland and Indiana Race Track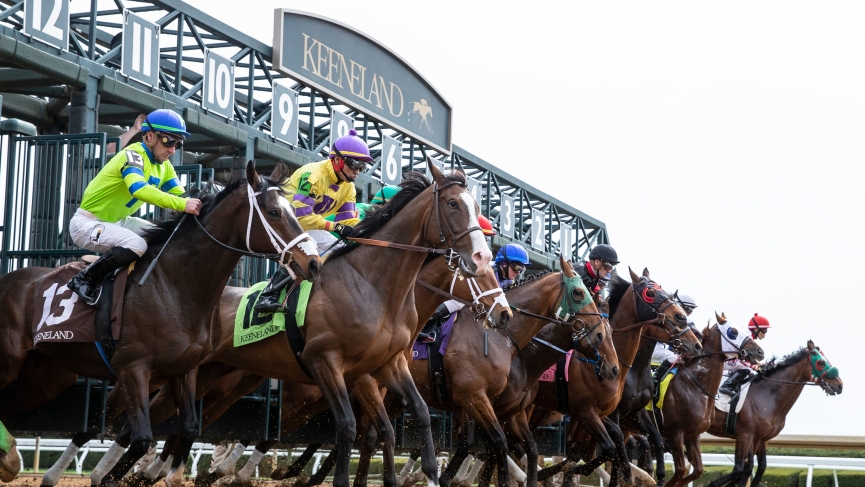 Odds.com's Horse Racing Picks for Oct. 7th: A new week is here and Keeneland leads the way with the JPMorgan Chase Jessamine a Breeders' Cup 'win and you're in' race to the juvenile fillies turf. I am not against morning-line favorite Aunt Pearl who was an easy winner at first asking when setting the pace and opening up in the stretch. Spanish Loveaffair figures to take a lot of money off her wins at Gulfstream but I'm not enamored with those races. Ingrassia and Batyah are my alternatives. Indiana Grand also has a few restricted stake races. Let's look at some races:

Keeneland 3rd: Rijeka has a preference for today's distance
2:12 PM ET: The Keeneland 3rd is an allowance for three-year-olds and up going 1 ½ miles on turf. I am against morning-line favorite Bourbon in May who has won three straight against easier competition. He got a great trip last time at Kentucky Downs rallying off a contested pace and this race will likely be tougher.
Perhaps Tide of the Sea can wire this field but he always takes money and is stretching out in distance. Thought his last race, a win at Kentucky Downs was just okay. Note that there were two races run that day at Kentucky Downs at the same distance. Tide of the Sea set a much slower pace at 492 compared to 474 in the other division.
I am also against Current who ran a race four starts ago in the grade two Pan American at Gulfstream that would make him tough to beat in this spot. He was sent off at long odds and missed narrowly against the likes of Zulu Alpha. Since then, however, he has taken more money while failing to replicate that strong effort. Note he has been facing predominantly stakes company but in his last two tries at this level, he has been the beaten favorite, and last time he did little running.
One alternative is Celerity who appears to have an affinity for these longer distance turf races. He was in an impossible spot three starts ago when going 10 furlongs in a stake against Factor This who was winning his fourth straight. Last time Celerity found a better spot, at today's distance, at Kentucky Downs and was a decisive winner. My lone concern was the race was at Kentucky Downs and I want him to repeat that effort at a normal racetrack.
The horse I want is Rijeka (6-1 ML) who was an easy winner five starts ago at today's distance at Gulfstream. Three starts ago at today's distance, he was second to the in-form Morning Stride while delivering another performance that suggests he's a fan of today's distance. Ignore his last race at Kentucky Downs going the wrong distance, a mile and he should get back to delivering a strong effort stretching out again.
Keeneland 8th: Fugitive gets class relief
4:57 PM ET: The Keeneland 8th is a $30,000 maiden claimer for three-year-olds and up going 6 ½ furlongs on dirt. I am against morning-line favorite Long Term Thinking who finished first in his debut but was disqualified and placed 2nd. Since then he has been favored in every race which includes two losses by a neck against maiden allowance company.
Last time in his four-year-old debut he competed for a claiming price for the initial time and was sent off at 2/5 and finished second again to a first-time starter. The winner that day came back to do little running as the favorite in a starter allowance at Belmont. Considering how much money Long Term Thinking has burned, I'll play against him.
I am against Vedder who has tried both synthetic and turf. He ran okay at Woodbine but I'm not curious about finding out how he'll handle dirt. I am also against American Humor who took to a sloppy track on debut at Churchill and rallied strongly to finish 2nd at long odds at this evaluation. The price tag was increased for his second start and he could not replicate his debut. Considering the horses dropping out of maiden allowance competition, this isn't the easiest group and view him as just a minor player.
The horse I prefer is Fugitive (5-1 ML) who drops out of maiden allowance competition for the initial time. Note that in four of his six races the winner repeated in their subsequent start and his last start saw the 1-2-3 finishers all come back to win, thus, he's been in some live races. He has also had to overcome post 10 or worse in four of six races. When combining a better post and easier competition, Fugitive can take advantage of and win this race.
Indiana 9th: Redskiesatknight can win all right
6:04 PM ET: The Indiana Grand 9th is the restricted A.J. Foyt for three-year-olds and up going 1 1/16 miles on turf. I am against morning-line favorite Strong Tide who has performed well on the Indiana turf previously including winning back to back races over the summer. I do however think those were mediocre fields. Last time he appeared on paced until late in the deep stretch when he was able to momentarily take the lead before being caught right at the wire. He got a great trip as the favorite but I wonder if he'll get the same trip from post nine today.
I am against Mr. Gary D who posted a career-best effort last time when setting a dawdling pace. Consider this horse typically rallies from off the pace so the fact he made the lead last time tells you how slow the pace really was. Note he has lost to multiple horses in today's race previously such as Mystery Unbridled who figures to be a long shot. As a seven-year-old off a career race, I'll play against him.
I am also against Classy Cowboy who has performed okay on turf in the past though I prefer his dirt form. Also, he typically prefers to be near the pace or setting it but from post 11 that could be a challenge.
The horse I want is Redskiesatnight (6-1 ML) who has done nothing wrong in winning 3 of 4 including both his turf races. Yes he got a great trip last time and this is a slight step up in class but with just four lifetime starts he has upside and has handled everything that has been thrown at him thus far.