Pony Picks 10/24: Laurel and Belmont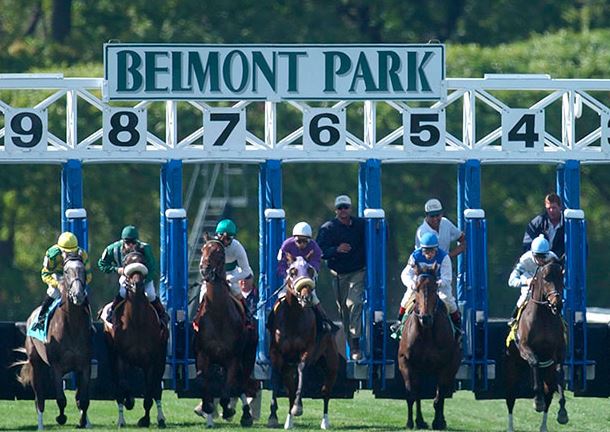 Odds.com's Horse Racing Picks for Oct. 24th: Yesterday at Woodbine, Amalfi Coast got a perfect trip behind a three-horse speed dual and was able to find room on the inside to win the Sweet Briar Too.
Today, Mighty Heart will try to complete the Canadian Triple Crown and assuming he handles turf, I'm not against him. His stablemate Belichick is the second choice on the morning-line after finishing second in the Queen's Plate but is still a maiden and I'd rather take a shot against him. My long shot alternative to use underneath in exotics is Muskoka Giant who broke his maiden on turf three starts ago, ran competitively on synthetic against older horses two starts ago, and didn't have to love dirt last time.
Elsewhere, Belmont and Laurel have a full day of restricted stake events. Let's look at some races:
Belmont 3rd: Masked Marauder capable of breaking maiden 1:15 pm Et
The Belmont 3rd is the restricted Sleepy Hollow for two-year-olds going one mile on dirt. Multiple horses are coming out of the Bertram F. Bongard and I am against all of them. Morning line favorite Hold the Salsa pulled the upset that day and was the only one who did any real running. Consider that was his fourth career start and that performance doesn't make him a standout. Yes, he is likely still improving but so is everyone else and they've had fewer starts.
I am also against Brooklyn Strong who seemed one-paced most of the stretch in the Bertram F. Bongard before rallying late to finish 3rd. At no point did he look like a winner and don't see him turning the tables in this spot.
Eagle Orb went off as the odds-on favorite that day and did no running. Today he adds blinkers which have been a strong move for his trainer previously but he has to turn the tables on a couple of horses and the new faces do have appeal.
The logical new faces, Breadman and Masked Marauder, come out of a maiden turf event that Breadman won after taking plenty of money. He does however still have to prove he can handle dirt.
| | | |
| --- | --- | --- |
| Track/Race | Horse | Morning Line |
| Belmont 3rd | Masked Marauder  | 4-1 |
I prefer Masked Marauder (4-1 ML) who rallied strongly in his debut on dirt. When stretching out on turf last time, he showed more speed and set the pace when tiring late. Thought both his races were good as his debut proved he can handle dirt and his last race gave him routing experience. In a field lacking standouts, he should be a fair price to find out if he can break his maiden today.
Belmont 9th: Prairie Fire has improved with blinkers 4:31 pm Et
The Belmont 9th is the restricted Iroquois for fillies and mares three-year-olds and up going 6 ½ furlongs on dirt. Trainer Linda Rice has two entered including morning-line favorite Newly Minted. Newly Minted won a similar event last time at Saratoga off a five-month layoff. She has had two months off since and she can win but don't think she'll offer much value. Note that last race was the first time she wasn't favored since her debut and four of her losses have come at less than even money.
I am against Fair Regis from a win standpoint as, since her last win nine races ago, she has finished second or third in all of her starts. She'll likely run well again but similar to some of her recent races, there appear to be a couple of better horses.
Officer Hutchy and Spin a Yarn both ran in a restricted stake at Saratoga where Officer Hutchy won. Thought Officer Hutchy had the better trip that day rating comfortably on the outside whereas Spin a Yarn was used for speed, could not make the lead, and then did all the dirty work keeping the pacesetter honest. Of the two, I prefer Spin a Yarn who might be fast enough to take the lead but this is a step up in class and she still has to prove she can win outside of Finger Lakes.
Timely Tradition is one alternative as she has been a different horse since being claimed five starts ago. She has won 4/5 at four different racetracks since then and note jockey Dylan Davis stays aboard despite appearing to have another option.
| | | |
| --- | --- | --- |
| Track/Race | Horse | Morning Line |
| Belmont 9th | Prairie Fire | 8-1 |
The horse I prefer is the other Linda Rice trainee Prairie Fire (8-1 ML) who has improved in her two most recent races with the addition of blinkers. Two starts ago she was an easy winner and last time she finished second to Motivated Seller who remained unbeaten. No reason why she can't keep up this improved level of performance with blinkers on.
Laurel 12th: No Knock Raid prefers Laurel 5:26 pm Et
The Laurel 8th is a restricted starter handicap for Maryland breds going 1 1/8 miles on turf. I am against morning line favorite Belfour who has tried turf twice and has run just okay in those races. I prefer his dirt form and I am against him because he will take money off his dirt form.
Similarly to Belfour, Earned It is likely to take money based on his dirt form. He won three starts ago in an off turf race. He is winless in five starts on turf, including three at Laurel. Last time at Pimlico he provided one of his better turf races when finishing third at 25-1. I don't trust him to repeat that effort and even if he does, it might not be good enough.
I am against Martini Kid who went off as the favorite in this race last year and did no running. He comes into this race in much worse form than last year having not hit the board in any of his past five starts. I am also against Rule Yourself who has run races in the past at Laurel that would make him competitive but all his recent good races have been at Gulfstream.
| | | |
| --- | --- | --- |
| Track/Race | Horse | Morning Line |
| Laurel 12th | No Knock Raid  | 10-1 |
The horse I prefer is No Knock Raid (10-1 ML) who has done most of his best work at Laurel as four of his five wins have come at Laurel. His lone win that wasn't at Laurel came two starts ago at Colonial Downs when he was a dominant winner. Note he had top jockey Trevor McCarthy in the irons that day and has his services again today.