Pony Picks 10/17: Belmont, Keeneland and Santa Antia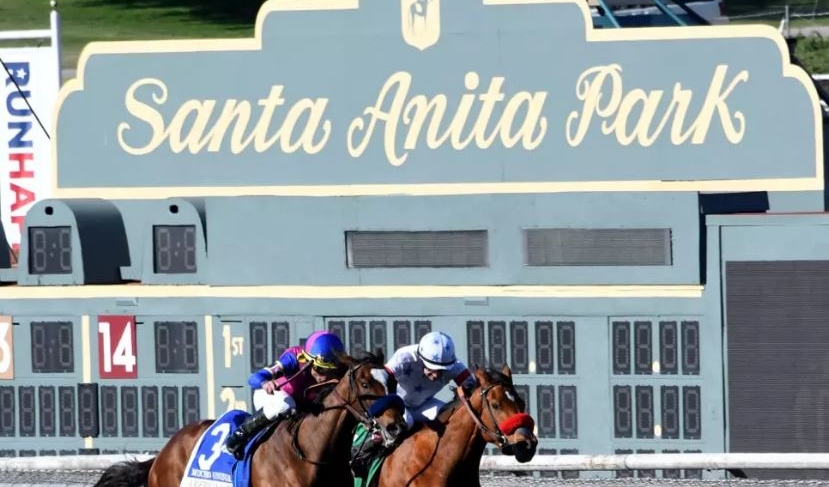 Odds.com's Horse Racing Picks for Oct. 17th: Yesterday at Keeneland, Outburst insisted on setting the pace in the Pin Oak Valley View and set fractions she could not sustain. The pace eventually collapsed and Stunning Sky took advantage to win.
In the Oklahoma Classics Cup at Remington, favorite Rowdy Yates and the other short prices Fast Breakin Cash and Deal Driven went off to set a solid pace together and eventually set the race up for 39-1 longshot Dont Tell Nobody. Fast Breakin Cash ran the best race contesting the speed dual and losing the race by just a length whereas the other pace horses were much farther behind.
Today, a few racetracks each have a single stake. In the Glorious Song at Woodbine, I much prefer morning-line favorite Souper Sensational to flashy maiden winner Charlie's Penny as Charlie's Penny win came at just five furlongs, this is a significant stretch out she has other speed to deal with. Let's look at  the other stakes:
Belmont 9th: I'llhandalthecash returns to Belmont 4:47 pm Et
The Belmont 9th is the Floral Park for fillies and mares three-year-olds and up going 6 furlongs on turf. I am against Xanthique and morning line favorite Mitchell Road for similar reasons in that they are both route horses. Yes, Xanthique won a sprint at Saratoga two starts ago but the competition was easier. Mitchell Road's best asset is her early speed and in her route races, she typically makes the lead. The turn back will likely dilute some of her speed and I can't see her on the front end in this race.
Of the expected short prices, only Lead Guitar has some appeal. Note she started her career in the George Weaver barn and had some success. To start this year, she was moved to another barn and was able to pick up a couple of wins while showing no improvement. Last time, she moved back to the George Weaver barn and was a dominant winner.
| | | |
| --- | --- | --- |
| Track/Race | Horse | Morning Line |
| Belmont 9th | I'llhandalthecash | 10-1 |
The horse I prefer is I'llhandalthecash (10-1 ML). She appeared to be improving when four races ago she had her momentum stopped in an allowance at Churchill (the 2nd place finisher was disqualified for interference). Three starts ago, in her last try at Belmont, at this distance, she was a strong winner of the License Fee. Most recently she didn't have to love the soft turf or the quirky configuration of Kentucky Downs. She can rebound in this spot with 2 of her 3 wins coming at Belmont.
Keeneland 9th: Reagan's Edge has been game 5:30 pm Et
The Keeneland 9th is the grade two Raven Run for three-year-old fillies going 7 furlongs on dirt. I am against morning-line favorite Venetian Harbor who has only won when being able to set the pace and I don't see Four Graces letting her go. From a Beyer Speed Figure perspective, she earned a 94 in just her second career start but last time in her sixth start, she earned a 95 thus it's fair to question if she's improving.
Last time, Four Graces was facing Mundaye Call and the race was bet like a match race between the two. Both had speed and dueled each other setting up the race for Sconsin to catch them both late. Note that Four Graces put away Mundaye Call and did well to finish second whereas Mundaye Call fell back to fourth. I prefer Four Graces to Venetian Harbor but from her inside post, her hand is forced and she likely ends up in a similar scenario to her last race. That is contesting for the lead against the other favorite thus I'll take a shot against her.
Both Grand Cru Classe and Secret Keeper have run three times and have had promising starts to their careers. I understand gravitating to them on potential but they both have to improve and are stuck with the two outermost posts.
| | | |
| --- | --- | --- |
| Track/Race | Horse | Morning Line |
| Keenland 9th | Reagan's Edge | 8-1 |
The horse I prefer is Reagan's Edge (8-1 ML) who has done little wrong in her five starts. In her last two races, she has twice finished second to Frank's Rockette who is currently on a four-race win streak, is being pointed toward a Breeders' Cup race, and figures to be a strong contender. Reagan's Edge draws directly outside of Venetian Harbor thus I expect her to follow in behind that rival in the early portions of the race and is capable of going by in the stretch.
Santa Anita 9th: Croughavouke can win again with blinkers on 8:15 pm Et
The Santa Anita 9th is the grade three Autumn Miss for three-year-old fillies going one mile on turf. Perhaps morning-line favorite Warren's Showtime can win and she faced tougher in her last two starts at Del Mar where she was third both times. Note however before that she was facing almost exclusively restricted competition and while she had some success in those races, her price was a lot more generous than it will be in this spot. Attracting top rider Flavien Prat is only going to hurt her price and though she can win, don't view her as a standout.
Of the speed horses, Nasty is a threat switching over to the Richard Baltas barn. She didn't have to love the yielding turf course last time and she did win her two previous races on turf all of which came at Indiana. The issue with her is that the last win came in an unproductive race and she'll have company on the front end from Quiet Secretary.
There are a pair of off the pace types that warrant some consideration. Guitty has been running exclusively against graded stakes competition recently including against the boys most recently. She finished in front Warren's Showtime three starts ago but has finished behind that rival as well as Croughavouke multiple times previously. Don't think she turns the tables on both and note she has yet to hit the board in three starts at Santa Anita.
| | | |
| --- | --- | --- |
| Track/Race | Horse | Morning Line |
| Santa Anita 9th | Croughavouke | 7/2 |
The horse I prefer is Croughavouke (7/2 ML) who is also a closer but note last time she added blinkers and instead of being multiple lengths off the lead, she was only two lengths behind throughout. She got the win that day, granted, as the favorite but if the blinkers sharpened her up just a bit, she is capable of winning again against this field.