Pony Picks 10/15: Keeneland and Remington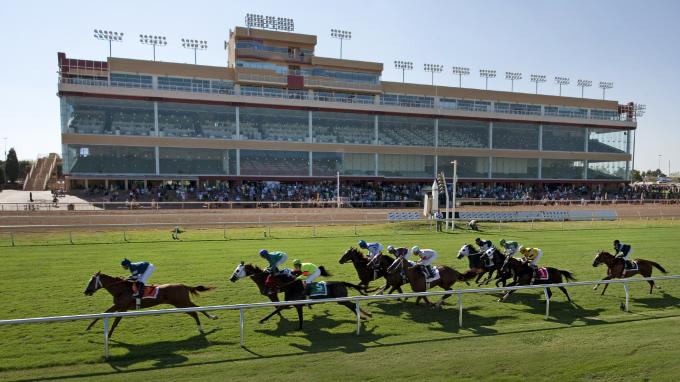 Odds.com's Horse Racing Picks for Oct. 16th: Yesterday at Keeneland, Red Knight validated his strong effort at Kentucky Downs by winning the Sycamore. Today, Keeneland has a graded stake and Remington Park has multiple stakes restricted to Oklahoma breds. In the main event, the Oklahoma Classics, I am against favored Rowdy Yates. Yes, he has been in tougher races recently but it's not like he was competitive in those events. Deal Driven is the logical option but also considers stretch out Fast Breakin Cash who was competitive the last time he went a route. Let's look at some races:
Keeneland 7th: Power End can rally 4:24 pm ET
The Keeneland 7th is an allowance for three-year-olds and up going 5 ½ furlongs on turf. This race has plenty of early speed with at least four horses that can make the lead. I am against all of them including morning-line favorite Explorer who will be trying turf for the initial time. On top of answering if his dirt speed will translate to the turf, he also needs to prove he can finish off races as he has lost clear leads on multiple occasions and all as the favorite. 
Artemus Citylimits was an easy winner two starts back in an off turf event. Last time, in his turf debut, he was in a restricted stake at Woodbine, was bumped slightly but thought he was one-paced throughout. Considering he has handled synthetic and dirt, he can likely show more in his second career turf start but expect the price to be unappealing to find out.
Competitive Saint was a game-winner in his turf debut three starts back and was a solid second two starts back in a stake at Saratoga when Jack and Noah ran them off their feet. Last time at Kentucky Downs, he had issues at the start, never got into the race, and view it as a throwout. With a fair start and getting back to a regular racetrack, he can be more competitive and is the alternative. 
The horse I prefer is Power End (10-1 ML) who has been a different horse since switching to turf four races ago. He broke his maiden on turf at Lone Star and then repeated in an allowance event. He exceeded expectations two starts ago at Kentucky Downs and was a game third last time when you consider he fell to his knees at the start, spotted the field multiple lengths, and was wide throughout. With a cleaner trip, he should have a strong say in the outcome.
Keeneland 9th: Walk In Marrakesh can rebound 5:30 pm Et 
The Keeneland 9th is the grade three Pin Oak Valley View for three-year-old fillies going 1 1/16 miles on turf. I am against Stunning Sky who ran in the Lake Placid three starts ago which came back to be unproductive. She finished behind morning-line favorite Antoinette in the Saratoga Oaks Invitational two starts ago, a race that was just okay. She is coming out of a live race at Kentucky Downs where she was an okay fourth but that is her only recent race that I am a fan of.
I am against Antoinette whose best win came two starts ago in the Saratoga Oaks Invitational against Lake Placid also-rans. Last time, she was soundly defeated by Magic Attitude who came back to be a mediocre third as the favorite in a stake this past weekend. I am against Sugar Fix who has racked up wins against easier as well as In Good Spirits who needs the lead to be effective and doubt she clears Duopoly. 
Duopoly has gone wire to wire in her past two races and is a threat to do it again. She is rapidly improving but In Good Spirits can keep her honest and she is likely to be an unappealing price for elite connections.
Witez is one alternative as she was a strong winner two starts ago. Last time she ran well in the Lake George when finishing third but she was with the race flow. She typically provides a strong rally and is worth considering for all positions.
The horse I prefer is Walk In Marrakesh (10-1 ML) who just missed in the grade two Appalachian at Keeneland two starts ago. That day, she made the first move into the 1/2 favorite Alms and was able to out finish her before being nailed on the wire by Enola Gay. Her two efforts surrounding that narrow defeat do not look as appealing but consider in both instances she was facing the top of the class in Sharing. Today, she faces a field without any standouts, and her effort two starts ago at Keeneland proves she can handle the racetrack. 
Remington 5th: Alternative Slew can defend her title 9:59 pm Et
The Remington Park 5th is the Oklahoma Classics Distaff Turf for Oklahoma bred fillies and mares three-year-olds and up going 1 1/16 miles on turf. Morning line favorite Hawaiian Typhoon has won two straight and the second-place finishers from both her recent races also run in this spot. The horse she beat two starts ago, Leather and Lace, is unappealing as she has yet to win in five tries on the Remington Park turf. You could argue Leather and Lace last start was her best at Remington and it's not good enough to win in this spot.
Last time, Hawaiian Typhoon beat Alternative Slew and I prefer Alternative Slew (3-1 ML) to turn the tables. Note that the last race was 7.5 furlongs and this race is an added furlong. The last time both these horses competed at this distance was in this race last year where Hawaiian Typhoon set the pace and faded to be well-beaten. Alternative Slew was an easy winner of this race and getting back to this distance should allow her to be more effective.