Pony Picks 10/12: Belmont, Monmouth and Santa Anita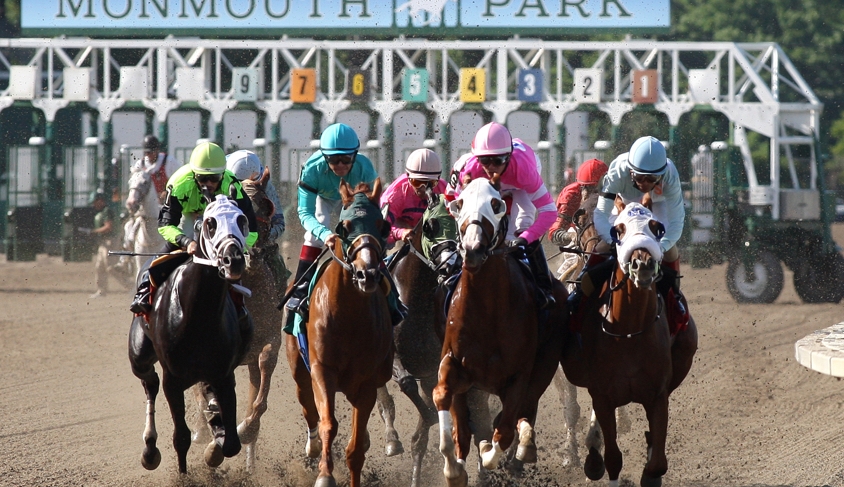 Odds.com's Horse Racing Picks for Oct. 12th: Yesterday at Belmont, Second of July was the longest shot on the board when he broke his maiden and he was the longest shot on the board yesterday when he became a graded stakes winner in the Futurity. Royal Approval delivered as a heavy favorite in the Matron. At Woodbine, Salute With Honor led every step of the way to win the Durham Cup. Today, several tracks are open on Columbus Day. Let's look at some races:
Belmont 2nd: Gringotts finds reasonable spot 1:24 pm Et
The Belmont 2nd is a $16,000 claimer for fillies and mares three years old and up which have not won two races going 6 ½ furlongs on dirt. I am against morning-line favorite La Negrita who was competed at this level in each of her past four starts and has settled for second every time. 
I am also against Wicked Title as her lone win came in an off turf event and she has been finishing behind La Negrita in recent races. Note that win was also on the front end and she has shown a limited ability to pass horses. With Sarahrini in this race, I doubt she gets to the lead from her outside draw.
Wiggle and Jiggle plummets in class off an eight-month layoff. Her previous form is good enough to be competitive but the class drop off the layoff makes her hard to trust thus she is a play against.
The horse I prefer is Gringotts (9/2 ML) who was an easy winner two starts ago against restricted competition at Saratoga. Last time, she was sent to Finger Lakes to run in a protected event. It was an understandable move to see if she could keep her momentum going. This is a reasonable spot in her second start against winners facing horses who have had their chances.
Monmouth 4th: Eights and Aces can rally 2:10 pm Et
The Monmouth 4th is a $5,000 claimer for three-year-olds and up going six furlongs on dirt. I am against morning-line favorite War Giant who has yet to win at today's distance or at Monmouth. Note he has done his best work at Gulfstream in route races when being able to make the lead. Last time at Monmouth he tried a sprint but did not have the sprint speed required to make the lead. He settled for second while showing very little finish despite having a clean trip and every chance to win at the top of the stretch.
Similarly to War Giant, Animal Trick had shown speed in route races and then turned back last time. He was in the same race as War Giant but drew the rail and his jockey had no choice but to try to make the lead. He got to the lead but tired in the stretch. The issue with him is he once again draws the rail thus it's hard to project anything but a similar trip as last time.
I am against Town Policy who returned to the races in May after missing 20 months. He has not shown the same early speed, which was his best asset, before the layoff. If Ogeechee were to repeat his last race at Parx, he likely wins but in his 41st career start you have to question where that effort came from. Also, he has run at Monmouth eight times previously and is 0/8 which makes him hard to trust.
The horse I prefer is Eights and Aces (6-1 ML) who usually runs his race and it will be good enough every once in a while to win. Considering the suspect form of the favorites, this can be one of those times where his consistent effort is good enough to win.
Santa Anita 6th: Little Juanito can improve 6:42 pm Et
The Santa Anita 6th is an allowance for three-year-olds and up going 5 ½ furlongs on turf. I am against Calexman who does his best work on the front end but I don't see him making the lead against this group. I am also against Mesut who has both his wins going 6 ½ furlongs on the downhill Santa Anita turf course. As an off the pace type, this 5 ½ furlong distance is a tad short for him to show his best.
After breaking his maiden two starts ago, Tilted Towers took a massive step forward last time to upset an allowance field at Del Mar. It was the type of step forward that makes me question if he'll repeat it and he has to translate his form to Santa Anita. As the second choice, I'll let him beat me.
Morning-line favorite Grit and Curiosity got really good over the winter on dirt at Oaklawn. Last time in a graded stake on turf he was expected to get a minor award and that's what he got. The short comment says he was bumped which is not inaccurate but that did not cost him momentum, position or impact his final placing. A contender but don't view that last turf race as making him a standout and the only other reason you'd bet him is his prior dirt form.
The horse I prefer is Little Juanito (8-1 ML) who likely needed his last race off a seven-month layoff and it was on the wrong surface, dirt. Yes, similarly to Mesut, Little Juanito is a little camera shy but he will be a better price and has handled these shorter turf sprint distances previously. His tactical speed will give him options.