Pony Picks 10/11: Belmont, Keeneland and Woodbine Plays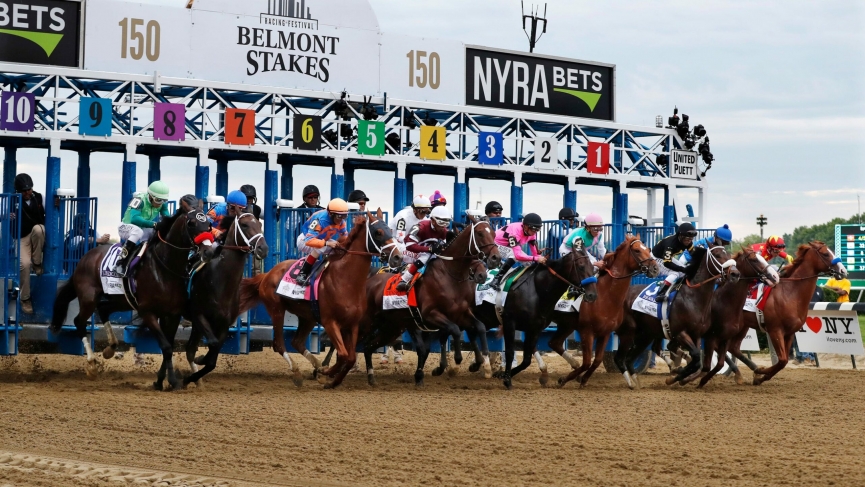 Odds.com's Horse Racing Picks for Oct. 11th: Yesterday at Belmont in the Jockey Club Gold Cup, Happy Saver could only find room on the rail and went through to out-finish Mystic Guide and remain unbeaten. Favored Tacitus was a mediocre 3rd setting the pace.
Jackie's Warrior dazzled again in the Champagne. Dayoutoftheoffice had every answer for favored Vequist in the Frizette. Civil Union got a great trip and out-finished My Sister Nat in the Flower Bowl. Favored Cambier Parc was a terrible fourth. Tamahere made her stateside debut in the Sands Point, circled the field, and won while never being asked for her best. 
At Keeneland, Mr Freeze beat Aurelius Maximus by a neck. Aurelius Maximus was sitting second throughout when in the backstretch a pair of horses came to his outside. His jockey decided to take a tight hold instead of keeping his position and moved to the outside. At the very least this decision cost Aurelius Maximus a couple of lengths if not the race considering the winning margin. In the Queen Elizabeth II challenge cup, Harvey's Lil Goil and Micheline once again ran 1-2 but this time Harvey's Lil Goil hung on to win while race favorite Magic Attitude was a disappointing third. At Woodbine, Master Spy was an easy winner over Threefiftyseven to win the Cup and Saucer. 
Today, Belmont and Woodbine each have graded stakes. Let's look at some races:
Belmont 7th: Second of July on eleventh of October 4:12 pm Et
The Belmont 7th is the grade three Futurity for two-year-olds going six furlongs on turf. Morning line favorite After Five and stablemate Trade Deal both come out of a maiden race at Kentucky Downs where they finished 1-2 and were separated by a nose. After Five had to settle for second and is making just his second career start so he can improve. My issue with him is he looked like a winner at the eighth pole and thought in part he hung in deep stretch. Note After Five galloped out with Trade Deal but never really went past him even after the race. I'll let him beat me. Trade Deal is the more appealing option of that race and I won't let him beat me. That said he got a perfect trip that day and Kentucky Downs form doesn't always translate elsewhere.
I will play against Momos who is trying turf for the first time. He led every step of the way in his debut but will have to put up with County Final in the early stages.
The horse I want is Second of July (12-1 ML) who pulled off a 68-1 upset in his debut and I am taking that effort at face value. That day he stalked the pace, made a move to the lead, had a horse challenge him on the outside, and turned that rival away while extending the margin. He galloped out strongly and I saw nothing in that debut to suggest it was a fluke. With higher-profile connections in this race, wouldn't be surprised if he got ignored on the tote again.
Keeneland 8th: A Bit of Both has been successful on turf previously 4:57 pm Et
The Keeneland 8th is an allowance for fillies and mares three-year-olds and up going 5 ½ furlongs on turf. I am against morning-line favorite Mentality who has done all of her best work at Belmont as all five of his wins have come at that track; she is a combined 0/9 everywhere else. 
I am also against Jo Jo Air who had the excuse last time of running on a yielding race track which she didn't have to love. She won a minor stake at Del Mar two starts ago but note she got a perfect trip that day. Considering that race is the one that gives her the most credibility, I'll play against her.
Dixieincandyland and Quebec both come out of the Ladies Sprint at Kentucky Downs where the 1-3 finishers came back to run 1-2 in the Buffalo Trace Franklin County. My issue with Dixieincandyland is her back races would not be good enough. Quebec typically elects for route races and while he has tried this distance previously, his route races are better. 
The good Escapade can win this race and she's the alternative. My issue with her is she has run once since February. It came in a stake in early July where she underperformed and now she has missed another three months. Tough to tell where her form is at.
The horse I prefer is the brilliantly fast A Bit of Both (4-1 ML) who has run on turf twice, both at Monmouth. She was able to win a stake so we know the talent is there on this surface. She also switches trainers to Michael Maker who is known for elevating horses on turf.
Woodbine 9th: Salute with Honor can make all 5:42 pm Et
The Woodbine 9th is the grade three Durham Cup for three-year-olds and up going 1 1/16 miles on synthetic. I am against morning-line favorite Armistice Day who will likely take money for finishing three lengths behind Starship Jubilee in the grade one Woodbine Mile last time. He has won on synthetic previously including his last start on the surface but note that race was taken off the turf. His form is okay but in no way is he a standout in this race.
Skywire is one alternative as you can make an argument that he has taken a step forward as a four-year-old. Evidence of this would be the 17-1 upset he pulled in the grade two Eclipse three starts back. Last time however he wasn't very good but perhaps he just doesn't want to run on turf or didn't like the 10-furlong distance. The only time he missed the board on synthetic was last year's Queen's Plate. My main issue with him is his off the pace style in a race that isn't filled with early speed and the main speed horse is a threat to wire the field.
The horse I prefer is the brilliantly fast Salute With Honor (3-1 ML) who should be able to clear the other early speed horse Inventing Blame. Unlike Salute With Honor, Inventing Blame has not shown an ability to go:471 to the half at today's distance on synthetic. Throw out Salute with Honor's races at Gulfstream and you are left with four races at today's distance at Woodbine where he went wire to wire in three of them and was fourth in the much tougher grade two Eclipse last year where he was 21-1. He is a serious threat to lead them the entire way.