Ellis Park Picks and a Saratoga Best Bet For August 2, 2020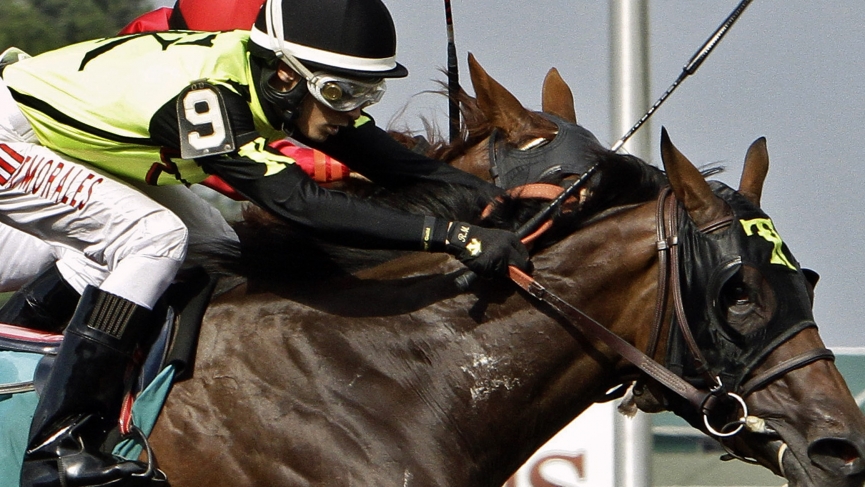 Before we start reviewing today's Ellis Park picks and my Saratoga best bet, I want to take a look at Saturday's races. Yesterday at Saratoga, Midnight Bisou lost at 1/5 as Vexatious (9-1) would not let her by in the Personal Ensign. I'm starting to question if Midnight Bisou has lost a step. Yesterday I outlined that her Fleur de Lis was slow and she was supposed to win that race yesterday and didn't. At the same time, Vexatious may have just improved. She ran a strong second to Monomoy Girl in her previous start and validated that performance yesterday.
Both Improbable and By My Standards turned the tables on Tom's d'Etat in the Whitney. They were aided by Tom's d'Etat spotting the field multiple lengths after a poor beginning. The poor break probably cost Tom's d'Etat second but the way Improbable ran yesterday, he may have won the race regardless.
Echo Town turned the tables on No Parole as the latter failed to do much running as the favourite in the H. Allen Jerkens. Sadler's Joy finished first in the Bowling Green but was disqualified and placed fourth for impeding the progress of Cross Border (placed first) which caused a chain reaction also impacting Channel Maker (placed third).
At Del Mar, Thousand Words (9-1) went wire to wire to win the Shared Belief upsetting heavy favourite Honor A.P. and in the process clinching his spot in the Kentucky Derby starting gate. With Honor A.P. more distance was always expected to be better, yesterday was a means to an end and he still projects to be a formidable contender in the Kentucky Derby.
In the Bing Crosby, Collusion Illusion got a beautiful trip behind a five-horse speed dual and nosed out Lexitonian to win the race. Thought Law Abidin Citizen ran a strong race as he was part of the speed dual and outperformed the others who were a part of it and managed to hold third.
Today, stakes action continues at Saratoga and Del Mar, while Ellis Park has multiple stakes as prep races for bigger stakes at Kentucky Downs next month. Let's look at some races:
Saratoga 2nd: Mills is tactical, faces suspect group 1:44
The Saratoga 2nd is a $12,500 claimer for three-year-olds and up going 1 1/8 miles on dirt. Perhaps Curlin Grey will win but he is a stone-cold closer in a race without much pace and is taking a suspect drop-in class after a race in which he did no running. He is difficult to trust.
Find it hard to trust morning-line favourite Walkoff who competes at his lowest evaluation to date. He won two starts ago against conditioned claimers in a race filled with suspect form that nobody seemed to want to win. Could make the argument his four best races came at Belmont and in one turn races and not convinced he wants to go today's distance.
The horse I want is Mills (4-1 ML) who will either berate off Horoscope or setting the pace. Horoscope is easily the fastest horse early based on his Aqueduct races in the winter but he has shown less speed in both his recent starts. Should he not show that speed, it'll just make Mills' job easier. Either way, Mills projects to get a great trip close to a moderate pace and note he is only one of two horses that are proven at today's distance. Last time Mills had to settle for third in a race that was a merry go round as the top two finishers kept going. Felt that it was difficult to make up ground that day in all the dirt races so the performance is better than it looks on paper and he won 3 of 4 races prior to that.
Ellis Park 7th: Hay Dakota can improve 4:40 pm ET
The Ellis Park 7th is the Kentucky Downs Preview Tourist Mile going one mile on turf for three-year-olds and up. Perhaps morning-line favourite Spectacular Gem will win as he showed marked improvement last time setting a strong pace and running away in the stretch against a good field. Now he was 15-1 that day and that is the only performance that would make him competitive in this race. Finding out if that performance was real and he's just improving at a much shorter price today seems unappealing and this race has plenty of early speed to keep him honest.
I have no interest in Mr Misunderstood who made no impression on Spectacular Gem and he isn't the best closer. Perhaps Hog Creek Hustle takes to turf but he drew the outermost post 12 and it's not a long run-up into the first turn thus I'm not overly curious as to how he'll handle the surface.
Dontblamerocket is a strong contender as his last six starts were three straight wins, followed by chasing around Factor This in a pair of graded stakes. My only issue with him was his last race whereas the favourite he did little running. He and Vanbrugh were at the same spot halfway through the race and Dontblamerocket was simply outrun. Perhaps he needed the race off a small layoff but he has run well fresh before. Won't let him beat me but have a slight preference to others.
I want the two horses from the Michael Maker barn. From a class perspective, Hembree stands out having competed almost exclusively in graded stakes. You do have to go back 12 races to find his last win and he is pace dependent. That said if the race favours closers, he will be heard from late.
The horse I want is Hay Dakota (10-1 ML). He makes his second start off the claim for Maker who is known for improving older turf horses. Note that while he typically ran in high claiming or allowance previously, Maker immediately put him in a stake at Indiana and decides to run him in this spot along with Hembree which I'll view as a sign of confidence.
Yes, Hay Dakota was the beaten favourite last time but there was no pace to that race and he was closer than usual early and thought he did well to finish second. Previous to that he was last early in an allowance at Belmont where there was a loose horse which impacted the running of the race. The race seemed to be run slowly as jockeys were navigating the loose horse thus being last early and going widest on the turn was not going to work out. The third start of his form cycle, I'm expecting a big effort.
Ellis Park 8th Whimsical Muse can win again 5:10 pm Et
The Ellis Park 8th is the Kentucky Downs Preview Ladies Sprint going 5 ½ furlongs on turf. If the good Morticia shows up everyone is running for second. The problem is she hasn't been seen in two starts this year. The first she was able to take the lead and then retreated to finish fourth. Perhaps she needed that race off a long layoff but then she ran 10 times worse in her subsequent start as the favourite when finishing last thus I don't trust her.
If Meadow Dance who is running on turf for the first time ends up liking the surface she'll beat me. Mostly because she does her best work on the front end and I don't see a scenario where she is in front of Into Mystic and Morticia early.
Ambassador Luna might be capable but think she is strictly a five-furlong sprinter. Both her attempts at today's slightly longer distance were just okay. You could argue she has yet to run on a firm turf course at today's distance but I'd counter with her best race came on a track listed as 'good' at Churchill last November.
Into Mystic will have a strong say in the outcome if she repeats her lone turf effort which was in a graded stake at Santa Anita. Now, she was one-paced in that race and while she was less than two lengths from the winner, she never looked like a serious threat. That was a tougher spot but if she vies for favouritism it might be best to let her prove she can win on turf at least from a win betting standpoint.
The horse I want is Whimsical Muse (8-1 ML). Ignore all of her dirt races and you're left with three turf races all of which were wins, two of them came at today's distance including upsets of 8-1 and 25-1. Note her last race which she won produced three next out winners and this seems like a logical spot.